Mrs. Davis: Simone's Creation Was Partly Inspired By Betty Gilpin's IG Videos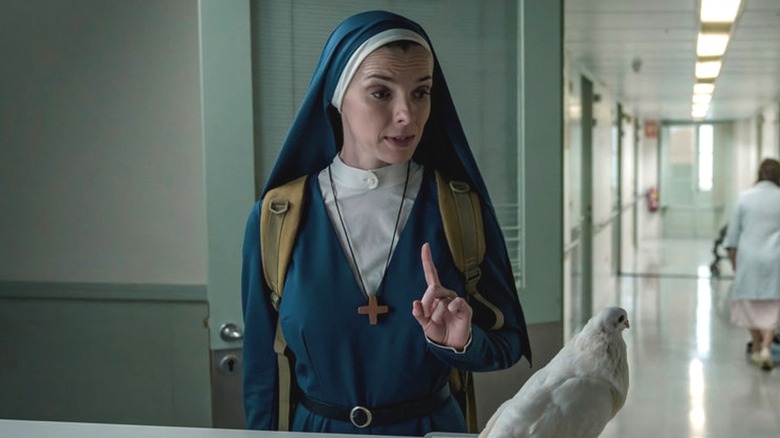 Sophie Kohler/Peacock
For anybody watching Peacock's "Mrs. Davis," it becomes immediately apparent that Simone (Betty Gilpin) is a multifaceted character that has a lot going on. Even from the promotional materials for the show, one can see that Simone is a nun on a mission, but as her backstory is revealed, she becomes so much more than a person with a religious conviction. Besides being literally married to Jesus (Andy McQueen), Simone has a powerful distrust of magicians and artificial intelligence, which means that Gilpin is provided with plenty of opportunities to flex her acting skills.
Speaking with The Hollywood Reporter, Gilpin explained that the character of Simone had part of its genesis from her very own secretive Instagram account, where she posted videos that series creator Damon Lindelof could see. 
"Because we did 'The Hunt' together, he knows that inside I am a disturbed, cross-eyed baby dinosaur and that I want to play that on screen. I feel like every actress has had the experience of being 'exposition wife' while the man gets to do the fun, cross-eyed baby dinosaur stuff, or be pure id, or get a ton of red meat on the page to sink their teeth into, role-wise," Gilpin said. "I think Damon knew that this baby dinosaur wanted some red meat to eat and gave me said steak."
Gilpin wanted to join the cast of Mrs. Davis because of its profound strangeness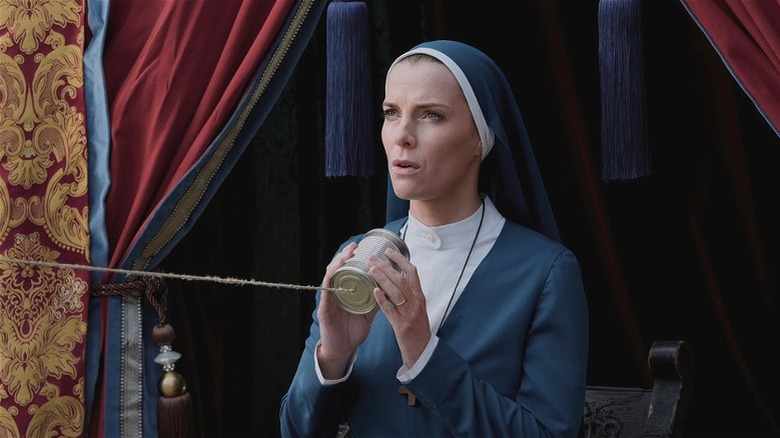 Sophie Kohler/Peacock
Considering these words, it seems as if Betty Gilpin enjoys getting roles that have a lot going on, and she doesn't like simply being a background character or one that exists purely to advance the plot. Luckily, "Mrs. Davis" has been a resounding success with critics,  and it has provided Gilpin a chance to explore a unique character. During an interview with SyFy, Gilpin explained the process of joining the cast of "Mrs. Davis," and how series creators Damon Lindelof and Tara Hernandez did their very best to explain the character of Simone and the plot of the show without giving away too much. 
"Reading the script, I was so intrigued by the character and just really marveled at even though it's so profoundly strange, the whole thing — and I'd never read anything like it," Gilpin said. "It really does touch on so many of the things that I wonder about our lives today. " Although Gilpin's Instagram account still remains a mystery, one can only imagine that sort of content posted there if it led to her role in "Mrs. Davis."