Whitney Houston: I Wanna Dance With Somebody Doesn't Do The Pop Legend Justice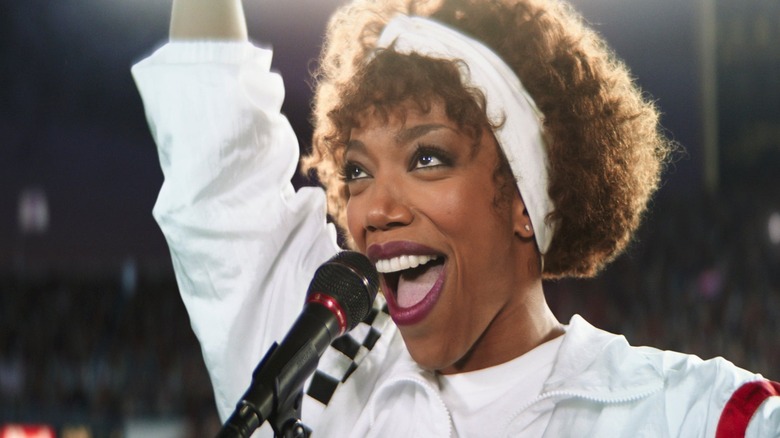 Sony Pictures Releasing
Musical biopics often get a bad rap for being shallow explorations of influential figures, often utilizing similar moments across the board for an incredibly formulaic affair. Things only got worse with the release of "Walk Hard: The Dewey Cox Story," which did a superb job of parodying these films, making those cliche moments all the more obvious. And it would appear "Whitney Houston: I Wanna Dance With Somebody" didn't learn many lessons from that satire. 
The biopic of the legendary singer recently came out on Netflix after a theatrical run in 2022. As such, viewers are giving it some extra notice when they may have overlooked it previously, and the consensus appears to be that it's yet another formulaic telling of what could've been an epic story. That was the feeling for Redditor u/Chaseism, who wrote, "This is about what I expected out of this movie. Super strong performance by Naomi Ackie as Whitney Houston, but mostly a bland biopic."
Others compared it unfavorably to "Bohemian Rhapsody" for its cookie-cutter plot while failing to delve thoroughly into the life of such a fascinating figure. Redditor u/frogsgemsntrains brought up, "who would've thought that the Whitney Houston biopic written by the guy who wrote the not very good Freddie Mercury biopic would also not be very good." From these reactions and others, it's clear that biopics need some revamping to hook audiences again.
Many feel I Wanna Dance With Somebody only scratches the surface of who Whitney Houston was
It's hard to sum up any person's life in two hours. It's even more difficult when that person has such an intricate legacy to their name, so it's only natural for these movies to gloss over certain aspects to focus on the bigger, splashier moments (or sometimes fabricate events entirely). This was a major point of contention for u/SpiderMuse, who commented, "The movie has the weirdest pacing. It feels like the movie skips around and glosses over certain events....like it's scared to dive deep into certain aspects of her life. Characters aren't really given time to breathe in the script."
With that being said, viewers did find certain aspects enjoyable. The music and the acting were highlights, but u/bulldog_blues couldn't help but feel irritated at the movie for glossing over a significant part of Houston's life: "Not least the erratic pacing and the utter refusal to say the words 'gay' or 'lesbian' at any point despite a huge part of the film being about Houston's same-sex relationship." And it seems this is a case where general audiences and critics are largely on the same page, as Jenny Nulf of The Austin Chronicle wrote, "Whitney Houston: I Wanna Dance With Somebody is like the SparkNotes of her life, a smattering of collected moments that feel hollow."
"I Wanna Dance With Somebody" has cracked into Netflix's Top 10 Movies, so it's clearly finding a new audience. Hopefully, at the very least, the film encourages people to learn more about the pop icon and to check out her vast catalog of music. After all, it's always a good time to listen to her self-titled 1985 album.