Where To Watch Every Episode Of For All Mankind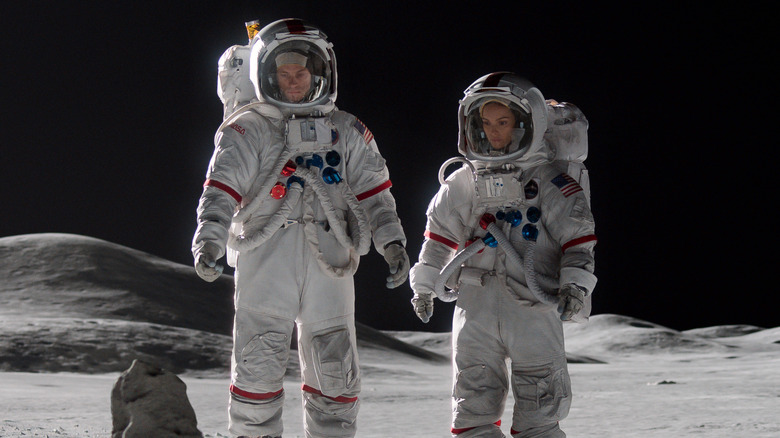 Apple
If anyone has ever asked themselves what would happen if the United States didn't win the space race or what events would have taken place had space exploration been a main focus of the world's major governments after the moon landing, then Apple TV+ has the perfect show to possibly answer those questions and more. The alternate take on history, "For All Mankind," offers viewers a fascinating sci-fi drama grounded in reality, complete with compelling characters, intriguing storylines, and set pieces that are absolutely out of this world.
If the show's realistic-looking space scenes or crazy detail-ridden alternate timeline don't hook people into the "For All Mankind" experience, the big names involved will arguably help tip the scale. In charge of mission control is creator Ronald D. Moore, known for the reimagined "Battlestar Galactica" series and the Starz original "Outlander." As for in front of the camera, the flight manifest has several familiar faces making up the cast, including Joel Kinnaman, Michael Dorman, Wrenn Schmidt, Sonya Walger, Edi Gathegi, and Sarah Jones. Put it all together, and the chances are pretty solid that home audiences will blast off without issue after watching this stellar period piece. 
In terms of finding the right landing zone, fans don't need to worry about crashing or running out of oxygen while attempting to figure out where to watch each entry from the show. All episodes from "For All Mankind" have been located and are available on Apple TV+. Also, episodes are available for rent and purchase on Amazon Prime and Google Play. But before people embark on the binge-worthy mission, they should see what everyone really thinks of the show.
Fans and critics can't stop raving about For All Mankind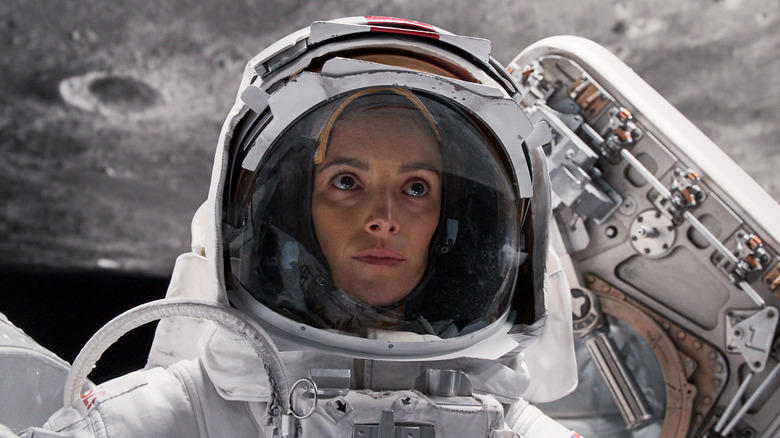 Apple
While there are many great shows on Apple TV+, some people revere "For All Mankind" as one of the streamer's best. Critics have made it clear where they stand on the quality of the sci-fi drama, and according to each season's scores on Rotten Tomatoes, it seems several trusted outfits have shown high praise for the well-crafted rendering of the historical space remix, like USA Today who hailed the series as one of the best shows of 2022. Meanwhile, Slate highlighted the unique experience the show offered when they wrote that "The show reminds us what it's like to reflexively believe in the future." But it isn't just the critics that can't stop saying great things about "For All Mankind."
Fans have made it clear why they believe the show is unlike anything else out there. On Reddit, u/Retrooo couldn't help but acknowledge how amazing things look when the cast leaves Earth, saying, "The space and moon scenes are also spectacularly shot. You feel like you're up there with them." And even though the show is fictional, it manages to inspire viewers to learn more about history like one Reddit user who posted, "Despite it being a fictional historical show, I've learned some facts about the US/Soviet Space race. It has me googling facts, all while being mesmerized with amazing shots of the moon and Earth." U/CaptainIncredible also acknowledged the show as another victory for its creator saying, "I think it's a brilliant show and Ron Moore has once again displayed his genius."
Many small steps were taken to carve a path out for the well-received series to reach viewers, and thanks to everyone's efforts, newcomers can easily make the giant leap into "For All Mankind."