Impractical Jokers: Joe Gatto Officiated Murr's Wedding In 2020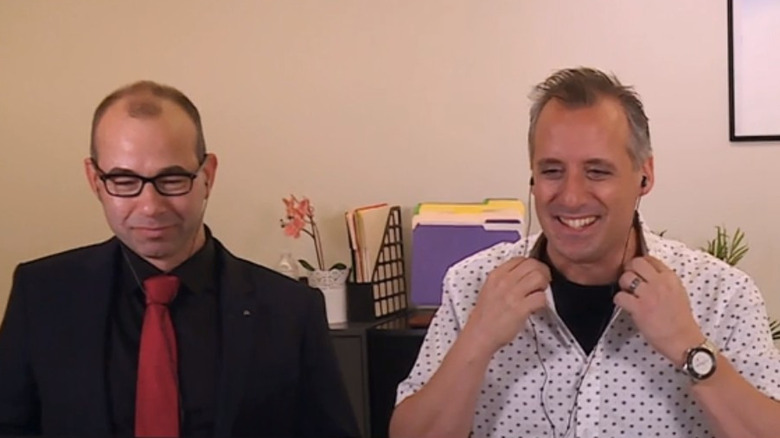 truTV
If there was ever any question that the stars of truTV's "Impractical Jokers" – improvisational comedians Brian "Q" Quinn, James "Murr" Murray, Sal Vulcano, and Joe Gatto — were best friends, one need look no further than Murr's real-life, not-for-TV wedding back in 2020. During the global COVID-19 lockdown, when restrictions were constantly in flux, Murr married his partner, Melyssa Davies.
As expected, all of Murr's costars and besties were present for the wedding, but one of his compadres had some very important duties to attend to on that special day. The former Joker Joe Gatto, who left the show and comedy troupe, The Tenderloins, in 2021, took on the dual roles of best man and officiant. So not only did the comedian have many responsibilities before and during the wedding, but he also had to be up on the altar, bonding two lovebirds for life.
That's quite a lot of responsibility, but it seems that Gatto managed it all without a hitch based on how Murr gleefully dished about with Jon Foss in a 2021 interview.
Even with the Jokers present at the wedding, no pranks were played that day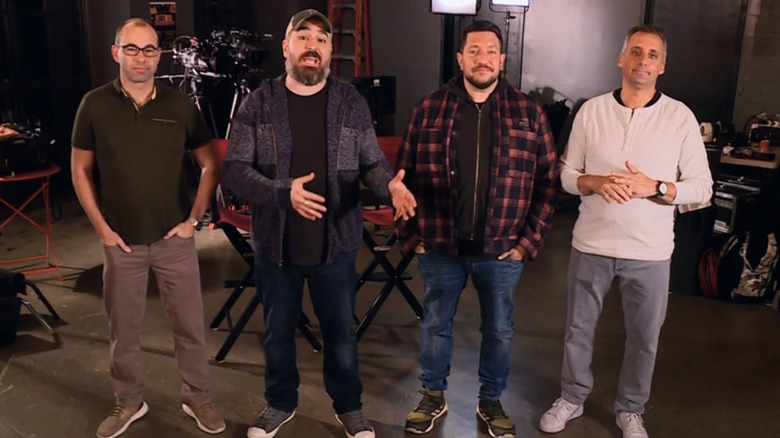 Jamie Mccarthy/Getty Images
Considering that one of the most critical components of "Impractical Jokers" is the friends pranking each other when they least expect it, Jon Foss, in the interview, voiced his concerns about any shenanigans that might have happened during such an important event as James "Murr" Murray's wedding.
And apparently, Murr had made prior arrangements with his buddies, asking his compatriots to let the wedding proceed as planned, explaining, "We made a gentleman's agreement that they wouldn't do anything on the wedding day itself." He added that while the wedding was off-limits, they were free to do as they pleased at the rehearsal dinner, and to his great pleasure, his chums respected their close friend and decided against any horseplay that night. While nothing obvious happened those two days, considering that his officiant is part of a prank show, Murr seems only somewhat certain that the marriage was official, stammering out, "I think the marriage is real. I'm pretty sure it's not a prank."
It seems that the life of an Impractical Joker is one of paranoia because you never really know when something is a prank or not. It brings to mind the phrase, "With friends like these, who needs enemies?"