Janine Nabers On How Swarm Tackles Uncharted Territory In Psychological Horror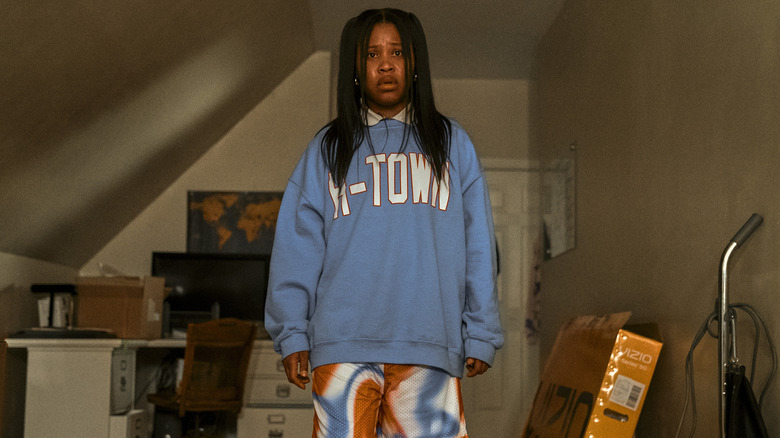 Quantrell D. Colbert/Prime Video
On "Swarm," Janine Nabers teams up with Donald Glover to explore the darkest parts of fandom and the obsessive levels it can reach. In the bloody and memorable series, they portray horrifying moments of terror infused with rich social commentary. "Swarm" is also loosely inspired by real-life fandoms to help tell an even more frightening tale with several uncanny sequences. This aspect, and the series' unconventional subject matter, allow Nabers to highlight complicated portrayals of Black women through unsettling psychological elements. 
The buzz-worthy drama features Dominique Fishback in the riveting role of troubled mega-fan Dre. After her best friend Marissa (Chloe Bailey) commits suicide in the heartbroken aftermath of a breakup, Dre goes on a murderous rampage to avenge her. She begins with Marissa's ex-boyfriend Khalid (Damson Idris) and the bloodbath that follows is exceedingly harrowing. It's also a unique depiction of the feminine anti-hero, which Nabers wanted to dig into with "Swarm." 
In an illuminating interview with The Hollywood Reporter, Nabers said she wanted to complicate the on-screen representation of Black women. This notion comes from her real-life encounters with Hollywood executives who ignorantly feel Black people should just "be happy," without considering any of the systemic implications that may be affecting them. This bleeds into "Swarm" with Dre and her pursuit of pop superstar Ni'Jah (Nirine S. Brown), which even leads her to deranged white women like Eva (Billie Eilish).
If you or anyone you know is having suicidal thoughts, please call the National Suicide Prevention Lifeline​ by dialing 988 or by calling 1-800-273-TALK (8255)​.
Janine Nabers sought to create more complex representation for Black women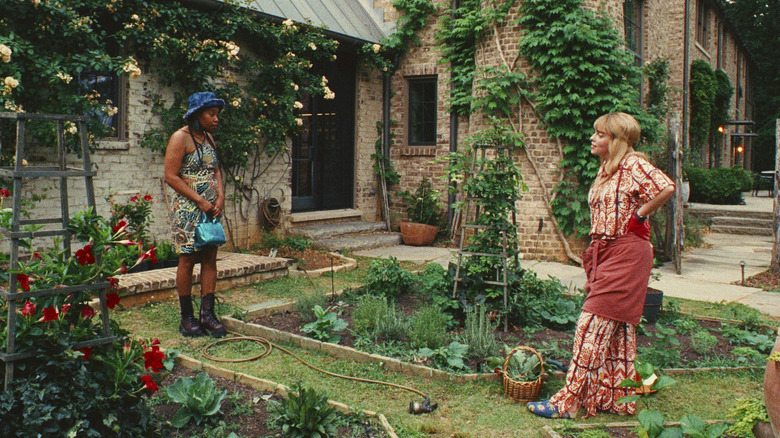 Courtesy of Prime Video
Like the subversive and interesting characters in Donald Glover's hit comedy "Atlanta," which Janine Nabers also worked on as a writer, this series offers a diverse representation of Black women. This allows for more intricately designed characters who are far more developed than other mainstream examples we're accustomed to. As Nabers told The Hollywood Reporter, this was in an attempt to create more original characters that reflect the endless creativity their white counterparts are often privileged to, "I think it's time for us to have characters that represent as big and as subversive and as weird a world as all of the white characters we've seen in many TV shows and movies since the beginning of time."
Nabers and her talented team even interject layers of critique into their unhinged white characters like Billie Eilish's Eva, whose character has surprising real-life roots. This further underlines her point on psychology in the genre as she elaborated, "There's a lot of diversity in horror right now. It isn't really so scary like a ghost coming out of a closet anymore. I think psychological horror feels like something rich and uncharted territory right now for Black people, so I'm really excited." The standout project even references other works of horror like Jordan Peele's invigorating films, which seemingly inspired "Swarm" with masterfully crafted characters and thrilling psychological themes.