Evil Dead Rise's Director Was Given Two Pieces Of Advice From Sam Raimi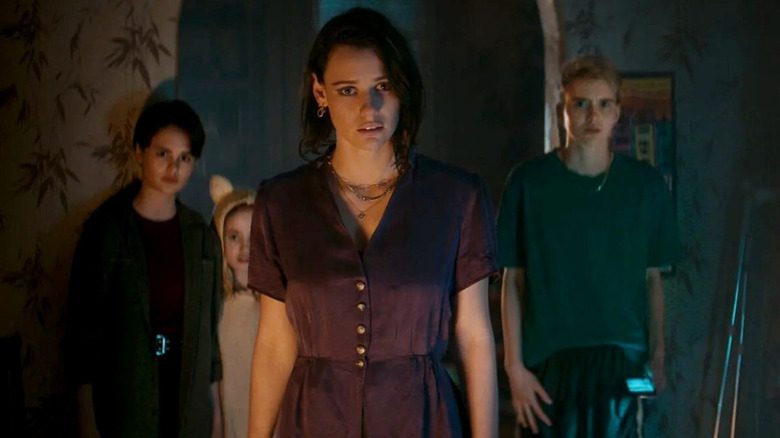 Warner Bros. Pictures
Jumping on to a beloved franchise is never easy. A filmmaker has to ensure their project not only honors the lasting legacy but introduces new concepts, making it fresh for returning fans and interesting for general audiences. With "Evil Dead Rise," director Lee Cronin decided he was up for the task, bringing the series its first movie in a decade.
Naturally, Cronin spoke to "Evil Dead" legend Sam Raimi throughout the development of "Evil Dead Rise." Raimi sang high praise of Cronin's vision for the franchise, who was trying to "break the mould" with the latest installment, he told NME. When he pitched his idea to Raimi, the director gave him two key pieces of advice: "Make sure the Deadites are really scary" and "Make sure there's a Book in there."
Cronin certainly took those two things to heart, as "Evil Dead Rise" features arguably the scariest Deadite in the series so far. Deadites are the demons that possess humans, and based on the trailer, Alyssa Sutherland gives a horrifying performance as a demonic-possessed mother. Cronin didn't forget about the Book either, putting the Book of the Dead in the middle of the film's plot.
Cronin got the third Book for Evil Dead Rise
Sam Raimi's advice didn't fall on deaf ears with Lee Cronin, who took those simple words to heart. "We all agreed it was about the Book," the director told NME. In "Evil Dead Rise," Danny (Morgan Davies) finds the Book locked in a vault in the basement of their apartment complex. That Book is the Necronomicon Ex-Mortis, also known as the Book of the Dead, which unleashes the Deadites on the family.
Speaking to NME, the director says he wanted to "do something different" with the Book featured in "Evil Dead Rise." "[Raimi] set it up in 'Army of Darkness' where Ash discovers three different Books. So I said to Sam, 'You had one, Fede Álvarez had one in 2013. I'm gonna take the third Book and play it my way.' So that was very important."
Cronin definitely succeeded in taking the franchise in a new direction. "Evil Dead Rise" is the first movie not to feature Ash, played by the legendary Bruce Campbell. And for the setting, the director chose a more urban backdrop in Los Angeles, with Beth (Lily Sullivan) fighting to protect Danny and the other kids from her demon-possessed sister. Of course, it wouldn't fully be "Evil Dead" without a chainsaw, so the power tool does make it into "Evil Dead Rise," but Cronin set the story around the Book first and foremost.