Jurassic World: 14 Reasons We'll Likely Never Get To See Dominion's Follow-Up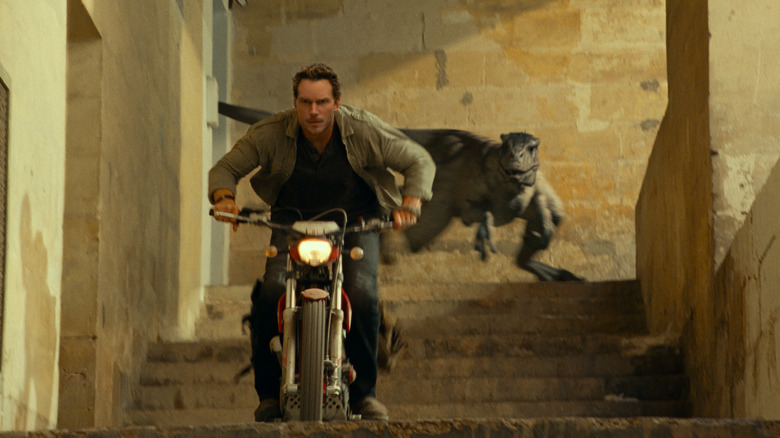 Universal Pictures
Few films have ushered in the future of Hollywood quite like "Jurassic Park," which was first released in 1993. The film came at a high point for director Steven Spielberg, debuting the same year as his Academy Award-winning drama "Schindler's List" and cementing the director as one of the greatest filmmakers of the modern era. The film received two sequels in 1997 and 2001, while the franchise found success in toys, comic books, video games, and theme parks (albeit not as deadly as those depicted on-screen).
For over 10 years, the "Jurassic Park" trilogy remained the only films in the franchise — until the debut of "Jurassic World" in 2015, directed by Colin Trevorrow. Although Spielberg only remained as an executive producer, "Jurassic World" has revitalized the series, with improved CGI and even more multimedia franchising. However, just like the original trilogy, "Jurassic World" was never meant to go on forever.
In 2022, "Jurassic World Dominion" was released as the final film in the trilogy and, depending on who you ask, the final one in the franchise. Though audiences may be far from done with "Jurassic Park" as a whole, "Jurassic World Dominion" marks a turning point for the series. There are many reasons this film may be the end, but here are some of the biggest explanations for why "Jurassic Park" could be closing forever. 
Jurassic World was a long time in the making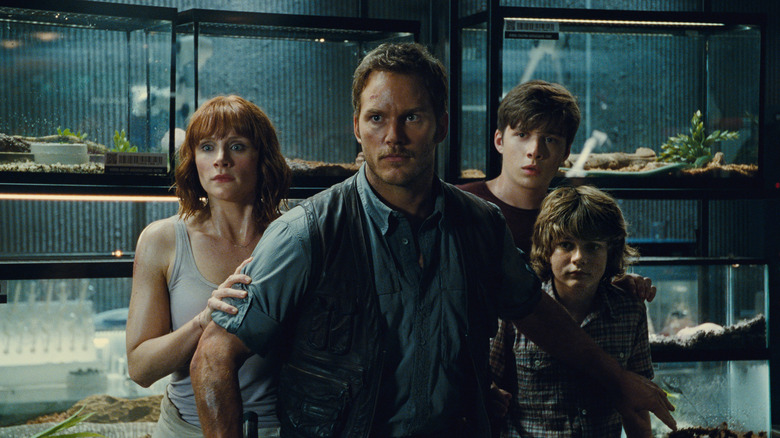 Universal Pictures
It was no easy feat for the first "Jurassic World" film to be released. Ideas for a fourth "Jurassic Park" film had been circling the drain since the release of "Jurassic Park III" in 2001, with Spielberg's Amblin Entertainment commissioning screenwriters on multiple occasions throughout the 2000s. However, no story ideas ever got off the ground until 2012, when Rick Jaffa and Amanda Silver were hired to pen the screenplay, utilizing some of Spielberg's ideas. 
Colin Trevorrow, whose prior credits include the 2012 comedy "Safety Not Guaranteed," was hired to direct in 2013, rewriting Jaffa and Silver's draft with longtime collaborator Derek Connolly. Part of their contribution to the script involved cutting out previous cast members from the franchise, such as Richard Attenborough and Laura Dern, with Trevorrow telling IGN, "I respect those actors too much to shoehorn them into this story for my own sentimental reasons." 
Their instincts paid off, as critics praised the film as one of 2015's best summer blockbusters. It goes to show that audiences appreciated Trevorrow's determination to do right by "Jurassic Park" fanatics, though it poses a big dilemma for any future film following the release of "Jurassic World Dominion." It would need the perfect combination of the right story, the right director, the perfect stars, and a healthy amount of fan service — without going too overboard and making a film that can't stand on its own. 
Colin Trevorrow planned for a trilogy after Jurassic World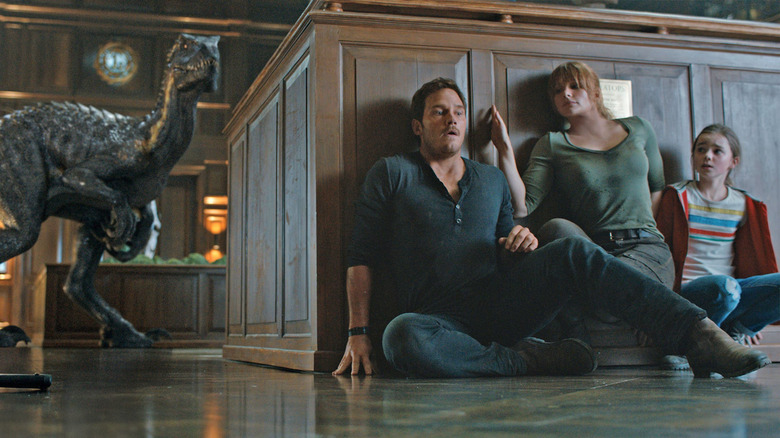 Universal Pictures
"Jurassic World," paid off very well at the box office, netting over $1.5 billion against a budget of $150 million. It seemed obvious that a sequel would be desired by both audiences and studio executives, although Trevorrow was still careful to make sure they weren't exploiting the franchise. According to an interview with Empire Online, Trevorrow's goal for the first film was to make "something that could potentially arc into a series that would feel like a complete story." 
Trevorrow was also interested in shaking up the series by recruiting a horror director rather than himself to helm it, eventually landing on J.A. Bayona, who previously directed films like "The Orphanage" and "A Monster Calls." Trevorrow and Connolly stayed on as screenwriters, with "Jurassic World: Fallen Kingdom" eventually being released in 2018. The writers harked back to the series' origins, pulling plot ideas and concepts from the original novel by Michael Crichton, as well as its 1995 successor. 
However, by this point it was becoming clear to the filmmakers that simply alluding to the franchise's past wouldn't be enough to keep audiences engaged. In a review for The Boston Globe, "Jurassic World: Fallen Kingdom" was described as "enough for a fun fright night at the movies but [it] lacks anything else: character, mystery, wonder, danger." Nevertheless, Trevorrow set out to finish the reboot franchise he started.
Jurassic World Dominion closes the book on the reboot story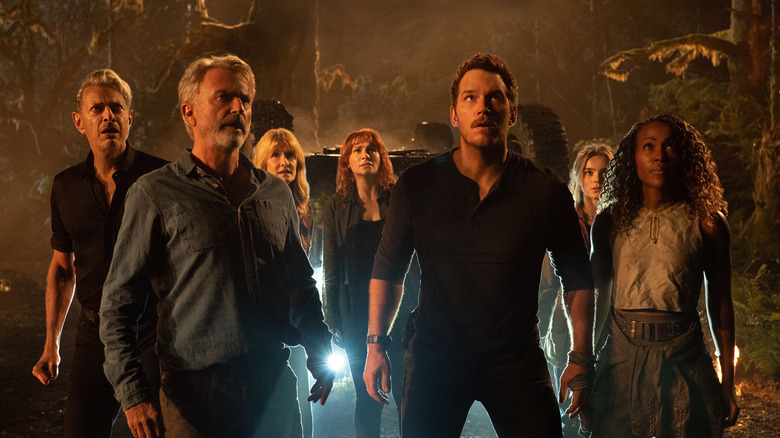 Universal Pictures
Anticipation was high for the third "Jurassic World" film, which saw Trevorrow returning to directing duties. He was originally set to direct the third film in the "Star Wars" sequel trilogy, but passed off duties to J.J. Abrams so he could return and close out "Jurassic World." In an interview with CinemaBlend, Trevorrow described his motivation to return to direct "Jurassic World Dominion" as being inspired by "[seeing] how another filmmaker interpreted that middle chapter of the story." 
"Jurassic World Dominion" was finally released in 2022 following delays due to the COVID-19 pandemic. It was one of the first productions to start back up in summer 2020, which involved a $9 million plan to quarantine the actors in a hotel bought out by the studio, allowing them to interact without social distancing when they weren't on set, as well as testing them three times a week, according to The New York Times. However, these restrictions also meant that actors from the previous two movies, like Jake Johnson, had to be written out completely. 
Nevertheless, the goal of the trilogy for Trevorrow from the very beginning was to do a complete story, particularly one that didn't involve a dinosaur-themed amusement park for all three entries. This is part of what makes "Jurassic World Dominion" a climax for the entire franchise: It sees the stakes of the series at their absolute highest.
The film is a tribute to the beginnings of Jurassic Park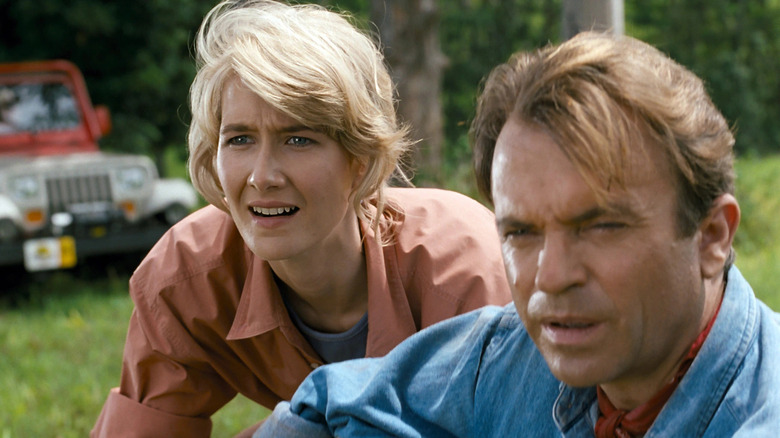 Universal Pictures
Perhaps the biggest draw of "Jurassic World Dominion" is that it features the original cast of "Jurassic Park," assembled together for the first time since the 1993 movie. Previously, Jeff Goldblum had reprised his role as Dr. Ian Malcolm in "The Lost World: Jurassic Park," as well as a cameo in "Jurassic World: Fallen Kingdom," while Sam Neill and Laura Dern briefly returned as Dr. Alan Grant and Ellie Sattler in 2001's "Jurassic Park III," which was panned by many critics. 
With Goldblum, Neill, and Dern returning, "Jurassic World Dominion" was given the opportunity to pay tribute to where the series began. Aside from continuing the character arcs of Ian, Alan, and Ellie, there are many Easter eggs alluding to the first film, which span from the legacy cast's costume design to a sequence where Goldblum's character uses a red flare to distract a T-Rex, referencing an iconic moment from the 1993 movie. 
Again, reuniting this iconic trio of actors was not something that Trevorrow took lightly, telling Empire Online he refrained from including them in the first "Jurassic World" because "We'd have had to come up with a reason why Ellie, Malcolm, and Grant all went to the theme park on the exact same day it broke down — again." However, there was an even bigger reason to do right by the original cast of actors. 
The original cast have made it clear that this is their swan song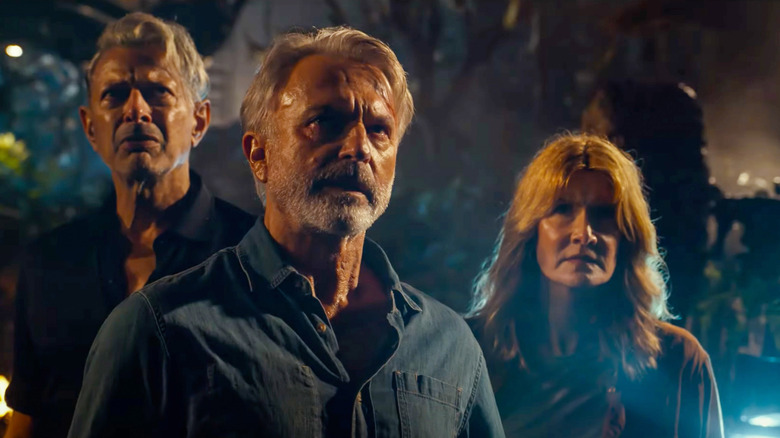 Universal Pictures
It's nothing short of incredible that Jeff Goldblum, Laura Dern, and Sam Neill are as relevant and show-stopping as they were in 1993. It wasn't long ago that Dern even won the Academy Award for best supporting actress after starring in Noah Baumbach's "Marriage Story." Meanwhile, Goldblum has remained a pop culture icon with appearances in the Marvel Cinematic Universe, as well as his Disney+ travel series "The World According to Jeff Goldblum." 
For Sam Neill, "Jurassic World Dominion" was an opportunity to reprise their characters in a way that concludes a story 30 years in the making. As he told Stuff about his decision to return, Neill claimed "This may be the end of the franchise, I'm not sure... but it'll certainly be the last for us," alluding to himself, Dern, and Goldblum shooting their characters' curtain calls. 
Similar motivations were held by Laura Dern for her return. Dern told Outlook India that she was excited to reprise her role as Ellie Sattler due to the character's existing legacy, believing it was right for her to "take care of all of us with the bravery and intellect that she has." On the other hand, Goldblum has implied in interviews that there could always be more dinosaurs in the future — if you're willing to trust the world according to him. 
Our favorite characters finally get a happy ending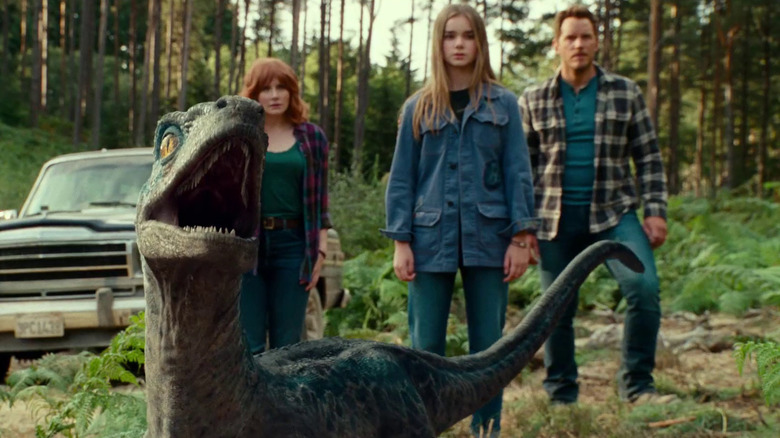 Universal Pictures
By this point, audiences have been following the story of Chris Pratt's Owen and Bryce Dallas Howard's Claire for seven years. At the start of "Jurassic World," the characters seem like polar opposites, having declined to pursue a romantic relationship due to their contrasting personalities: Claire is a workaholic who often butts heads with Owen during their jobs at the Jurassic World theme park.
The characters have gone on quite the journey during the first two films, eventually becoming a romantic item before breaking up prior to the sequel, "Jurassic World: Fallen Kingdom," (although they eventually rekindle their relationship to parent Maisie, the granddaughter of James Cromwell's character from the second film). By the time "Jurassic World Dominion" begins, the two are living in a secluded cabin raising Maisie, until she's kidnapped by Biosyn, forcing Owen and Claire to team up with the cast of the original "Jurassic Park" to rescue her.
In contrast to the cliffhanger ending of "Jurassic World: Fallen Kingdom," which saw dinosaurs escaping from Isla Nublar into the human world, the end of "Jurassic World Dominion" feels more like closure. Owen and Claire return to their home with Maisie, reuniting Blue the Velociraptor with her child Beta, symbolizing the ability between humans and dinosaurs to co-exist. If the franchise were to continue, that peace between man and nature would sadly have to be disrupted, which would come at a high narrative cost.
Chris Pratt has new franchises on the horizon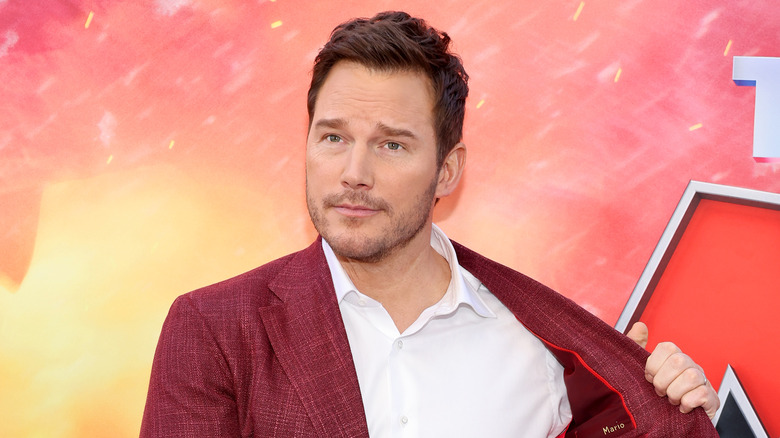 Amy Sussman/Getty Images
According to Chris Pratt himself, his time in the "Jurassic World" universe is up, telling TotalFilm that whether the franchise continues or not, for the character of Owen, "it feels like a great organic ending." While 2022 has seen the end of Pratt's tenure fighting dinosaurs, 2023 also brings the end to another massively successful franchise for the actor. "Guardians of the Galaxy Vol. 3," set to premiere in May, will mark the end of James Gunn's Marvel trilogy, although Pratt is open to reprising the role of Star-Lord in future Marvel Cinematic Universe films. 
However, the former "Parks and Recreation" star has nothing to worry about when it comes to his future as a movie star. In 2023, the actor debuted as the voice of one of the most iconic video game characters of all time, Mario, in Illumination's "The Super Mario Bros. Movie." Judging by its box office success, it will be the beginning of a long future for Nintendo's most popular franchise. 
On the horizon, Pratt's voice is also expected to fill the role of the lasagna-loving Garfield in an upcoming animated film set to be released in 2024. Although the past year or so has seen Pratt's most iconic roles reach their natural conclusion, the actor clearly isn't slowing down. Maybe there's even a chance for a "Parks and Recreation" reunion sometime soon.
Bryce Dallas Howard's reputation as a director continues to grow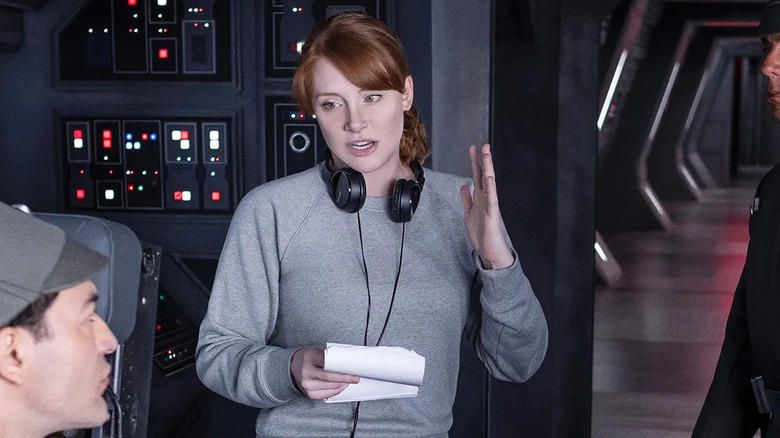 Disney
Bryce Dallas Howard has had quite an extraordinary acting career apart from the "Jurassic World" films, including critically-acclaimed roles in Kenneth Branagh's "As You Like It," "50/50," and "Rocketman." But the actress has also made a name for herself behind the camera. In 2019, she made her feature directorial debut with the documentary "Dads," before turning her filmmaking sights to a galaxy far, far away.
Also in 2019, Howard directed an episode in the first season of "The Mandalorian," the first "Star Wars" series on Disney+. The actress continued to direct episodes for the second and third seasons of "The Mandalorian," as well as an episode of the spin-off series, "The Book of Boba Fett." For her work in the latter, "Star Wars" fans online demanded that the director be given the responsibility of helming a "Star Wars" feature film. When asked about the possibility in an interview with Gizmodo, Howard said "I think it would take someone asking me."
Howard's next plans for directing are already on the docket: She is attached to direct a remake of "Flight of the Navigator," which will feature a female lead character and be released on Disney+. Although her acting career is far from over, many fans may be more eager to head to the theater for Bryce Dallas Howard, the director, rather than watch her in another "Jurassic World" film. 
Critics have few nice words for Jurassic World Dominion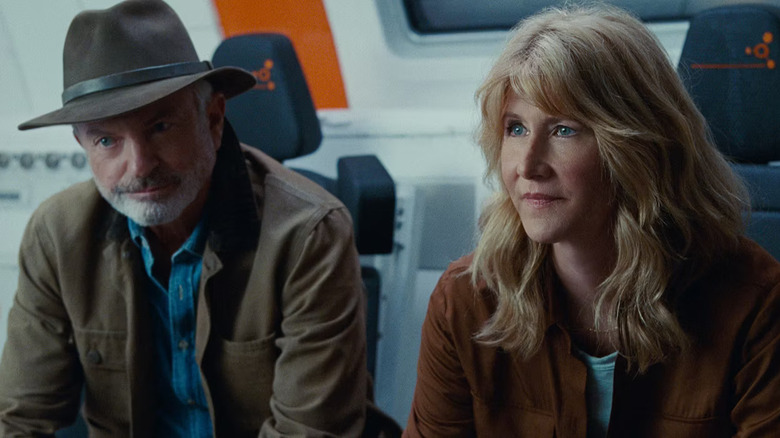 Universal Pictures
As much as the creators of "Jurassic World Dominion" made it their mission to do justice to the franchise and its fans, the 2022 film underwhelmed audiences. In their review, Rolling Stone lambasted "Jurassic World Dominion" for how far the franchise had fallen since its Spielberg-led roots in 1993, writing, "It's not so much a movie as an extinction-level event for the franchise, one in which the last remaining bits of good will and investment in this particular intellectual property are snuffed out like so many unlucky Stegosaurses." 
Some reviews were critical of the writing, particularly of the legacy cast's dialogue, while others panned the movie for its lack of insight into what a world where humans and dinosaurs coexist would actually be like. However, the extended edition of the film, which Trevorrow himself preferred to the theatrical cut, led to some greater praise from critics, who felt it delivered more on the franchise's sense of fun. 
Nevertheless, "Jurassic World Dominion" excelled at the box office, raking in over $1 billion, making it the third post-pandemic film to do so — albeit still having the worst critic score on Rotten Tomatoes out of the six films in the franchise. While the "Jurassic Park" series would probably not lose money if Universal chose to do another film, the decline in critical acclaim as the series has gone on may turn off audiences. 
Jurassic Park producers have other ideas about the future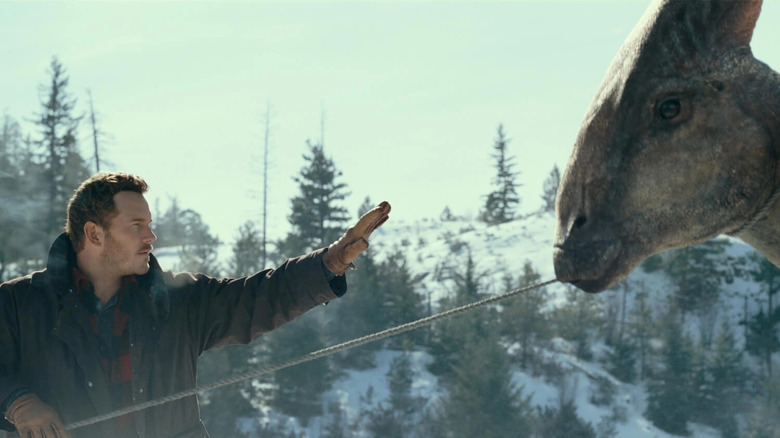 Universal Pictures
Although a "Jurassic World Dominion" sequel is highly unlikely according to people like Trevorrow, that hasn't stopped producers from hinting at places the franchise could feasibly go. Far be it for the Hollywood machine to have enough integrity to leave a franchise where it is, rather than mine it for everything it's worth. However, one of the franchise's optimists is Frank Marshall, who co-produced all three films in the "Jurassic World" trilogy.
In an interview with /Film following the release of "Jurassic World Dominion," Marshall claimed that the "Jurassic Park" franchise is far from extinct, reassuring fans that, "We're going to sit down, and we're going to see what the future is." Trevorrow, although he's expressed that perhaps "Jurassic Park" would've been better if it was left as one movie, has even campaigned for Bryce Dallas Howard to helm her own film in the franchise, telling Variety, "if [Howard] would ever make that choice to come and make a 'Jurassic' movie, we would consider that a tremendous privilege for us."
However, the future of "Jurassic Park" may not be on the big screen after all. In 2020, "Jurassic World Camp Cretaceous" debuted on Netflix. The animated series, starring Jenna Ortega and Jameela Jamil, follows the survivors of a dinosaur camp gone wrong. Although its fifth season, which premiered in 2022, marks the end of the show, projects like it could shape the future of the "Jurassic Park" franchise. 
Potential spin-offs have been floated by Colin Trevorrow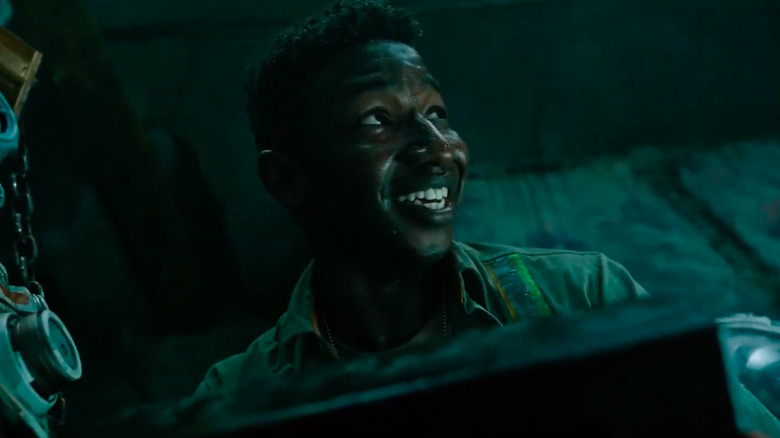 Universal Pictures
Even though Colin Trevorrow has maintained that he has done everything he wanted to do with the "Jurassic Park" intellectual property, he has been an advocate for possibilities of where the franchise could go in the future. In an interview with The Wrap promoting "Jurassic World Dominion," Trevorrow expressed an interest in seeing standalone projects for some of the new characters introduced in the 2022 film, including DeWanda Wise's heroic Kayla, or Mamoudou Athie's character Ramsay. 
While it would be great for either Wise or Athie to lead a big franchise project like this, the odds that audiences will show up for it are low. Part of the appeal of "Jurassic Park" — and by extension, "Jurassic World" — is the intense battle between humans and dinosaurs. Unless the films follow disasters that would top those in "Jurassic World Dominion," not many movie fans would likely show up to a film about characters to whom they aren't as emotionally attached as the legacy cast.
One character fans of the "Jurassic World" films may be eager to see, however, is Jake Johnson's Lowery, who was cut from "Jurassic World Dominion" due to pandemic restrictions. Although "Jurassic World Dominion" explains away his character's absence as him working for the CIA, fans of both Jake Johnson and the franchise may be lured to the theater to see him finally reprise his role. 
The logic of Jurassic Park has always been wonky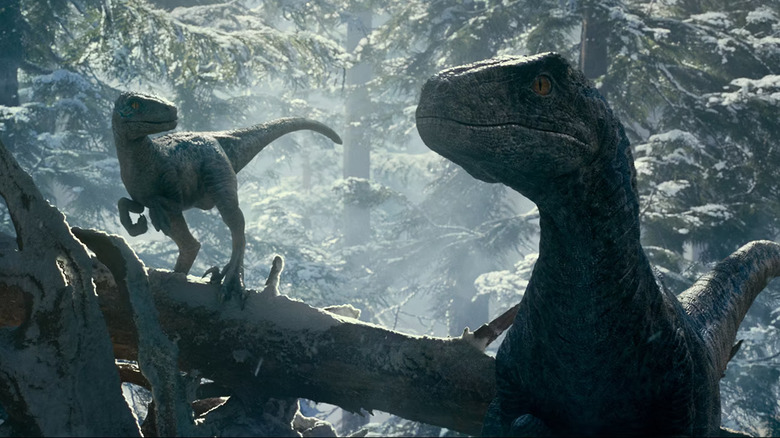 Universal Pictures
The original "Jurassic Park" was a groundbreaking work of science fiction when it was originally released in 1993, despite inaccuracies that Spielberg felt would enhance the cinematic experience, such as the T-Rex's ability to run or the Brachiosaurus's on-screen eating habits. However, by the time "Jurassic World" was released a little over 20 years later, paleontology had come a long way in investigating what real-life dinosaurs may have looked and acted like.
For instance, it's widely known now that many dinosaurs weren't scaly, but rather had feathers — including the fearsome T-Rex. Although many paleontology experts criticized the film for this, it's explained away by Dr. Henry Wu, played by BD Wong, who says that the genetic recreation of these dinosaurs is the reason behind their lack of accuracy. 
Other plot holes have retroactively made the "Jurassic Park" franchise slightly absurd, conceptually. The idea that someone thought it was a good idea to make a theme park full of potentially dangerous creatures seems like more than a small error in judgment, one that even "Saturday Night Live" has lampooned in recent years. While there are many audience members who can look past scientific inaccuracies and logic loops for a fun popcorn movie, the longer the franchise goes on, the more questions people may have about why these scientists keep trying to recreate dinosaurs. 
A future Jurassic Park film should probably be a fresh start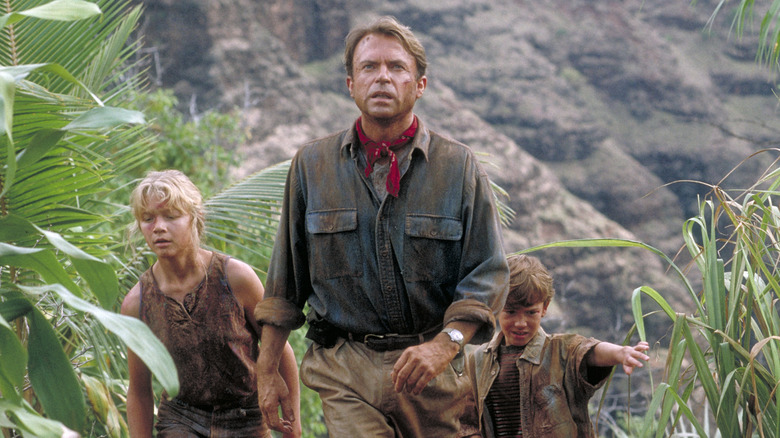 Universal Pictures
Many of the issues people had with the "Jurassic World" trilogy were in regard to how closely it followed the stories and events of the first trilogy. Some of that is inherent to the plot, following the employees and scientists who work for a dinosaur-themed amusement park that becomes the site of a disaster. Nevertheless, these connections ultimately helped Trevorrow and the rest of the crew behind "Jurassic World Dominion" link the two trilogies together.
Even entries like "Jurassic World: Fallen Kingdom" were criticized for similarities to other movies of that time, such as the Dwayne Johnson-led "Rampage." Since there's still discussion to be had about whether there's a future for "Jurassic Park" as a big-screen franchise, a good way to surprise audiences may be to start fresh with completely new characters in a separate universe from the six existing films, potentially staying closer to modern scientific knowledge about dinosaurs.
A good model for this type of reboot could be "Ghostbusters: Afterlife," which featured entirely new characters within the world of the previous "Ghostbusters" films, but whose connections to the franchise's past made it feel familiar. Placing the franchise's typical prehistoric horror in a different setting than a remote theme park, while going against the franchise's premise, could also result in a more engaging and fresh vision of what a "Jurassic Park" movie could look like. 
Movie audiences overall are souring on franchise films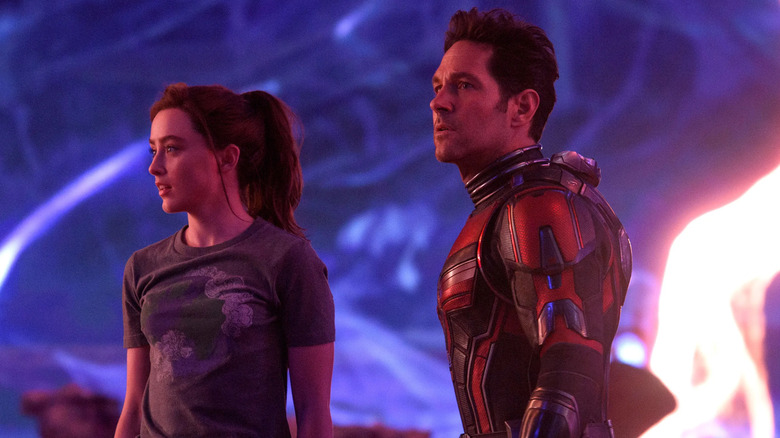 Marvel Studios
It's likely that there's a future for "Jurassic Park," whether it entails a "Jurassic World Dominion" follow-up or not. The real question is, how excited will audiences be for it when it eventually does arrive? As recent years have shown, fatigue over superhero movies and other blockbuster genre films is at an all-time high. Normally, this wouldn't have much of an effect on box office numbers, but recent releases like "Ant-Man & the Wasp: Quantumania," "Shazam: Fury of the Gods," and "Fantastic Beasts: The Secrets of Dumbledore" prove that these franchises might be getting stale.
It's hard nowadays to impress audiences with the same old, same old. In a post-pandemic world, it's not even a guarantee you can get them in the theater, unless you're showcasing three generations of Spider-Man all at once, or Tom Cruise performing ludicrous stunts. The title "Jurassic Park" or "Jurassic World" on a future release won't be enough to impress a theater-going audience that has gotten used to waiting until films are available on streaming services, especially if there isn't something more compelling to draw them in. Although "Jurassic World Dominion" may be the end of the franchise, there will always be hope that if they try again, it'll be worth the ticket price.