Gotham Knights Left Subtle Hints Of Harvey Dent's Future All Over His Wardrobe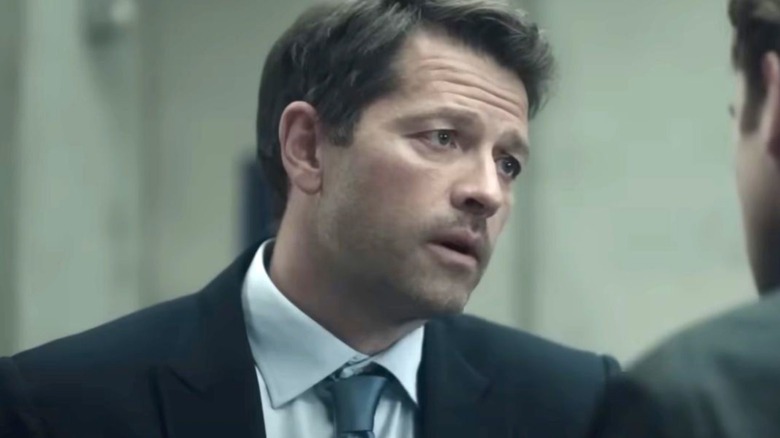 The CW
Though he hasn't been on the silver screen in quite some time, Harvey Dent — better known as the Batman rogue Two-Face — is getting plenty of time to shine on television. "Supernatural" alum Misha Collins' take on the Gotham City mainstay has become a consistent highlight of The CW's "Gotham Knights" as he continues to serve as the Gotham City district attorney in the wake of Bruce Wayne's demise. Collins has gone above and beyond in the role so far, and the costuming department hasn't slouched by any means either, as evidenced by his fascinatingly foreboding wardrobe.
In an interview with The Mary Sue, "Gotham Knights" costume designer Natalie Bronfman explained that she and her team put some subtle nods to Dent's eventual Two-Face turn in his clothing. "In the suits that we built, the linings had different colors or different shades of blue. One side was darker and one was lighter. And his shoes had two different color toe caps. So we did green and red," she explained, noting that green and red are opposites on the color wheel. They clash, just as Dent's two sides do once he becomes the villainous Two-Face.
These visual details are subtle now, but one has to imagine that once Dent becomes Two-Face, the wardrobe department will get far more overt with his split color schemes. Can fans expect "Gotham Knights" to keep its version of Two-Face close to the source material, though? Collins certainly seems to think so.
Collins feels his Two-Face has all the ingredients to be a definitive take on the character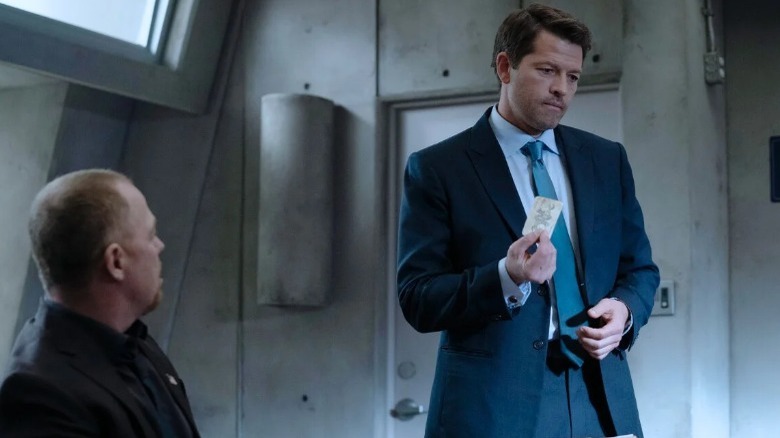 The CW
As the "Gotham Knights" costume team was hard at work putting together meaningful yet stylish suits for Harvey Dent, the story team put in tons of effort to make the show's depiction of the character strong. Dent has a long, intriguing history on the pages of DC Comics, with a fanbase spanning the globe. The minds behind the series were well aware of all of that information going in, hence why, according to Misha Collins, they assembled the definitive interpretation of the infamous Batman villain.
"We delved into all the backstory that shows up in the comic books, and cherry-picked the most interesting and also most grounded and real elements, and then packaged them together into this version," Collins told Collider in an April 2023 interview, promising fans the premier live-action take on Harvey Dent's Two-Face origin. He adds that, yes, Dent will indeed become Two-Face during the first season of "Gotham Knights," though he didn't spill any specifics concerning how the change will occur.
"Gotham Knights" is far from the most buzz-worthy DC project out currently, but chances are, Misha Collins' Two-Face will turn more than a few heads once he arrives.