Evil Dead Rise: Did You Catch Bruce Campbell's Stealth Cameo?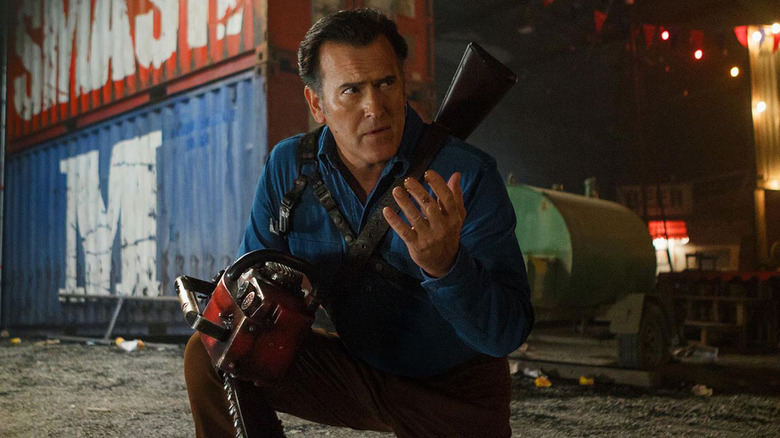 Starz
Contains minor spoilers for "Evil Dead Rise"
Lee Cronin's "Evil Dead Rise" hit theaters today, giving the series its first theatrical story in a decade. The latest installment does things a little differently, leaving behind the cabin in the woods setting and series protagonist Ash Williams (Bruce Campbell).
However, it's hard to have "Evil Dead" without Campbell, so Cronin had to give him a sneaky cameo, even if Sam Raimi wanted as few Easter eggs as possible. Although we never see Campbell's face in "Evil Dead Rise," avid fans of the franchise will hear him pretty early on in the movie.
After Danny (Morgan Davies) retrieves the religious artifacts after the earthquake, he listens to a recording of priests explaining what he has in his possession. One of the priests reveals the book to be the Book of the Dead, and fans can hear Campbell's voice loud and clear. It's a subtle cameo, but it continues his streak of appearances in every "Evil Dead" installment. Now, we just need to see Ash back on the big screen.
Could Campbell's Evil Dead Rise cameo be Ash Williams?
While Bruce Campbell never physically appears on screen in "Evil Dead Rise," his sneaky cameo could lead the franchise in countless directions. Upon the first watch, it seems like he just lends his voice to one of the priests discrediting research on the Book of the Dead, but what if that was secretly Ash Williams?
Speaking to NME about the film, director Lee Cronin commented on Campbell's cameo, poking fun at the idea of Ash being on the recording. "Bruce came over to Ireland when we were working on the sound and I asked him if he would do this teeny, tiny, little cameo for me," he said. "And the fun part is, that's not necessarily Bruce Campbell playing someone else — that could very well be Ash Williams."
During an interview with Collider at San Diego Comic-Con eight months ago, Campbell sort of spoiled his cameo, saying, "I do have one line of dialogue in the movie. I play a priest. You'll hear me on an old record that is being played back over the speakers." Based on that, and Campbell further reiterating that he hung up his chainsaw, it seems like the cameo is just a priest and not Ash — but we won't let the fun possibility die.