Grey's Anatomy Would Be Smart To Avoid Another Amelia Relapse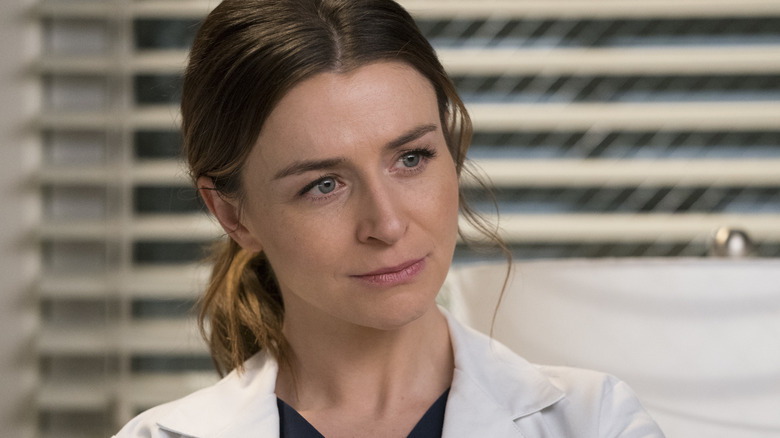 ABC
The doctors on "Grey's Anatomy" have, to put it lightly, a ton of problems. They get in horrible accidents, lose the ones they love, get sick and have to be treated at the very hospital in which they work, and struggle with their mental health. (The laundry list of bad things that happened to Ellen Pompeo's Meredith Grey alone is traumatic.) Amelia Shepherd, played by Caterina Scorsone, is no exception. Between the character's time on both "Grey's Anatomy" and one of its spin-offs "Private Practice," Amelia has been through a lot, from managing her ongoing sobriety to recovering from a brain tumor to losing a child — which is why it's a bit worrying that the show might be setting her up to fail. 
Season 19 of "Grey's Anatomy" has created even more difficult situations for Amelia. Pompeo's Meredith Grey, Amelia's sister in law, and Kelly McCreary's Maggie Pierce, Meredith's half-sister, were both written out of the show when their respective actors chose to leave, and Amelia makes it quite clear that without her "sisters," she's adrift. In the season's fourteenth episode, "Shadow of Your Love,"  Amelia's long-distance partner (E.R. Fightmaster) flies in to surprise her and support her in the wake of Maggie moving to Chicago and Meredith moving to Boston, respectively — but when Kai tells Amelia they've received an incredible offer to work in London, the whole thing quickly comes crashing down. All of this could lead to a relapse for Amelia... which is a bad narrative idea.
Amelia constantly battles her demons... and she deserves a win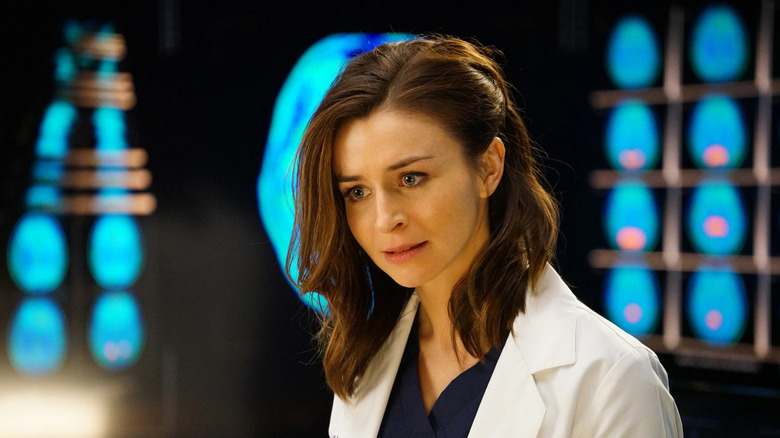 ABC
There's no denying that, while "Grey's Anatomy" is full of characters who struggle, Amelia has never had it easy. She was with her big brother Derek (Patrick Dempsey) when their father was shot during a robbery, and years later, she also lost Derek to a car accident, leaving her to grieve with his widow Meredith. Even before losing Derek, she tragically lost a child and went through a period of intense substance abuse, a storyline that actually began during Season 5 of "Private Practice."
Amelia could be erratic, moody, and unpredictable, and many of her loved ones tended to chalk that up to her battle against addiction — but then, in Season 14 of "Grey's Anatomy," it's discovered that Amelia has had a dangerous brain tumor for years. When that's removed, she still has to carefully manage her sobriety, but it does solve the mystery of why she behaved in the way that she did.
She can be a divisive character amongst "Grey's Anatomy" fans, there's no question — but it's also undeniably hard to watch Amelia get kicked time and time again when she's down. In the latest episode of Season 19, "Gunpowder and Lead," she's lost a lot — Meredith, Maggie, Kai — but she's also completely cruel to everyone around her as a result. Luckily, she ends the episode in a better place.
This Grey's Anatomy episode left Amelia in a (slightly) better place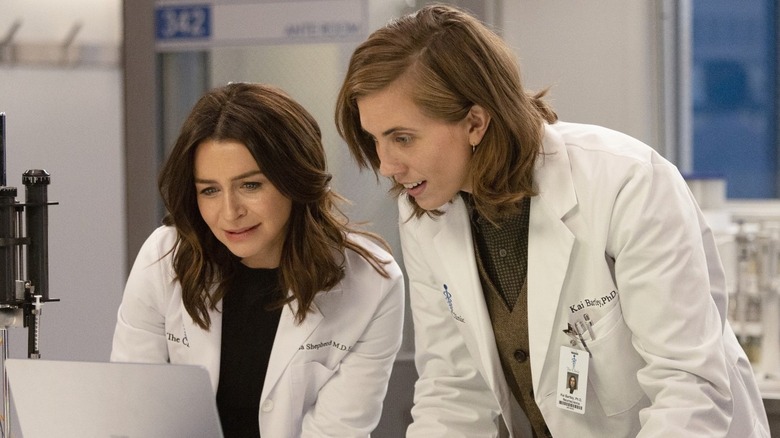 ABC
Thankfully, during "Gunpowder and Lead," Amelia gets help from two trusted sources. Midway through the episode, her first sister-in-law and Derek's ex-wife Addison Shepherd (Kate Walsh), who has been returning steadily throughout Season 19 to help support women's reproductive rights in Seattle and beyond, confronts Amelia over her bad behavior, telling her she's being a "self-obsessed ass" and reminding her that the world is a difficult, scary, and tough place where a million bad things are happening at any given moment. 
This is then paired with an assist from Richard Webber (James Pickens), who, like Amelia, is sober and trying to stay that way. He offers her the olive branch of attending an Alcoholics Anonymous meeting together, and off they go, getting help when they most need it (Richard is also dealing with fears of abandonment while his wife battles cancer, and Maggie was his biological daughter). This is an encouraging sign that the "Grey's Anatomy" staff won't get complacent and stick Amelia with yet another relapse storyline, which would be both uninspired and work to undo the growth she's experienced as a character. Amelia definitely shouldn't relapse — and the show shouldn't let her.

If you or anyone you know needs help with addiction issues, help is available. Visit the Substance Abuse and Mental Health Services Administration website or contact SAMHSA's National Helpline at 1-800-662-HELP (4357).