Where Were The Excalibattle Scenes From Mrs. Davis Actually Filmed?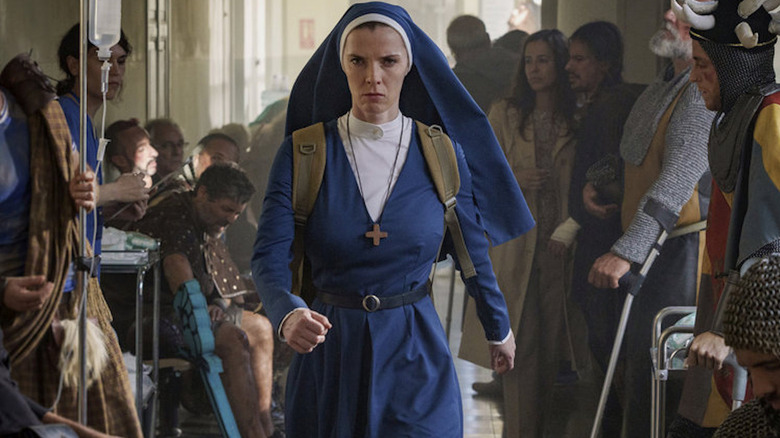 Sophie Kohler/Peacock
Contains spoilers for "Mrs. Davis" Season 1, Episode 3 – "A Baby with Wings, a Sad Boy with Wings and a Great Helmet"
The motives of certain characters on "Mrs. Davis" are still murky, but Episode 3 reveals more about Simone (Betty Gilpin) and Wiley (Jake McDorman). It turns out, they met during a chance encounter in the hospital as kids on Halloween night, with Simone in wizard garb and Wiley in a cowboy costume, and each of them went on to struggle with those personas. Simone helped her parents with their magic act as a child, but as an adult, she actively works to expose magicians. Meanwhile, Wiley has become a bit of an outlaw after realizing that his cowboy identity was part of a carefully constructed ploy.
It's all coming to a head as Simone and Wiley head across the pond in search of the Holy Grail, a journey that leads them to Scone, Scotland, where a contest called Excalibattle is about to begin. Wiley enters the contest in a misguided bid to prove himself to Simone, and there's so much to look at that it's hard to tell that these scenes weren't actually filmed in the United Kingdom but at the Sant Ferran Castle, an 18th-century military fortress in Figueres, Catalonia.

The Excalibattle scenes from Mrs. Davis were filmed at the Sant Ferran Castle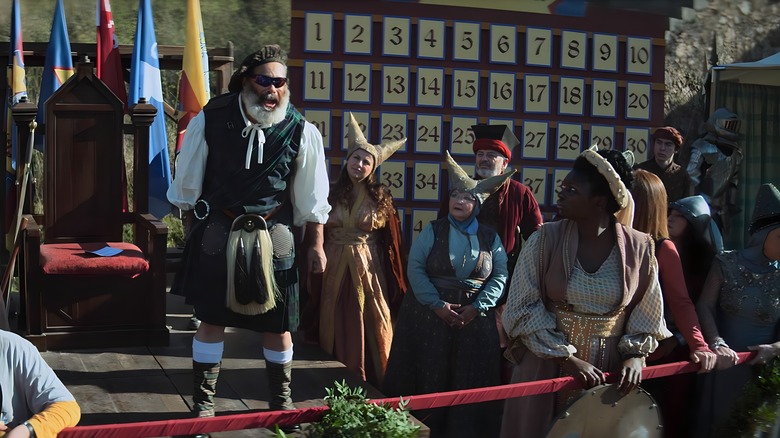 Peacock
The Sant Ferran Castle, also known as the Saint Ferdinand Fortress, was designed to house up to 4,000 soldiers and enough provisions to sustain them for a year of battle. Construction of this enormous bastion began in 1753 and stumbled on uneven legs until 1792, after which it was involved in a number of conflicts and became a meeting place for the Republican Parliament during the Spanish Civil War. The castle was then used as a barracks until the 1960s before opening to the public as a tourist attraction in 1996.
"Mrs. Davis" is a show that's rife with symbols from Arthurian literature, and the medieval look of the Sant Ferran Castle lends a mystical atmosphere, making it the perfect backdrop to Simone and Wiley's side quest. The walls are so tall and foreboding that it's impossible for Wiley to see the giant Excalibur replica until he's right on top of it, and the setting adds excitement to the contest, which proves to be pretty boring at times.
Catalonia isn't exactly close to Scotland, but the castle's impressive architecture makes for some stunning visuals regardless. It's possible that a suitable castle couldn't be found in Scotland and the Sant Ferran Castle was the next best thing, especially since the location doubled for France in the 2006 film "Perfume: The Story of a Murderer."