Elizabeth Olsen Says Doing Her Own Stunts In Doctor Strange 2 Was A Waste Of Time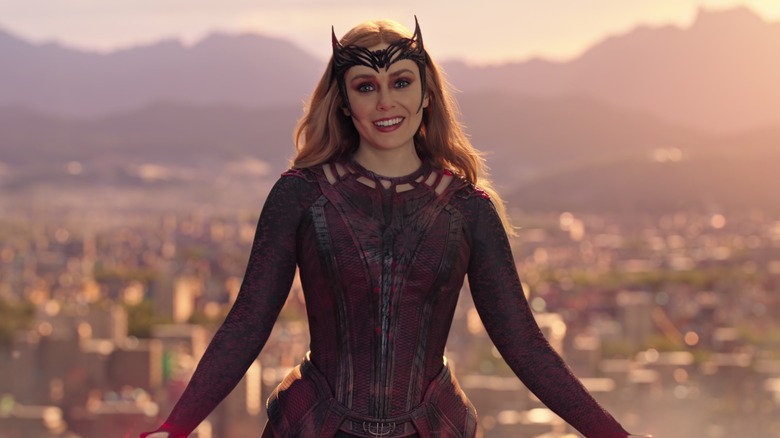 Marvel Studios
Wanda Maximoff (Elizabeth Olsen) has quickly become a fan favorite in the MCU, walking the line between hero and villain. In "Doctor Strange in the Multiverse of Madness," she fully embraces the villainous Scarlet Witch, hunting American Chavez (Xochitl Gomez) to use her powers in order to reunite with her lost sons.
While "Multiverse of Madness" further showcased that Wanda is one of Marvel's best, Olsen has had enough of all the stunt work that comes with the role. "We've had so much technology grow through these movies, and they just chose to really use me for every stunt in [Multiverse of Madness]," the actress told "The Late Show," saying she doesn't understand why it needed to be her behind most of the action sequences. "I didn't do all of them, but I did most of them, which is a waste of everyone's time because the stunt double does it so much better."
Olsen doubled down on the funny complaint, relating her experience to Jack Nicholson's role in "Witches of Eastwick." "I was wet, covered in oil, covered in blood, constantly, and I was just like, 'At what point are they just going to blow feathers on me?'"
Marvel Studios needs to bring back Wanda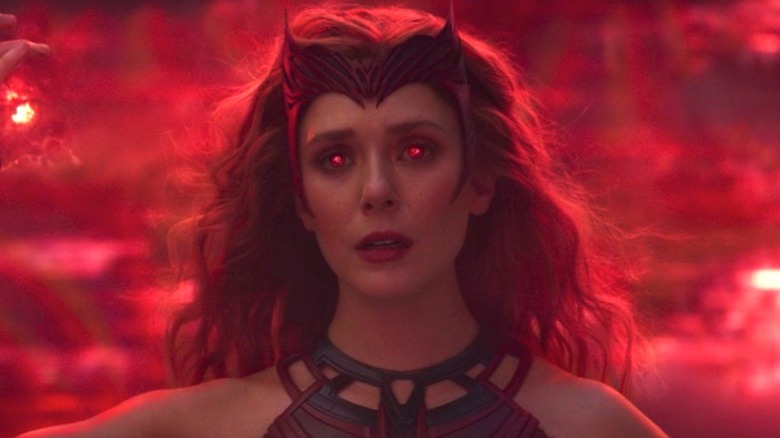 Marvel Studios/Disney+
As mentioned, Wanda is a fan favorite in the MCU, but her on-screen future is a giant question mark. "Doctor Strange in the Multiverse of Madness" ended with Wanda learning the error of her ways and redeeming herself by bringing Mount Wundagore down on top of her. While she's seemingly "dead," absolutely no one expects this to be the case, so it's only a matter of time before we see the Scarlet Witch again. 
However, the answer remains behind Marvel Studios's ever-growing vault of secrets, as there's no confirmed next appearance for Elizabeth Olsen in the MCU. The actress has reiterated over and over that she wants to return, but she doesn't know if or when fans will see her in the MCU again. Most recently, she appeared on "The Today Show," telling the panel of hosts, "Yes, I hope so, but I have no idea. When I say that, it's not because I have a loaded answer. It's because I say, 'Yes, I hope so,' and I mean it at face value." She also reiterated that she hasn't started filming anything, seen a script, and doesn't have a contract from Marvel Studios. 
While all those things may be true, there's almost a zero percent chance fans have seen the last of Wanda. The most likely project for her to pop up in would be "Agatha: Coven of Chaos," but unfortunately, that wasn't part of what Patti LuPone spoiled about the show. Hopefully, fans won't have to wait until the next "Avengers" movie to see Wanda again.