Star Trek: Picard's Jeri Ryan Can't Confidently Say Yes To A Legacy Spinoff Just Yet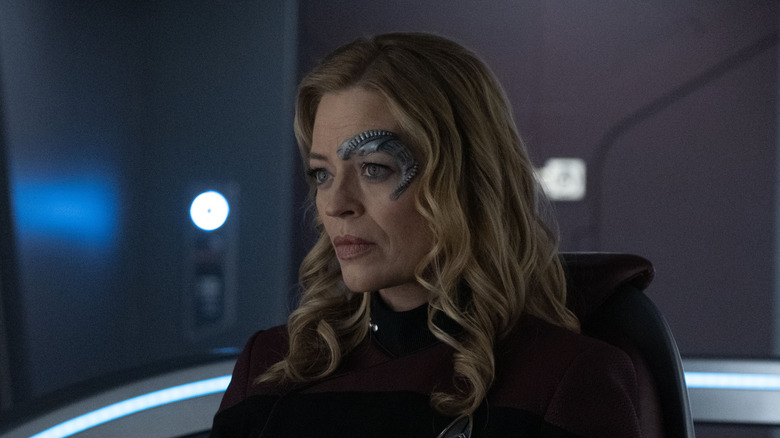 Trae Patton/Paramount+
Jeri Ryan's Seven of Nine is definitely one of the more fascinating characters in the "Star Trek" pantheon. The former Borg drone who has broken away from the dreaded cyborg race to both reclaim a human identity and join up with Starfleet has, as fans will know, made for plenty of interesting plots and drama since her first appearance in "Voyager." 
That's shown itself to be just as true since she was brought in as a major player in "Star Trek: Picard." In fact, there has been serious discussion about bringing her into showrunner Terry Matalas' proposed spin-off "Star Trek: Legacy," which would focus on the crew of the U.S.S. Titan that plays such a major role in "Picard." But while Ryan is certainly open to reprising Seven of Nine once again for the "Star Trek" universe, she is also quick to make sure expectations aren't raised too much. After all, there are countless moving parts that have to fall into place for a show to come together, including for the actors.
"I mean, I always hedge on this because there's a lot more to [it than] saying, 'Oh yes, I'm into something' than the reality of shooting a television series and being a working mother," Ryan said in an interview with Screen Rant. "There's a lot more involved than just saying, 'Oh my god! I'm in!'"
'Star Trek: Legacy' is a long way from reality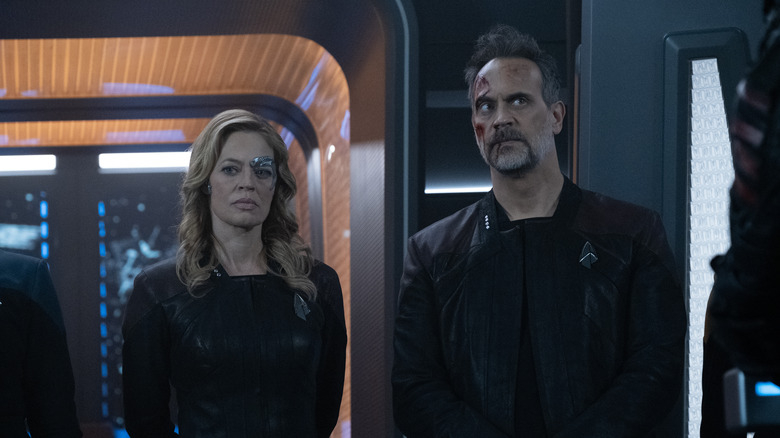 Trae Patton/Paramount+
Jeri Ryan was also clear that the experience of making "Picard" has been a wonderful one and, should everything come together in just the right way, she would love to revisit the role. "Would I love to continue working with these people and this character? Absolutely! 100%," Ryan told Screen Rant. "We could not be in better hands with Terry and this writing staff. They were phenomenal, and playing with these actors is just amazing, and this character is just a gift." But, once again, it's more than a matter of simply saying yes.
Ryan's words underline what Terry Matalas has sought to hit home to fans, namely that "Star Trek: Legacy" is a long way from becoming reality, and that there are currently no plans to launch the idea into development. That said, Ryan isn't the only character who would love for this series to somehow become reality. "Picard" star Todd Stashwick, who plays Captain Liam Shaw, has also expressed his enthusiasm. In Stashwick's case, however, it would be a chance to further cement his presence in the "Star Trek" universe the way that Ryan's Seven already has done. 
Still, given enthusiasm on social media, Stashwick is hopeful that Paramount can be moved to give "Legacy" the green light. Hopefully, that would also convince Jeri Ryan to once again reprise her character. But only time will tell.