Whatever Happened To Bubba's-Q Boneless Ribs After Shark Tank?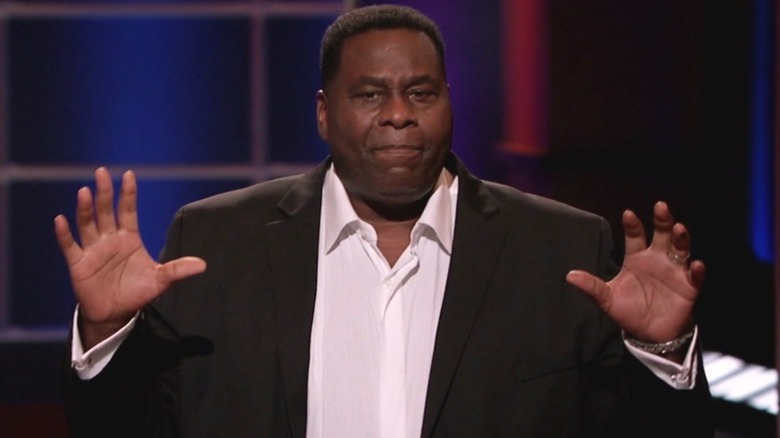 ABC
While some food entrepreneurs have gone on "Shark Tank" to pitch innovative products, others just offer up the good stuff: simple food made well. Three such examples are the Chi'lantro food truck, the Fat Shack late-night junk food purveyor, and Bubba's-Q Boneless Ribs.
Bubba's-Q Boneless Ribs are the brainchild of former NFL defensive end Al "Bubba" Baker, who opened up a BBQ restaurant after retiring from football. Wanting to come up with a less messy rib option that can be sold in stores and — even better — served after only needing two minutes in the microwave, Baker came up with the "De-Boned Baby Back Rib Steak" ribs. This isn't pork shaped into a rib-like object, either. It's genuine ribs with the bones removed by a proprietary process that has a patent.
Baker went into the tank to pitch his boneless ribs during "Shark Tank" Season 5, with his episode airing in December 2013. He asked for $300,000 in exchange for 15% of his company. Baker had to choose between two competing offers, both of which were contingent upon Baker licensing his bone-removing patent to a meat manufacturer. Kevin O'Leary offered $300,000 for 49%, while Daymond John offered the same for 30%. 
Baker went with John, but here's how his ribs are doing today.
Bubba's ribs are one of Daymond John's best investments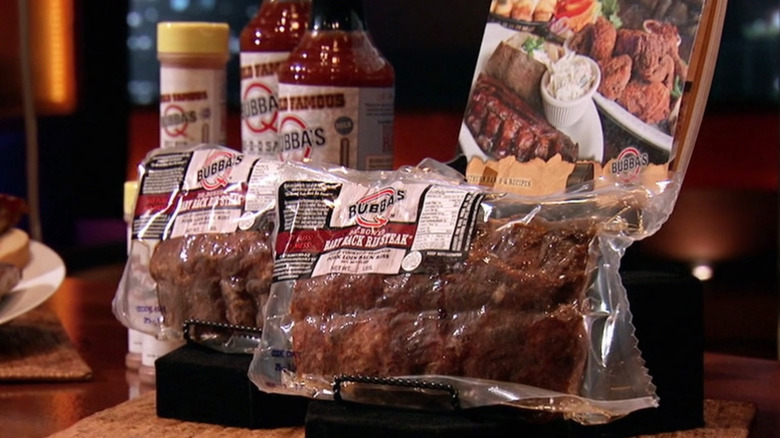 ABC
In the year before their "Shark Tank" appearance, Bubba Baker had done $154,000 in sales and his boneless ribs were being sold in 48 Ohio-area stores. Problem was, the expense of making and selling the product had pushed his restaurant to its financial limit. Baker was actually negotiating with his bank to avoid bankruptcy when he got the call from "Shark Tank's" producers.
By the end of the week after Baker's episode aired, Bubba's-Q Boneless Ribs had done $400,000 in sales, mostly online. Yet Baker's delight was short-lived because he could only fulfill half the orders. At that point, Baker found himself in a difficult middle ground. His orders were too big for small meat-packaging companies to fulfill, but too small for the larger ones to deem profitable. After two years, Baker partnered up with Rastelli Foods in Swedesboro, New Jersey.
This allowed Baker to focus on marketing the boneless ribs. Soon, he was pitching them on QVC and had deals with Wal-Mart and Costco. As of 2017, they'd done $16 million in sales, potentially making it Daymond John's most lucrative deal ever. Today, Bubba's-Q boneless ribs are available in thousands of stores, or directly through its website. It's definitely one of the biggest success stories in "Shark Tank" history.