Arnold Schwarzenegger's FUBAR Trailer Lives Up To Its Name In Every Way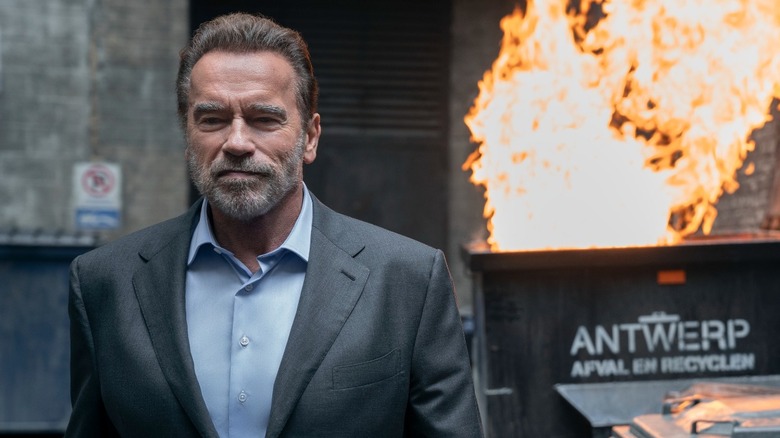 CHRISTOS KALOHORIDIS/NETFLIX
The word "FUBAR," which originates from military slang used during WWII, is an acronym that translates to "F****d Up Beyond All Recognition." Well, after watching the newly dropped trailer for the new Netflix action-comedy series "FUBAR," it'll be pretty clear to see how the upcoming show will live up to its name. The show follows CIA operative Luke Brenner (Arnold Schwarzenegger), who discovers that his daughter, Emma (Monica Barbaro), has also been involved in the secret agency. As you can see in this first look at the series, it's obvious that Luke's plan for retirement gets completely derailed and he's thrust into one last mission that he's in no way prepared for. 
The trailer kicks off with Luke being in a seemingly inescapable situation, one that he gets out of just a few dead bodies later. But this lifestyle appears over as Luke has retired, that is, until the CIA needs his help one more time to extract a captured agent. This agent turns out to be his daughter, Emma. It's quickly apparent to Luke that Emma can drop bad guys as well, if not better than him. And for Luke, discovering this about his daughter, the carnage she can inflict, and that her lipstick is not what it seems, it's evident that this action comedy will undoubtedly be "FUBAR."
Just when he thought he was out, his daughter pulls him back in.
What's in a name? Well, for Arnold Schwarzenegger fans, the name of the series "FUBAR" means he wasn't lying when he said, "I'll be back." In the past, that would also be the way to describe how every villain would end up in each Schwarzenegger film; however, this time, it's his character's discovery of his daughter's secret that earns the phrase. In addition to Schwarzenegger's on-screen wife and daughter, the series also costars the hilarious Fortune Feimster, who adds to the show's "True Lies" vibe. "Everywhere I go, people ask me when I'm going to do another big action comedy like 'True Lies.' Well, here it is," Schwarzenegger told Variety. 
Not only should "FUBAR's" arrival excite fans, but plenty will be even more thrilled knowing that this Schwarzenegger production will last much longer than all his past gigs. Up until this point, every action film Arnold Schwarzenegger has been involved in were all one-shot deals (not including the countless gunshots, of course). "FUBAR' will kick your a** and make you laugh — and not just for two hours. You get a whole season," said Schwarzenegger, referring to this being his first-ever series.