What's The Song In Star Trek: Strange New Worlds Season 2's Teaser Trailer?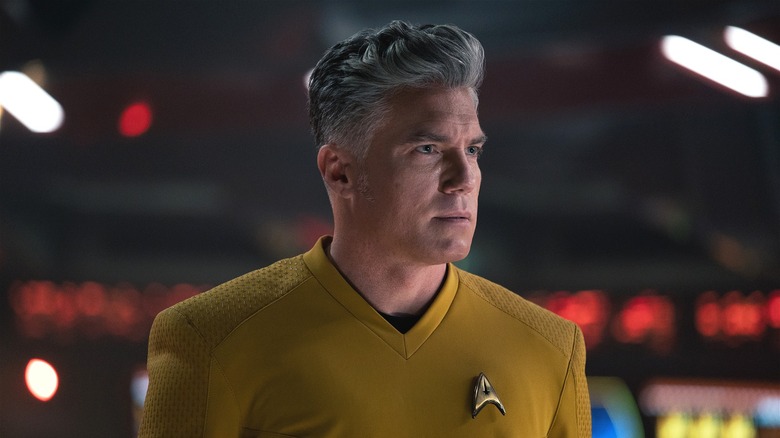 Marni Grossman/Paramount+
The new teaser trailer for the second season of "Star Trek: Strange New Worlds" dropped on Wednesday, and for a video clocking in at just under two minutes, it's given viewers a lot to mull over. As always, there's the backdrop of the vast wonder of space, which never seems to become less than fascinating. Captain Pike (Anson Mount) is as commanding as ever, apparently, La'an Noonien-Singh (Christina Chong) has the hots for Captain Kirk (Paul Wesley), and Spock (Ethan Peck) has a very uncreative version of an acting captain's warp command. Also, Carol Kane is there. 
All around, it looks like there's a whole bunch of new wonders for the crew of the Starship Enterprise to encounter. And that's highlighted by the choice of song: a version of the Postal Service's much-beloved "Such Great Heights." If this song sounds familiar to you, that's unsurprising. It's probably one of the most recognizable songs of the past 20 years, and indeed, Rolling Stone included it at number 27 in its "100 Best Songs of the 2000s" list. 
In retrospect, it's a bit surprising that such an unassuming song might wind up having such a big influence on pop culture. The Postal Service started as little more than a small side project of Ben Gibbard — lead singer of indie group Death Cab for Cutie — and instrumentalist and producer Jimmy Tamborello. "Such Great Heights" appeared on the group's only studio album thus far, "Give Up," which was recorded by the two sending each other audio tapes of vocals and instrumentation through the mail. Hence their name.
Such Great Heights has been covered several times
There is a very good chance that the version of "Such Great Heights" readers recognize first is not necessarily the one recorded by the Postal Service. The original song is a twee, fairly minimalist composition, with Ben Gibbard's boyish voice playing over computer-generated beats and beeps and boops. But over the past two decades, plenty of other artists have put their own spin on the song, from ska-punk band Streetlight Manifesto to Amanda Palmer of the Dresden Dolls.
One of the most recognizable was by folk artist Iron & Wine, and was included as a B-side on the Postal Service's single of the song. It's this version that appeared in the 2004 indie comedy "Garden State," and was also used in an M&M commercial. Meanwhile, the original version was used in commercials for Target, UPS, and other companies. The single was certified Gold in 2005, selling over 500,000 copies.
As for the version used in the teaser trailer for "Strange New Worlds" Season 2, it appears to be a remix of the original. That certainly sounds like Gibbard's voice singing the lyrics, even as the original instrumentation has been overdubbed with synthesized strings and epic percussions. This unassuming song, playfully imagining love as something visible from space, is now reimagined through the ears of those doing the looking down.
The second season of "Star Trek: Strange New Worlds" premieres on June 15 on Paramount+.