Netflix's Beef Stews In Controversy Surrounding David Choe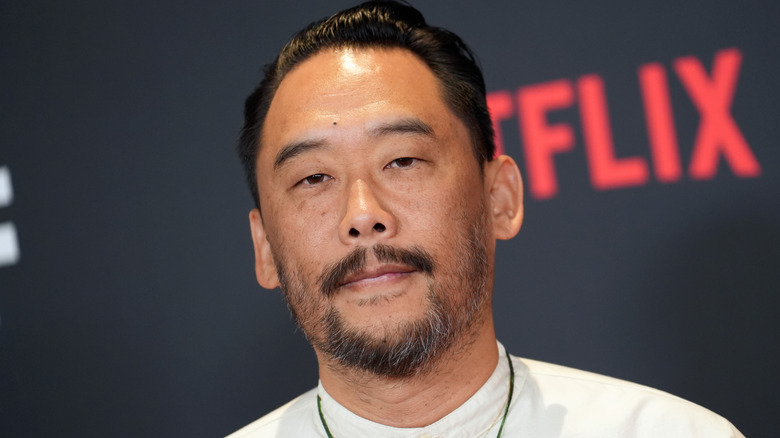 Jc Olivera/Getty Images
If you've waited this long to get in on the viral Netflix series "Beef," you may find it much harder to choke down. The miniseries led by Ali Wong and Steven Yeun once made headlines for uniquely gruesome imagery, a bevy of emotional performances, and for bringing together a cast predominantly made up of Asian actors. However, it's now being devoured by controversy relating to one of its stars — Isaac actor David Choe.
Shortly after the lauded release of "Beef," footage resurfaced from a 2014 episode of DVDASA, a podcast co-hosted by Choe and fellow actor Asa Akira. In the episode, Choe graphically details a story of how he physically forced a masseuse to perform a sexual act on him. Though Akira immediately noted that the actions he described constituted rape, Choe stated several times afterward that the story was entirely fictional and was told in a misguided attempt at shocking his audience and/or dealing with his own personal demons.
Regardless of its voracity, the mere telling of the story obviously (and understandably) upset those that heard it — both in the present, upon its relitigation in the court of public opinion, and in 2014 when the comments were first made — which makes Netflix and A24's collaboration with Choe all the more troubling to some would-be "Beef" fans.
Choe's comments have been publicly criticized for years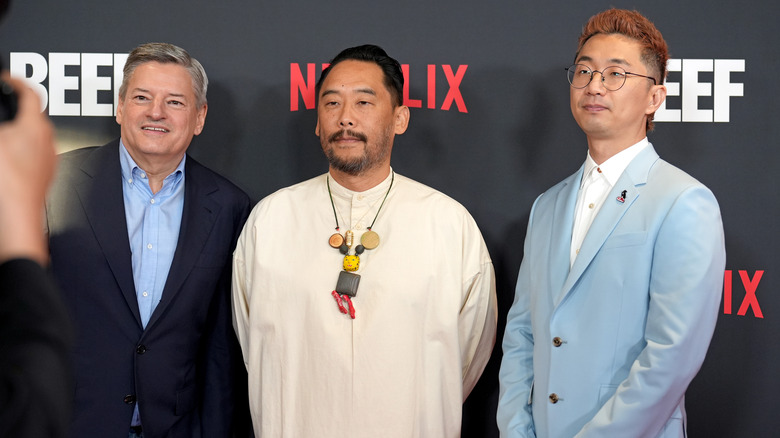 Jc Olivera/Getty Images
Though recent entertainment history is full of "canceled" men and women who were undone by an unfortunate online history that pre-dated their fame, Choe made his comments while he was very much in the public eye. Shortly after the initial release of the incriminating episode of DVDASA, journalist Melissa Stetten covered the disturbing remarks and noted that he had been a guest on Anthony Bourdain's "Parts Unknown," had a piece of artwork hanging in Barack Obama's White House, and had made hundreds of millions by painting a mural for Facebook in exchange for stock. Even in 2014, Choe had power, capital, and a following.
The backlash to his appearance in "Beef" and the discovery (or re-discovery, for some) of his past comments has taken a unique shape. Rather than simply urging the show to distance themselves from Choe, some feel the damage has already been done. It's difficult to imagine that Netflix and A24 were unaware of controversy relating to one of their actors rooted in the discussion of possible criminal activity, which sparked mainstream media coverage and protests from Choe's peers. In December 2014, a blog was even able to compile five years' worth of uncomfortable comments from Choe bizarrely fixated on sexual assault.
Should Choe's behavior be ignored?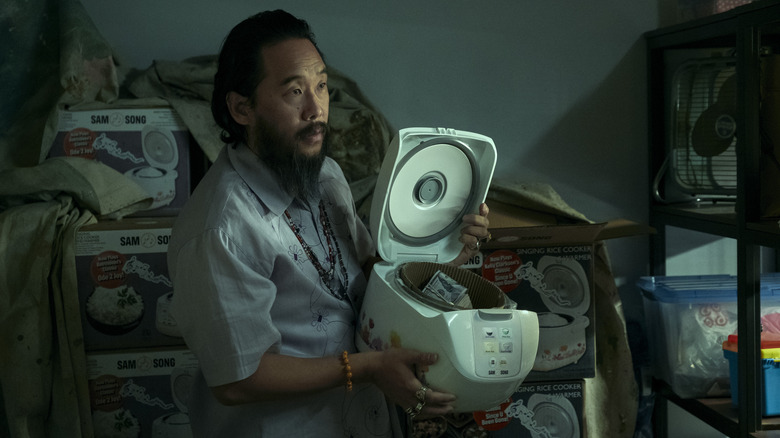 Netflix
Choe has addressed the incident several times in the years since and has consistently denied the story's reality and dismissed it as a cruel joke made by a version of himself he no longer recognizes. While there are certainly those willing to forgive a horrific supposed joke made a decade in the past, the general consensus seems to be that he shouldn't have been involved in "Beef" at all.
In a column for the Chicago Tribune, critic Nina Metz points to the silence of "Beef's" stars and creative team as part of an ongoing effort in Hollywood to put the #MeToo era of controversy — and, more importantly, transformative public accountability — behind them. She lightly compares Choe's "it was just a bad joke!" defense to that of James Gunn, the acclaimed superhero auteur whose history of public pedophilic jokes was deflected almost as quickly as it came to light. Perhaps if taken seriously, these incidents would illuminate a Hollywood community made up not of surviving saints but carefully packaged monsters. At the very least, Metz feels Choe took away an opportunity from a less reprehensible actor to get their footing in the competitive industry.
At present, there seem to be no plans to address Choe's involvement in the series. Instead, the actor and his team have focused their efforts on taking down any and all clips up the podcast through militant DMCA claims. As for the fate of Netflix's newest binge-able sensation in the eyes of its viewers, it seems you either got to enjoy "Beef" in ignorance while it was fresh or must now work through it in its rotten, spoiled state.