The Most Underrated Movies Of 2023 So Far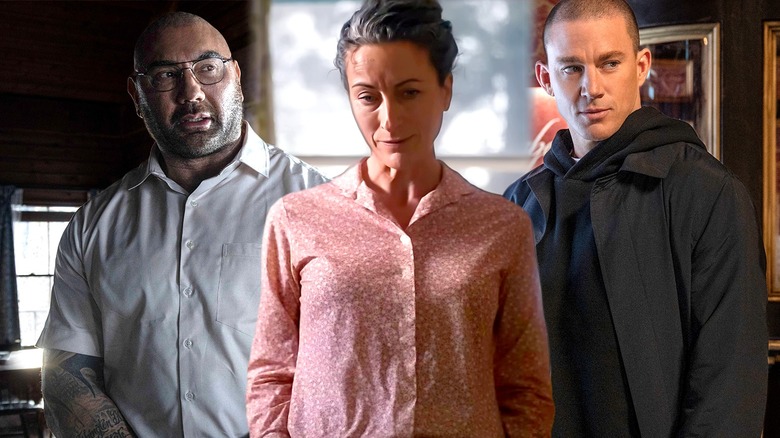 Static Media
The world of movies is often molded by its most famous occupants. Big award-season darlings or massive blockbusters are typically the motion pictures that influence the trajectory of the entire film industry. There are many masterpieces and enjoyable features within those two areas of cinematic expression, but let's not forget about the craftsmanship and skill apparent in movies that aren't quite as famous. Every year delivers movies that would be categorized as underseen gems, and though these titles aren't household names, that doesn't erase their artistic accomplishments.
In 2023, several underrated motion pictures have demonstrated that movies flying under the radar can be more powerful and memorable than you'd ever realize. It's a fact that reflects just how expansive the world of cinema is — there's always something new and exciting just waiting to be discovered out there. 2023's underrated titles underscore this impeccably with films ranging from a clever slasher feature to an unforgettable directorial debut to a romantic-comedy heads and shoulders above its modern contemporaries. It can be daunting to realize just how many underrated and remarkable movies are out there from filmmakers all across the world. But that fact should be exciting rather than intimidating, a vivid reminder that there's never a shortage of commendable artistry out there when you look beyond the biggest movies in the marketplace.
Updated on May 30, 2023: As the year goes on, we'll be sure to keep you up to date on all the amazing films that slip under the radar.
Sick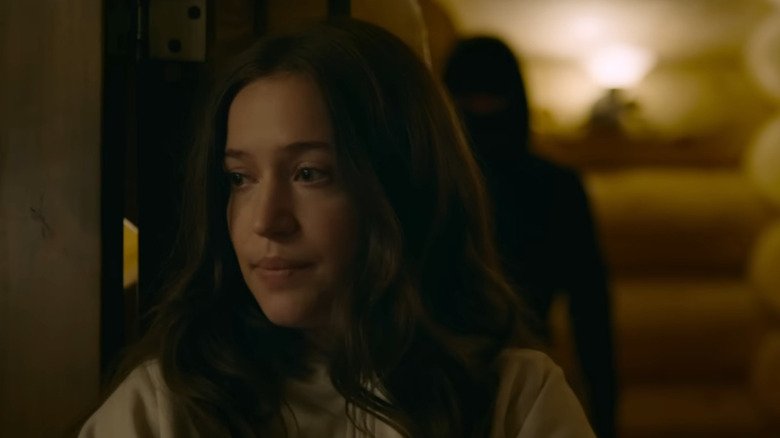 Peacock
Sometimes, it's staggering to consider how some quality movies slipped through the cracks of the general public. Other times, it's a lot more understandable why certain motion pictures never had a chance at securing widespread notoriety. Take the 2023 horror movie "Sick," which debuted not in theaters but on the streaming service Peacock. No wonder most people weren't able to watch and appreciate this movie considering its streaming home. While the release plan of "Sick" left something to be desired, the feature itself was a rock-solid piece of scary cinema. Written by Katelyn Crabb and "Scream" veteran Kevin Williamson and directed by John Hyams, "Sick" follows a pair of friends who head out to a lavish cabin during the COVID-19 pandemic only to end up stalked by a masked killer.
While other titles like "Locked Down" have crumbled under the weight of trying to make an appealing genre movie about the COVID-19 pandemic, "Sick" manages to demonstrate real creativity in these confines. Its most inspired touch is leaning into an innately stripped-down cast to really dig into the characters and the extended scary set pieces. A restrained scope just benefits "Sick" rather than taking it down. Plus, Hyams excels as a visualist here, with his lively camerawork adding tons to the tense atmosphere of this movie. Though it was buried away on Peacock, "Sick" deserved way more attention for its accomplishments. 
Knock at the Cabin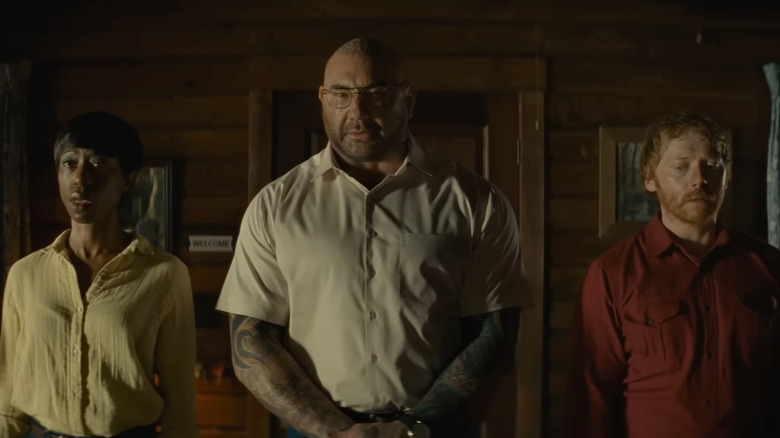 Universal Pictures
"Knock at the Cabin" is not a flawless movie. Is any directorial effort from M. Night Shyamalan devoid of shortcomings? But save for the occasional total failure like "The Last Airbender" or "After Earth," Shyamalan's works being flawed are often a symptom of his admirably ambitious nature as a filmmaker. Shyamalan always shows up to challenge audiences, and his willingness to go for broke results in messy motion pictures that you also can't forget about. So it is with "Knock at the Cabin," an adaptation of the Paul G. Tremblay novel "The Cabin at the End of the World" that manages to deliver enough thrills to compensate for its weaker aspects.
For every line of dialogue or ham-fisted theological allusion that misses the mark, "Knock at the Cabin" cranks out an evocative image or an especially chilling detail reflecting what human beings are capable of in their most extreme moments of desperation. Best of all, this plot offers Dave Bautista a chance to further expand his talents as an actor. Playing a soft-spoken man who can comment on the educational value of a children's television show one moment before brutally slaughtering someone the next, Bautista is gripping throughout all of "Knock at the Cabin." His performance is one of several details in this thriller that flourish because of Shyamalan's creative tendencies. Those expecting a flawless motion picture should skip this one, but everyone else will find plenty in "Knock at the Cabin" to admire.
Magic Mike's Last Dance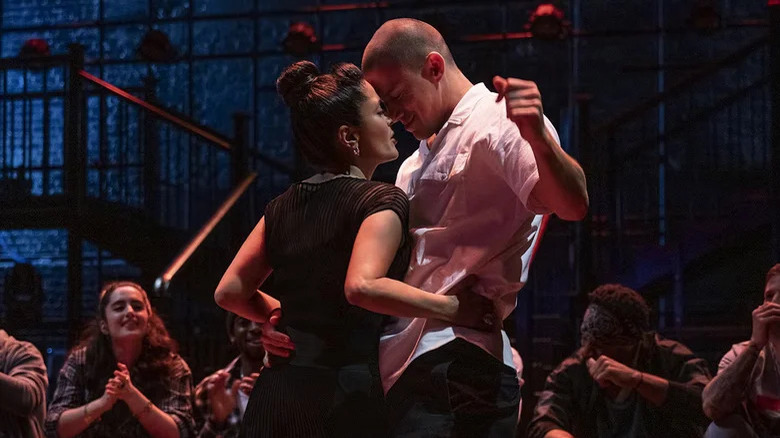 Warner Bros.
Despite being a part of a franchise that previously made nearly $300 million worldwide across just two movies, "Magic Mike's Last Dance" came and went without leaving much of a pop culture impact in its theatrical release at the start of 2023. That's not hugely surprising given that the feature isn't quite as much of an extraordinary bolt out of the blue as "Magic Mike XXL" and its first two acts desperately needed an extra jolt of energy. But sometimes, a good finish is all that's necessary to make an evening memorable. In the case of "Magic Mike's Last Dance," its climax depicting a variety of lavish strip routines is plenty to boost the quality of the entire feature up a couple of notches.
Between the imaginative costumes, richly detailed choreography, and a dance routine that sees leading man Channing Tatum parading around with a lady in an interior rainstorm, "Magic Mike's Last Dance" caps this franchise off with a mighty bang. Plus, even before this unforgettable crescendo, "Last Dance" has its fair share of commendable attributes, including the film's willingness not just to retread the same kind of storylines explored in its predecessors. It doesn't hurt that Salma Hayek remains as magnetic of a performer as ever and a more than welcome addition to this franchise's cast. "Magic Mike's Last Dance" won't be everyone's cup of tea, but that final half-hour certainly works hard for the money and then some. 
The Quiet Girl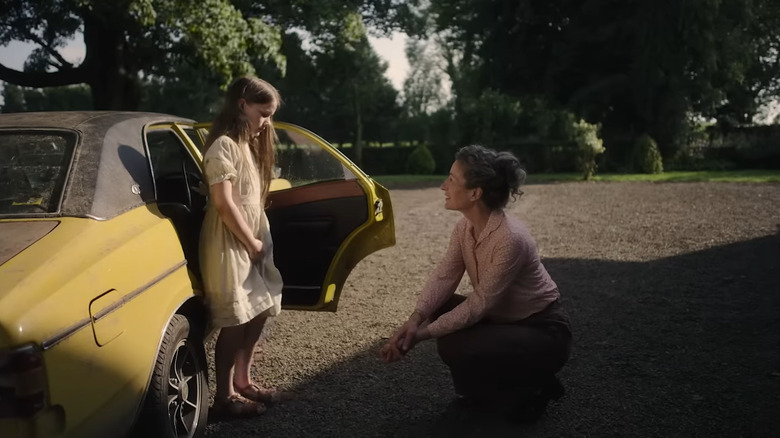 Super LTD
The crop of Best International Feature nominees at the 95th Academy Awards left more than a bit to be desired, between contending films like the expansive but ultimately empty "All Quiet on the Western Front" and the derivative courtroom drama "Argentina, 1985." However, there was one gem among the five motion pictures in the form of the Irish drama "The Quiet Girl." Written and directed by Colm Bairéad, this production follows young girl Cáit (Catherine Clinch) leaving her crowded and troubled home to temporarily stay with much kinder relatives, Eibhlín (Carrie Crowley) and Seán Kinsella (Andrew Bennett).
"The Quiet Girl" has an appropriate title since it's a story all about subdued displays of emotion. But even the gentlest gestures and words can leave a mighty impact, as seen by how the various kind acts of the Kinsellas leave such a positive impression on Cáit. Bairéad's screenplay deftly and believably paints this trio of human beings coming closer together, with the surrogate mother/daughter relationship between Eibhlín and the film's protagonist being especially moving in how it forms. It's also a motion picture that matches rich emotions with equally striking imagery, as the Irish countryside looks gorgeous in the hands of cinematographer Kate McCullough. By the end of its runtime, "The Quiet Girl" will wring tears out of even the most jaded viewer. No wonder such an accomplished movie stood out so tremendously at this year's Oscars.
A Thousand and One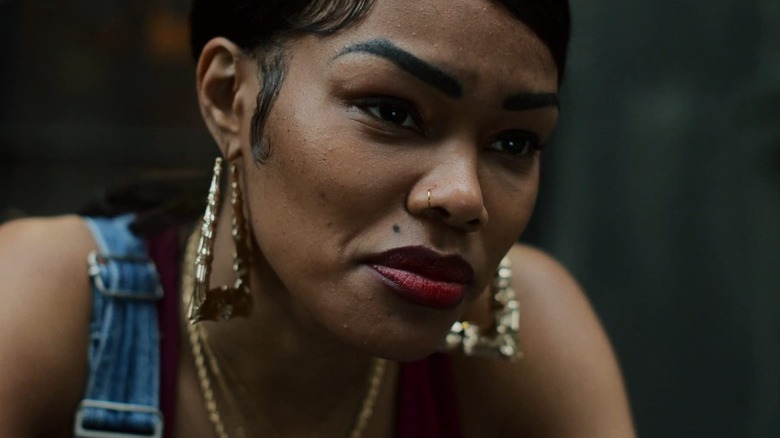 Focus Features
It's always remarkable to see a feature-length directorial debut just bursting with personality and skill. From the get-go, these artists demonstrate a commendable grasp of their artform and signal an exciting and promising future. Such is the case with A.V. Rockwell, who transitioned from short films to feature-length motion pictures with "A Thousand and One." Set over more than a decade in Harlem, the feature follows Inez de la Paz (Teyana Taylor) snatching her son, Terry (played by a trio of different actors at different points in time), from his foster home surroundings and trying to make a life for the two of them.
There are many great flourishes in Rockwell's directing here, including the way she frames every nook and cranny of Harlem with such affection and detail. But it's also impressive how she juggles such an expansive narrative without making "A Thousand and One" feel cramped or its characters come off as half-formed. Comprehensiveness doesn't mean trading out intimate details within the confines of this particular movie. Under her direction, unforgettable performances blossom like roses, with Teyana Taylor astonishing in her deeply complicated and compelling work as Inez while Josiah Cross' work as 17-year-old Terry produces some of the most devastating line deliveries of the entire feature. "A Thousand and One" is an incredibly rich depiction of a mother/child dynamic that would register as impressive under any circumstances. As Rockwell's feature-length directorial debut, though, it's especially outstanding.
Rye Lane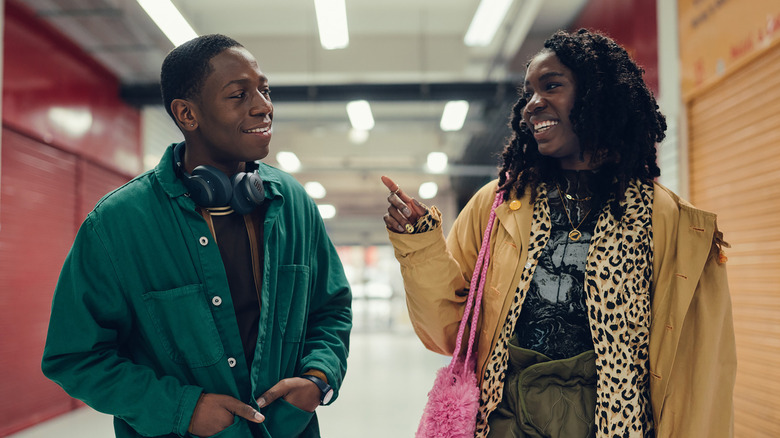 Chris Harris/Searchlight Pictures
With "Rye Lane," we find yet another underrated 2023 movie that deserved better than getting dumped onto a streaming service. Since its North American premiere on Hulu, "Rye Lane" hasn't generated much in the way of conversation, which is a tragedy given what a delight this romantic comedy is. Like so many of the best entries in this genre, "Rye Lane" is a conceptually simple tale of two strangers, Yas (Vivian Oparah) and Dom (David Jonsson), stumbling onto each other and proceeding to spend the day together. Yas is boisterous, while Dom is withdrawn. They seem like total opposites, yet they can't stay away from one another.
This classical template is rejuvenated with all kinds of life thanks to the sparkling chemistry between Oparah and Jonsson. It also doesn't hurt that the movie itself looks gorgeous, with every backdrop of this London-set yarn bursting with vibrant hues of red, yellow, and blue. The vivid production design combined with the sharp camerawork makes "Rye Lane" as engaging visually as it is emotionally. On top of all that, director Raine Allen-Miller and writers Nathan Bryon and Tom Melia deliver an incredibly fun atmosphere filled with amusing lines of dialogue and equally entertaining plot turns. Any way you look at it, "Rye Lane" functions as an immensely enjoyable film that makes your heart swell. What a pity domestic moviegoers couldn't have experienced it on the big screen.
Dry Ground Burning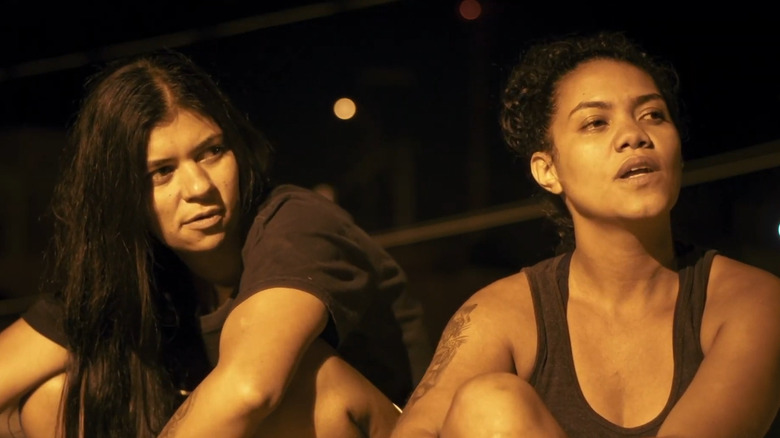 Grasshopper Film
Cinema can be a powerful tool to reinforce the rhetoric of fascist oppressors, as seen by the works of D.W. Griffith or countless filmmakers behind Nazi propaganda films like Leni Riefenstahl. But it can also be a method for the marginalized to be shown as just everyday human beings, with the nonchalant depictions of humanity doing so much to undercut the sensationalist demonization of the oppressed. 
So it is with "Dry Ground Burning," a new motion picture from filmmakers Joana Pimenta and Adirley Queirós set in Brazil that follows half-siblings Léa (Léa Alves Silva) and Chitara (Joana Darc Furtado) as they lead an all-ladies group determined to enact political revolution and secretly sell gasoline to motorcyclists. This is a movie that puts lesbian ex-convicts at the forefront of its narrative and backs up that bold narrative choice with equally audacious filmmaking.
While "Dry Ground Burning" has numerous references to former Brazilian president Jair Bolsonaro, its most striking qualities are ageless. Some of these are terrifyingly timeless, such as a chilling depiction of a group of cops preparing to hurt citizens by engaging in a nationalistic salute that looks an awful lot like a Nazi salute. Other times, the enduring qualities are much more pleasant and richly human, such as quiet scenes of Léa and Chitara just talking. By focusing so much on the latter qualities, "Dry Ground Burning" cements its impressive craftsmanship and reaffirms cinema's capabilities of lending dimensions to the downtrodden.
Showing Up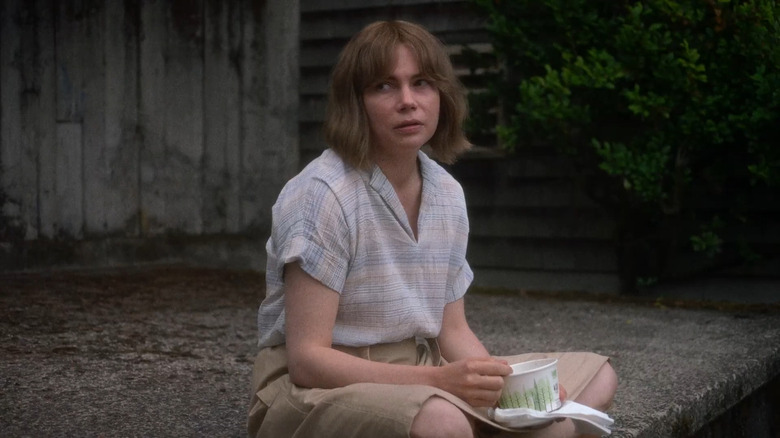 A24
Kelly Reichardt wrung so much power out of a cow in "First Cow," so it shouldn't be a surprise that she also gets so much dramatic mileage out of a wounded pigeon in "Showing Up." This hurt critter is at the heart of many key scenes in this feature about cantankerous sculptor Lizzy (Michelle Williams), but it's by no means the only element at play here. "Showing Up" is a movie about the ordinary existence of Lizzy, with Reichardt's camera taking so much time to emphasize the humanity of every figure who wanders into the frame. Supporting figures like Lizzy's tormented brother, Sean (John Magaro), who could've been forgettable caricatures in other movies, are rendered with incredible depth.
The screenplay by Reichardt and Jon Raymond is also a pleasant surprise in just how amusing it is. "Showing Up" has lots of comedy to offer up audiences, particularly in the interactions between Lizzy and her busy landlord Jo (Hong Chau). The dissonance between Lizzy's insistence that she get her cold water back soon and Jo just riding back and forth on a tire swing is incredibly amusing. Subtle bursts of comedy like that exchange or the uncommented presence of a big fluffy dog lounging around Lizzy's workspace pepper the world of "Showing Up," which just helps to make it feel even more lived-in. Like so many of Reichardt's other works, "Showing Up" grabs your heart and attention effortlessly.
Joyland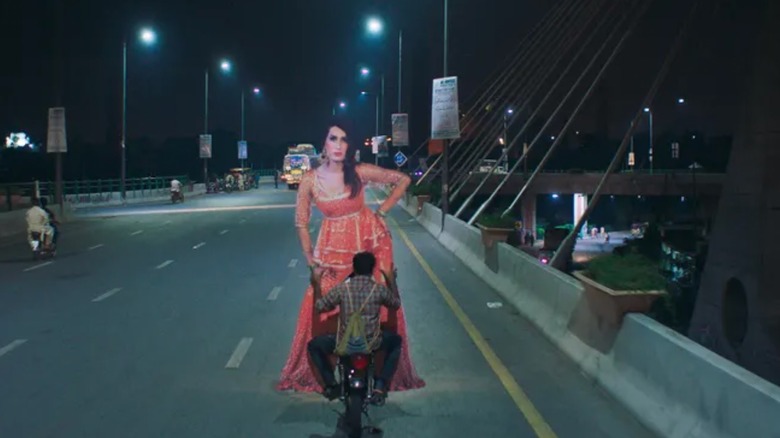 Oscilloscope Laboratories
Whether they realize it or not, the individual characters of "Joyland," a directorial effort from Saim Sadiq, are all trapped. Protagonist Haider (Ali Junejo) is pressured to get a job to provide for his family so that his wife, Mumtaz (Rasti Farooq), isn't the primary breadwinner of the family. Mumtaz, meanwhile, is yearning to maintain her financial independence and her current job in the face of perceptions of what women are "supposed" to do. The rare person to at least transcend some of the bonds of societal expectations is Biba (Alina Khan), a dancer whose both a trans woman and Haider's new employer. 
In brief glimpses into Biba's personal life, including a scene where she walks through a location bustling with other trans ladies, we see the kind of joy that's possible when one is allowed to put their own identity first before "traditional" ideas of how people of certain genders are "supposed" to behave. The screenplay by Sadiq and Maggie Briggs deftly makes Biba represent this concept without turning her into an object or just a source of symbolism. She's still a richly-defined person, just like everyone else in the compelling cast of "Joyland." 
These nuanced characters are told through captivating cinematography by Joe Saade, which frames everybody in a tight 1.33:1 aspect ratio. Through this visual detail, "Joyland" constantly reinforces the idea that these characters are trapped by societal expectations that often crush so many souls. Everyday confinement is at least beautifully realized in the hands of "Joyland."
Guy Ritchie's The Covenant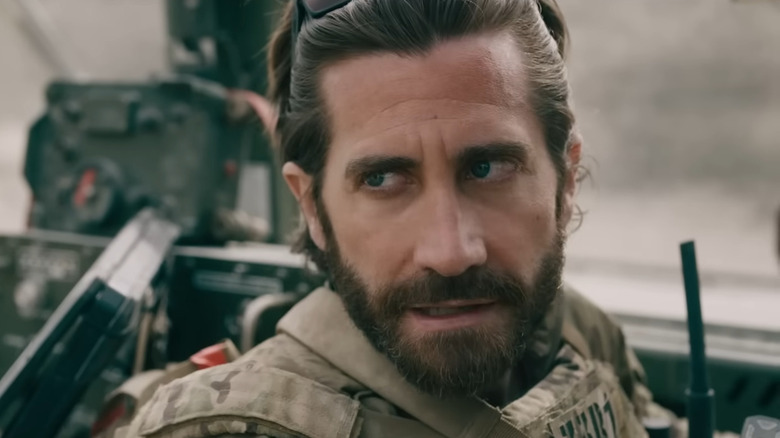 MGM
One look at the poster for "Guy Ritchie's The Covenant" will likely put a pit in the stomach of many viewers. At first glance, this movie looks like it has the potential to be another hollow and jingoistic motion picture about the Iraq War in the vein of "12 Strong" and "Lone Survivor." Thankfully, no uncomfortable Toby Keith needle drops disrupt the cinematic landscape of "The Covenant." In fact, the feature is a very well-crafted action drama concerning Master Sgt. John Kinley (Jake Gyllenhaal) is saved in Afghanistan by his interpreter, Ahmed (Dar Salim). After Kinley is sent back to America, Ahmed is left behind in the Middle East, spurring Kinley to lead a rescue mission.
The strongest section of "Guy Ritchie's The Covenant" is also its simplest and concerns a mid-movie stretch of the story where Kinley and Ahmed are on their own trying to make it across miles and miles of harsh terrain while being chased by the Taliban. Ritchie's filmmaking impresses in how well it musters up tension in smart ways while Salim's largely dialogue-free performance depicting Ahmed carrying the mortally wounded Kinley to safety is truly remarkable. Even with a more generic climax that ends up showcasing lots of American military hardware, "Guy Ritchie's The Covenant" maintains a somber tone and heavily emphasizes the compelling point-of-view of Ahmed. In other words, this movie is no rehash of "13 Hours: The Secret Soldiers of Benghazi."
BlackBerry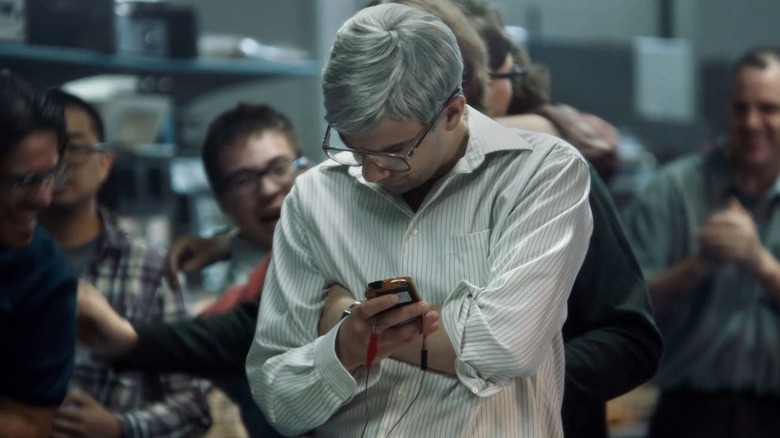 IFC Films
The BlackBerry phone was always going to be a temporary success. Not only is all technology prone to becoming tomorrow's outdated hardware, but when new co-CEO Jim Balsillie (Glenn Howerton) first walks into the ramshackle offices of the company behind this phone, the outfit's already millions of dollars in debt. The real-life exploits of BlackBerry creator Mike Lazaridis (Jay Baruchel) and his associates start out in the land of extreme farce, and things rarely get better for these people from there.
"BlackBerry's" upfront depiction of the innate problems that plagued this phone and especially the company that created it all make for a captivating yarn about good intentions gone awry. Writer/director Matt Johnson does superb work making the snowballing chaos of this company incredibly compelling, particularly when it comes to the moral decay of Lazaridis.
All this entertaining mayhem is told alongside a memorable score by Jay McCarrol, which features intense electronic influences that lend a sense of urgency to everything unfolding on-screen. This story is also lent extra heft by being executed in the hands of a strong cast, with Baruchel especially excelling in portraying the various ups and downs of Lazaridis, while Howerton is a force to be reckoned with as a CEO who'll bite your head off if given half the chance. All that rage couldn't make the BlackBerry phone stick around in the technology landscape ... but it does help accentuate all the entertainment packed into the movie "BlackBerry."
Monica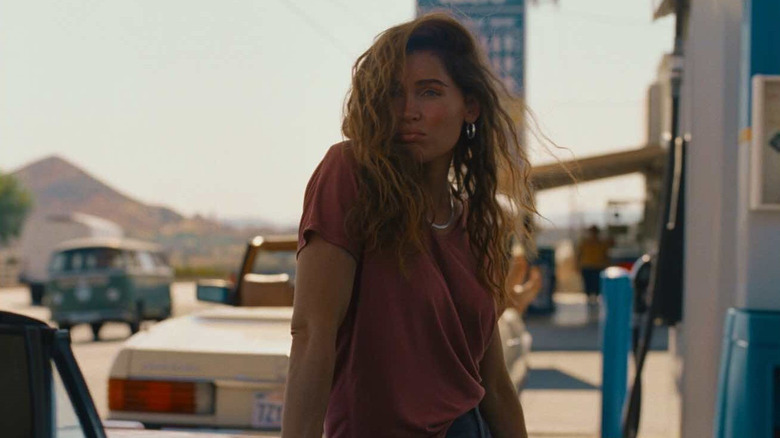 IFC Films
Going back to your childhood home as an adult is always a challenging experience. Even if you had a gloriously idyllic childhood, returning to your roots after spending so long carving out an independent life as an adult is such a surreal experience. For the titular lead of "Monica" (portrayed by Trace Lysette), going home is an especially arduous experience on many fronts, including the fact that her estranged mother, Eugenia (Patricia Clarkson), is slowly dying and losing her memory. On top of all that, Eugenia previously abandoned Monica once she discovered she was trans. There's endless conflict here that's kept Monica away for years. Now, she has to confront all of it under the most trying of circumstances.
While a lot is going on in the personal life of Monica, writer/director Andrea Pallaoro doesn't spoon-feed viewers everything that's happened in the personal life of this woman. Monica's existence is told through quiet, slow-paced storytelling that allows a tense atmosphere to properly take root and for the on-screen dynamics to feel authentic. These are people who've stewed in the past for so long that they're not going to talk about it endlessly in didactic expository dialogue. Monica and her relatives feel like real human beings, which means the aura of mystery surrounding them draws us closer. It doesn't hurt that Monica is portrayed through an unforgettable lead performance by Lysette. Even with everything else this feature has to offer, Lysette's work alone makes "Monica" a must-see.