Creator Of Netflix's Beef Tapped Into Korean Church Upbringing For Viral Scene
Andrew Cooper/Netflix
In Episode 7 of Netflix's hit drama "Beef," Danny Cho (Steven Yeun) leads a rendition of "Amazing Grace," resembling a recording by contemporary Christian music singer Chris Tomlin. While Yeun and co-star Ali Wong's "Beef" performances have viewers calling for Emmy awards, Danny's big musical number in particular stood out to some as a highlight for his character. For instance, author Nancy Wang Yuen shared a clip of the scene to Twitter with the caption, "'Amazing Grace,' as sung by Steven Yeun in #Beef is hitting me hard today!"
Series creator Lee Sung Jin told Variety that this moment, as well as the rest of the scenes throughout "Beef" that take place in church, pulled from both his and Yeun's real-life church experiences. "Steven grew up in the Korean church; I did as well. It's such an almost quintessential part of the Korean American experience — not even in a religious sense, but just as a hub for the community, and I've always wanted to explore that in some way," Lee said.
In fact, Yeun was the one who decided that Danny would sing the Tomlin version of "Amazing Grace" in Episode 7. Lee went on to explain that the band at his church growing up performed songs in the very same manner viewers see in "Beef," making him feel nostalgic for his upbringing during this particular scene.
The church music throughout Beef pulls from Lee Sung Jin and Steven Yeun's real lives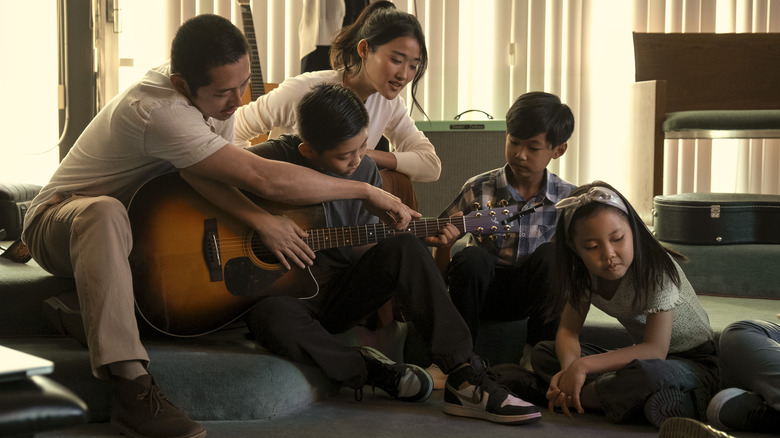 Andrew Cooper/Netflix
Lee Sung Jin spoke in further detail about the music of "Beef" in an interview with the Los Angeles Times. Most of the licensed songs throughout the show are 2000s radio hits, evoking Lee's childhood. As it turns out, when Danny Cho performs a rendition of the Incubus song "Drive" with his church band, this too took inspiration directly from both Lee and Steven Yeun's upbringings.
"I'd say, 'Oh, did you hang out after church with a Taylor 7-series guitar and try to sing secular songs?' And he'd be like, 'Yes, I did that.' 'Did you sing Incubus at all?' 'Oh, my God.' Next thing you know, we have to put Incubus' 'Drive' in the show, because he and I used to sing that after church," Lee said.
Yeun elaborated on his relationship with religion in an interview with Netflix. Just like Danny, he explained, he gave up church during his college days, only to return and develop a newfound appreciation for the experience years later. The fact that Yeun's rendition of "Amazing Grace" resonated so acutely with fans, then, is no coincidence, given that this and the other big church scenes throughout "Beef" are firmly rooted in reality.