All The Light We Cannot See: Netflix Viewers Are In Awe Of The Wordless Teaser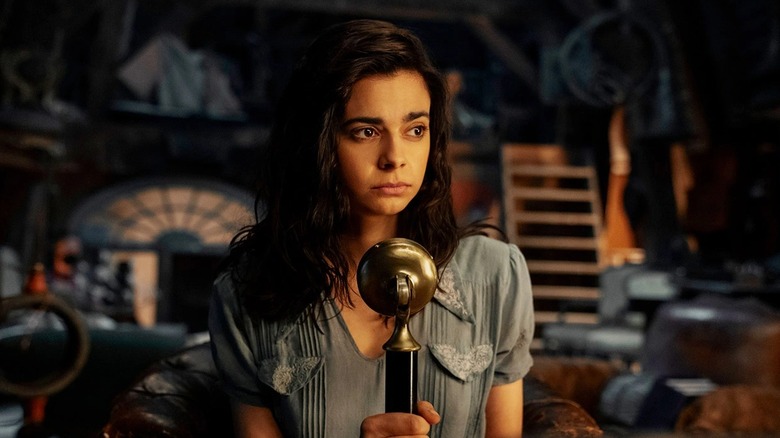 Netflix
Netflix just dropped a trailer for its hotly anticipated series "All the Light We Cannot See," and it's striking for one enormous reason: it features zero dialogue whatsoever, and fans are loving it.
The adaptation of Anthony Doerr's Pulitzer Prize-winning novel has been in the works at Netflix since 2019, with director Shawn Levy ("Stranger Things," the "Night at the Museum" franchise) at the helm, and fans of the book are finally getting a first glimpse at this sprawling, intense show (which is set to run for four episodes starting in the fall). 
In fact, they rushed to the YouTube comments section to leave praise for the trailer — which runs just over two minutes and gives viewers just enough to get excited without a single word being spoken. YouTuber user @marvelousmaggielovesbooks wrote, "I love how there is no [dialogue] in the trailer—-it's just visuals. Everybody can tell what this movie is about. This is gonna get Emmy nominations for sure....I can tell." @darquise92 agreed, saying, "Great choice not to have dialogue in this trailer, it hits so much deeper, especially with Mark Ruffalo's superb acting." Everyone seemed to agree; @alphidius said something similar, commenting, "No dialogue or background noise, just music and scenes that flow with the music! Perfect teaser!"
The trailer for All the Light We Cannot See is silent but effective
Pretty much everyone excited for "All the Light We Cannot See" shared the same sentiment — namely, how striking the trailer is. As @koreemartinmusic points out, "It is an exceedingly rare occasion for a film trailer to evoke such an emotional response without the use of any dialogue. Kudos Netflix, this looks excellent." @azieru82 agreed, writing, "Can feel all the emotions from just the visuals, and music. More trailers need to be like this." @jughead4397 summed it up succinctly: "Best trailer I've seen in this year so far.. No words just Cinematography."
None of these fans are wrong — trailers have gotten into a rough habit in recent years of giving the entire game away, sometimes revealing huge twists or moments before the movie or series even releases. This trailer is stark and yet incredibly effective, set to "Clair de Lune" and showing the audience the impact of the Nazi occupation of France on its citizens as well as what it was like to serve with the Axis forces, putting one young man on a path he may not have chosen for himself. By utilizing reaction shots and sweeping landscapes and avoiding clunky expositional dialogue, the "All the Light We Cannot See" trailer is a masterclass in both minimalism and maximalism all at once, and if you're not excited for this series after seeing it, you're not paying attention.
What is All the Light We Cannot See about?
Netflix
If you haven't read the book just yet or just want to check out the series first, "All the Light We Cannot See," which released in 2014, tells two parallel stories of what it was like to live in Europe during the events of World War II. In France, the novel focuses on Marie-Laure Leblanc, a blind French girl who escapes Paris after the Nazi takeover to stay with her uncle (himself a veteran of World War I) in the French port town of Saint-Malo. Alongside her story over in Germany, the second half of the book is devoted to Werner Pfening, an orphan whose natural skillset in engineering lands him first in military school and then in the German army fighting for the Third Reich.
After a chance meeting during the war, Werner falls in love with Marie-Laure, though being on opposing sides of this enormous conflict certainly makes it near-impossible for their paths to cross. Ultimately, when they both end up in Saint-Malo, Werner uses a repaired radio to track down Marie-Laure's distress signals, and the two meet again briefly as the war comes to a brutal end.
The four-part series drops on "Netflix" on November 2, 2023, so you have time to check out the book before then if you'd like. This trailer, though, will definitely leave you wanting more of this gripping story.