Grey's Anatomy: The Advice Kevin McKidd Gives New Cast Members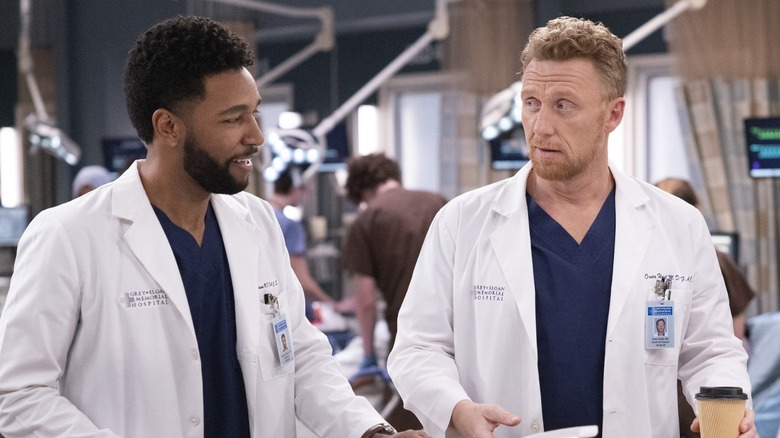 ABC/Liliane Lathan
Every television series can expect to have a certain shelf life, but industry procedurals have not appeared to get the memo. The popularity of crime procedurals and medical dramas on network TV has somehow kept chugging along, and there is no better evidence of this than "Grey's Anatomy." 
The show that catapulted Shonda Rhimes' career into the stratosphere has gone on for the better part of two decades with no signs of slowing down. Actors have dedicated their careers to the series, such as Kevin McKidd, who has played Dr. Owen Hunt since Season 5. But while the actor has been a veteran of both British and American productions for many years, even he admits that working on the series has a bit of a learning curve. The demand for "Grey's Anatomy" sometimes comes at a heavy cost, with little downtime to contemplate character choices.
"We have a writers room on our show with 15 writers and they're constantly writing to keep up and keep ahead," McKidd told Digital Spy. "When people join 'Grey's Anatomy,' I say to them, this is a moving train, this train is moving, and you just have to catch on to it and hold on tight. Once it starts, it doesn't stop." But despite the challenges of the series, it doesn't appear that Dr. Owen Hunt is looking to retire any time soon.
Kevin McKidd is still committed to Grey's Anatomy
Throughout the years, "Grey's Anatomy" has had an impressive list of actors that have come and gone during the tenure of the show. Even the show's namesake, Ellen Pompeo, decided that leaving "Grey's Anatomy" was the best thing for her. And with her gone, doesn't that mean the rest of her costars aren't far behind? Kevin McKidd doesn't think so. Even though shooting the series can be high-pressure, he isn't about to head for the door.
"Nobody's going anywhere," McKidd confirmed. "As long as people want to watch it and the quality of the writing stays where it is, which I think is quite high level, I don't think anybody's going anywhere. I think we all really love going to work and seeing each other." With his busy schedule, McKidd has ensured that he will never be bored at his day job. 
While on break from filming, he returned to his home in Scotland to trade in a stethoscope for a firearm. In the limited series "Six Four," the "Rome" actor plays Detective Chris O'Neill, who joins his wife in searching for their missing daughter. And then there is always the hope that McKidd will return to the Star Wars franchise as his "Rebels" character, Fenn Rau. McKidd has clamored for the opportunity to portray the live-action counterpart, a precedent that has already been set in "The Mandalorian." If fans' wildest dreams come true, that means a full schedule for the actor, indeed.