Outer Banks Timeline Explained After The 18-Month Jump In Season 3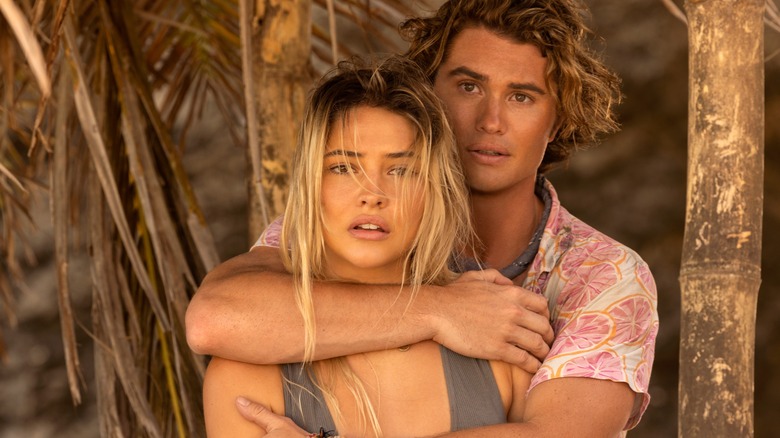 Jackson Lee Davis/Netflix
"Outer Banks" took things in a different direction to close out Season 3, jumping forward 18 months in the final episode. Fans only see this "future" setting for a few moments before Season 3 rolls credits, but it's enough to get them excited for what Season 4 has in store.
Months after the season's climactic end, we see John B. (Chase Stokes) and Sarah (Madelyn Cline) talking at a ceremony celebrating the group's discovery. The show reveals that the couple now runs a surf shop together, although John's facial expressions indicate that he misses the group's adventures pre-time skip. The quick recap also updates fans on the rest of the characters. JJ (Rudy Pankow) is continuing his life on the water, owning his own charter boat, Kiara (Madison Bailey) is "saving the turtles," and Pope (Jonathan Daviss) goes away to school. Although Cleo (Carlacia Grant) is on stage for the ceremony, "Outer Banks" doesn't give fans any information regarding what she's up to. Rafe (Drew Starkey) is also somewhere hiding in the shadows, but we'll have to wait until Season 4 to see his turn as a villain.
However, it's not long before the Pogues' next adventure presents itself, as the closing minutes set up the group to continue the hunt for Blackbeard's ship, meaning John B. will finally get back to this high-octane life he longs for.
Chase Stokes thinks Outer Banks' time jump was necessary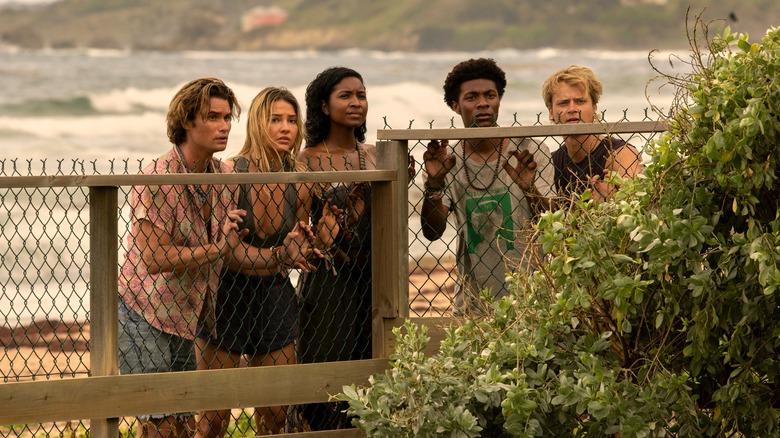 Jackson Lee Davis/Netflix
It's a pretty controversial decision to take a show like "Outer Banks" and jump forward 18 months right as Season 3 comes to an end. While fans are sure to have mixed feelings about it, star Chase Stokes thinks it was the right decision.
"I think if we play it right, that timeframe will be something that we really touch on," he told GQ. "It's necessary in order to move forward to really see what has happened. I also think that it was smart of our writers and Netflix to recognize that – for myself in particular, I'm 30 years old – playing 17 on TV is not as realistic as it once was three and a half years ago."
As for how the time skip benefits the story, Stokes thinks it's important to give the "Outer Banks" characters "time to decompress" after making such a gigantic discovery. He believes the show needs to "allow some things to settle in order for them to really evaluate what their next step is." Of course, he had to tease what's coming in Season 4, saying that just because the Pogues no longer have to stress about money, it doesn't mean all of their problems are gone. "Outer Banks" got an official renewal at the show's fan event, Poguelandia, but Netflix is keeping all information under lock and key.