Blue Beetle Box Office Prediction: Could DC's Next Film Be The Hero WB Needs?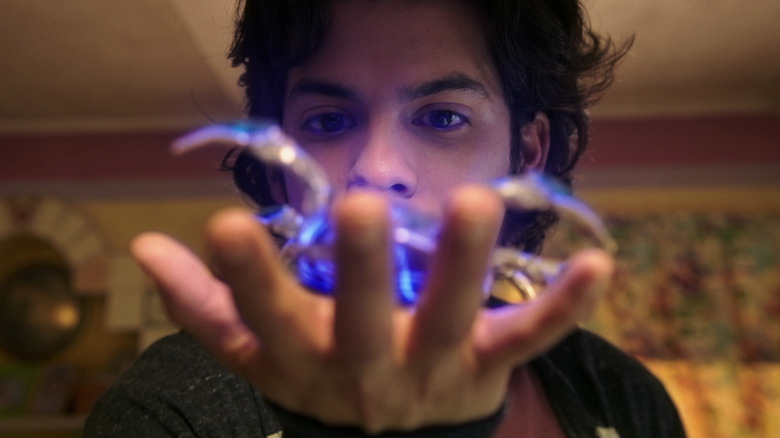 Warner Bros.
Warner Bros. Discovery is in a tricky position with DC. Their last few productions have been mired with troubles, both existentially and financially. As the studio attempts to reboot the franchise with James Gunn and Peter Safran at the helm, they've found themselves stuck with several projects in the pipeline. As so-called "superhero fatigue" takes hold over general audiences, DC failed in convincing audiences to show up for "Black Adam" and "Shazam! Fury of the Gods."
Dwayne Johnson's passion project floundered at the box office, bringing home just shy of $400 million worldwide. Variety says it needed to make $600 million to boast a profit. This year's sequel to "Shazam!" couldn't take flight, either, barely grossing $60 million domestically. Faith in DC as a cinematic brand is at an all-time low ... but "Blue Beetle" could sweep in as Warner Bros.' much-needed hero.
Set to release on August 18, 2023, "Blue Beetle" has all the fixings to be a notable hit for DC. Since Warner Bros. debuted the first trailer in early April, the official DC video has raked in over 19 million views and 400,000 likes. Buzz continues to be positive for the Angel Manuel Soto-directed film and if all goes well, the film could gross between $250 to $300 million worldwide. While that number may pale in comparison to the $1.1 billion gross of "Aquaman," it's the perfect number to make it a winner for both DC and Warner Bros.
Blue Beetle could hit $150 million domestically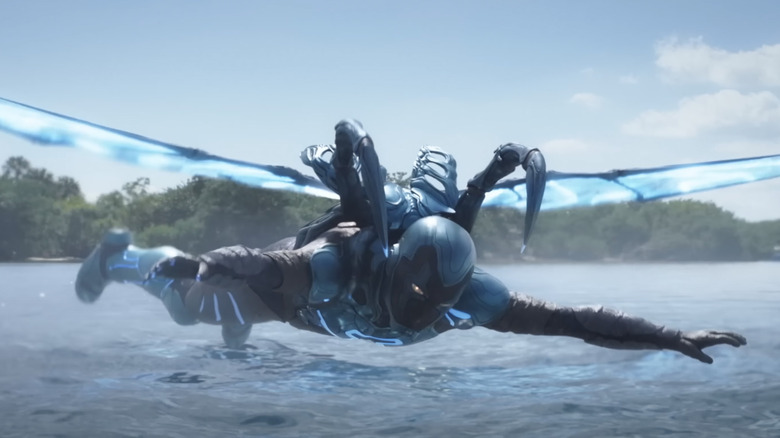 Warner Bros.
Domestically, "Blue Beetle" should bring in between $130 to $150 million. This is on par with the domestic gross of both "Black Adam" and the first "Shazam!" Now, in the wake of the catastrophic run of "Fury of the Gods," a domestic gross of over $130 million is nothing to scoff at. While the "Shazam!" sequel boasted mediocre marketing, "Blue Beetle" has kept a tight focus, so far, with the first "Blue Beetle" trailer highlighting the film's family aspects and Gen Z appeal, particularly with its striking use of Lil Uzi Vert's "Just Wanna Rock," a viral TikTok song.
The film's potential success could hopefully be attributed to Latin American and Hispanic audiences showing up in droves to support it: "Blue Beetle" stands out as the first live-action superhero film to feature a Hispanic lead. Will the film follow in the footsteps of "Black Panther" and be seen treated as a monumental occasion? Only time will tell.
Historically speaking, Latino audiences are some of the biggest drivers at the box office. A study conducted by the MPAA revealed that Latino audiences were responsible for 29% of movie ticket sales in 2020. Some of 2023's biggest hits have been boosted thanks to this key demographic. Latinos made up 28% of the opening weekend viewers for "Creed III," trumping both white and Asian/other audience members, per AP News. Meanwhile, Deadline reports that Latino viewers also made up 28% of the opening weekend for "John Wick: Chapter 4." Both the "Creed" threequel and "John Wick" outing have made over $150 million domestically, respectively.
If Latino and Hispanic audiences show up to support "Blue Beetle" and his family, it's entirely possible that the film could become a runaway hit.
Blue Beetle doesn't face much competition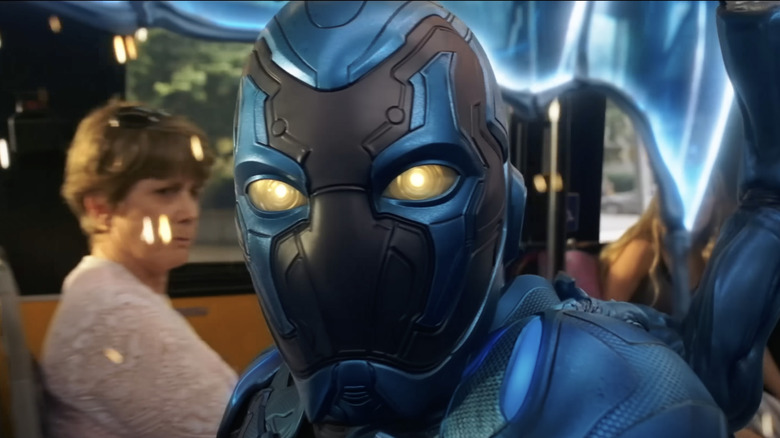 Warner Bros.
A domestic opening weekend for "Black Beetle" could be a soft $30 million+. If reviews are positive, worth-of-mouth is solid, and the Latino community shows up, it's possible that it could peak at $45 million. With the film focusing on a young Jaime Reyes (Xolo Maridueña), it's likely that Gen Z audiences will latch onto the film. Maridueña currently headlines Netflix's "Cobra Kai," which has found a solid following amongst the generation. Though Maridueña doesn't boast star power (yet), his goodwill from "Cobra Kai" could do the film a favor or two. On the other hand, the film boasts a motley crew of veterans, including George Lopez, Adriana Barraza, and Damián Alcázar. If DC plays its cards right and markets the film's veteran Hispanic actors, it could bring out even more families. 
With its August 18, 2023 release, "Blue Beetle" doesn't have much competition as it closes the summer. August kicks off with Seth Rogen's animated "Teenage Mutant Ninja Turtles: Mutant Mayhem," and that flick should do good business, but will likely have peaked by the time "Blue Beetle" takes the spotlight.
The biggest competitor "Blue Beetle" has to worry about is the upcoming adaptation of "Gran Turismo." The racing drama releases one week prior to "Blue Beetle" and has the possibility of replicating "Ford v. Ferrari's" $100 million domestic success. However, "Blue Beetle" and "Gran Turismo" are gunning for two different audiences, which should allow the DC flick some breathing room. Internationally, the film should rake in at least $125 million globally. An optimistic and ideal number is $175 million. All eyes are on Hispanic and Latin American countries to see how they react to the film.