Who Sings The Justified Theme Song?
The opening credits to FX's "Justified" definitely set the tone for the gritty, morally ambiguous show, with men running down train tracks and U.S. Deputy Marshal Raylan Givens (Timothy Olyphant) looking at a dead body as the theme plays: "Doing it by my lonesome, pissed off, who wants some?"
The theme song is "Long Hard Times To Come" by the bluegrass hip-hop group Gangstagrass. The band was nominated for a 2010 Emmy for the track. Group member Rench told the DC Music Review this helped them build a bigger audience: "That certainly was a game changer in terms of the amount of fans that have been exposed to us out there to give us the kind of reach that allows us to go on tour throughout the country."
"Long Hard Times To Come" added another layer for any fan watching, as the music captures the drama's difficult moral choices. But only one song truly defines the show's dramatic core: "You'll Never Leave Harlan Alive."
This Darrell Scott song is featured in several crucial episodes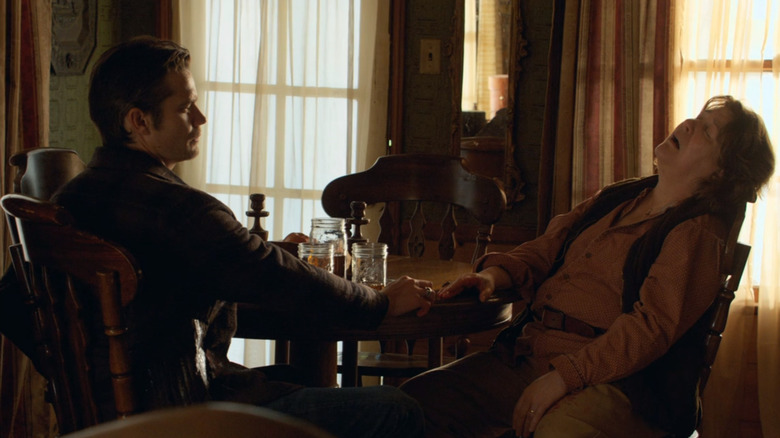 FX
"In the deep, dark hills of Eastern Kentucky..." Every other season finale of "Justified" features a recording of the unforgettable "You'll Never Leave Harlan Alive," originally written and recorded by Darrell Scott. It's a great song by itself, but in the show, it also becomes a haunting sonic motif: as Raylan Givens knows, once you're trapped in Harlan, it can be impossible to ever really get out.
Scott was inspired by a visit to Harlan where he researched his family, including seeing the infamous title phrase on a gravestone. "I didn't go there to write the song. I went there to find out what happened to my great grandfather," the songwriter told Kentucky Country Music. Nevertheless, the track was a hit and was recorded by Patty Loveless and Brad Paisley among other artists.
However, where Raylan has mixed emotions about his past, Scott is proud of his heritage. "My family's been from Kentucky for the past 200 years – Harlan County, coal mining, on both sides of my family, then coming into Knox County for tobacco farming. That's where my roots come from." Ultimately it was Scott's pride and knowledge of Harlan which helped him write a country standard.