How A Green-Screen Backpack Let Aquaman's Amber Heard Enjoy Breaks 30ft In The Air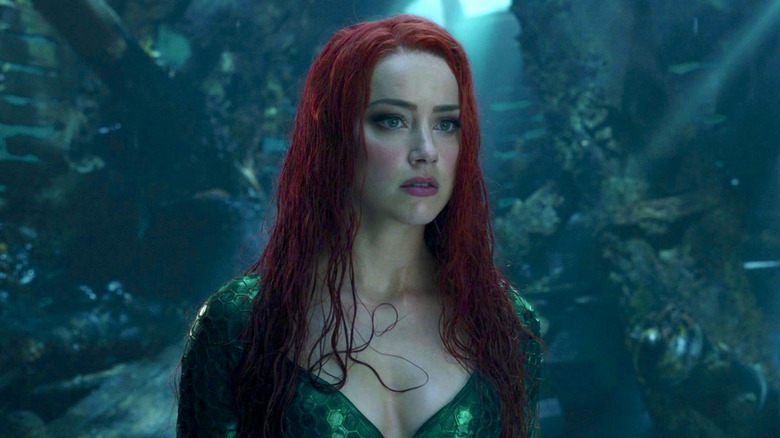 Warner Bros. Pictures
Big-budget blockbusters are requiring more and more from many of their stars, whether it's wearing an uncomfortable costume for long hours or doing their own stunt work. For "Aquaman," Amber Heard had to do a little of both, as Mera's costume kept her on her feet, and the stunts left her suspended 30 feet in the air in-between takes. Thankfully, all the actress needed was a good book to keep her attention in the meantime.
"I am a bookworm. I love to read, so whenever there's a break on set, I like to read," the actress told "Good Morning America" in 2018, reminiscing on how the crew would help get books to her while hanging in the air. "Somebody would rush in and throw my book up at me, and I would feel so bad that somebody was going out of their way to do that. So I eventually was like, 'No, it's okay,' and they could just tell I was going crazy. So wardrobe built me a book bag out of the green screen material, so I could sling it over me, and then I would just bring it around and pull out my book."
The simple yet ingenious idea allowed Heard to keep her sanity on set, even if it didn't protect her from Jason Momoa's pranks, who would rip pages out of her books because he's "allergic to being ignored."
Amber Heard's future as Mera could be in trouble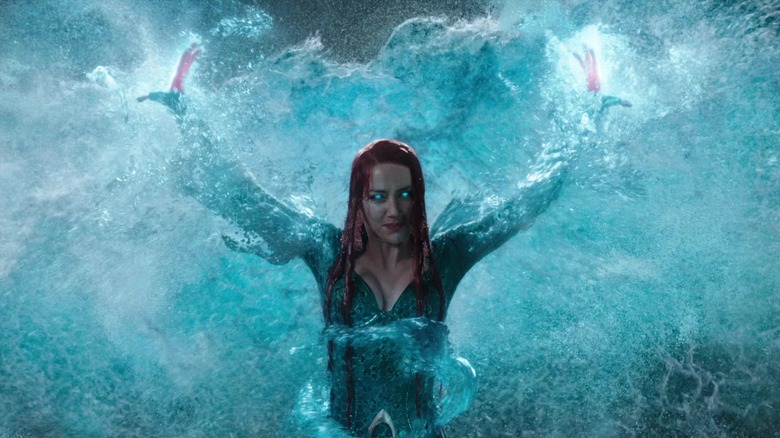 Warner Bros. Pictures
Although it sounds like Amber Heard had a fun time on the set of "Aquaman," her future as Mera in the DC Universe is currently up in the air. Her high-profile trial against Johnny Depp jeopardized both actors' futures in the industry. Warner Brothers and Heard remained committed to continuing Mera's journey in "Aquaman and the Lost Kingdom," with the help of Jason Momoa, but things have since changed.
The "Aquaman" sequel wrapped filming over a year ago, but the film began and finished production before James Gunn and Peter Safran became co-CEOs of DC Studios. The new creative duo wants to usher in a new era for the DCU. No one knows what they have in store, but all signs point to a soft reboot, keeping what worked and removing what didn't. Henry Cavill, Ben Affleck, and many others are already out, and rumors suggest that Momoa could transition to a different, less water-based role.
If Momoa decides to move on from Aquaman, things aren't looking too good for Heard's DC future. The transition period gives the new leadership an opportunity to rid themselves of Heard's off-screen baggage, assuming that's the direction they choose to go. However, Gunn and Safran's new DCU remains shrouded in secrecy, so for all we know, there could be plenty of more stories to tell with Momoa's Aquaman and Heard's Mera.