Barry Cast Members Were Kept In The Dark About Season 4's Plot Until Filming
The fourth and final season of HBO's "Barry" premiered with a double episode Sunday night, showing the titular hitman-turned-actor (Bill Hader) in prison after being brought down by military SERE expert Jim Moss (Robert Wisdom) and acting coach Gene Cousineau (Henry Winkler) in the Season 3 finale. Hader is directing all eight episodes in Season 4, and in an interview with The Playlist, Winkler shared that Hader and co-producer Alec Berg have been rationing out plot details to cast members on a need-to-know basis, which led to some surprising days on set. 
"Halfway through, Bill told me what was going to happen," Winkler said. "But then I was sworn to secrecy. I couldn't even tell my wife ... And he's so clear about his vision that you can't really plan that far ahead. I would rehearse at night. I would memorize. I would know my lines. I would go in the next day." Winkler then uses a travel analogy to explain how Hader's direction in Season 4 sometimes abruptly brought him to unexpected places. "If I thought I was in LA, Bill took me to Peru because I had no idea that was even in the script."
Henry WInkler was surprised filming another scene from Episode 2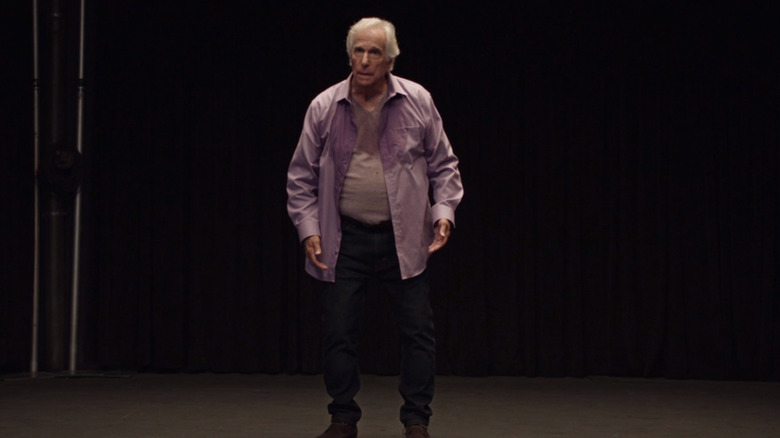 HBO
Later in the interview, Henry Winkler talked about another scene that Bill Hader surprised him with. In Episode 2, "Bestest Place on the Earth," Gene Cousineau delivers an on-stage monologue to Vanity Fair reporter Lon O'Neill (Patrick Fischler), telling the story of his relationship with Barry and recreating the voices of Barry and Jim Moss in the telling. Winkler confirmed to The Playlist that this particular bit was another case of the actor arriving on set without knowing how Bill Hader wanted him to perform the scene. 
"Without a doubt," Winkler said. "I worked out the script. I worked out the voices ... When I was at Emerson College, there was a professor, Professor Kenneth Crannell, he taught that form. He did the entire 'King and I' just no costume, no makeup, no nothing. Just this character, that character, change the voice a little bit, change the voice a little bit. It was mesmerizing. So what I learned in 1968, I applied to 2023."