Sonic The Hedgehog Spin-Off Knuckles Adds Kid Cudi And More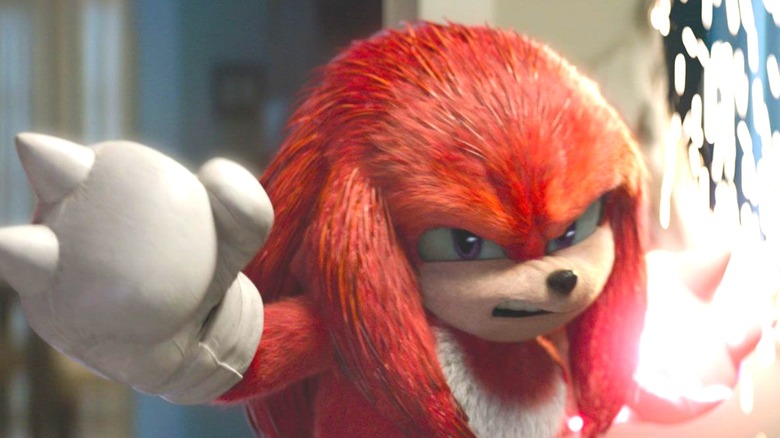 Paramount Pictures
Although it's well known that most video game movies have historically fallen flat on their face, Paramount Pictures' "Sonic the Hedgehog" smashed that narrative when it rocketed into theaters back in 2020 — achieving an incredible amount of box office success and earning surprisingly positive reviews from fans and critics alike. The film's unprecedented success spawned a 2022 sequel titled "Sonic the Hedgehog 2," which shattered box office records and introduced audiences to Knuckles the Echidna (Idris Elba), one of the most beloved characters from the entire "Sonic" video game franchise.
Now, this iconic red echidna is getting his very own spin-off series on Paramount+, one which is set to feature some of the most prolific celebrities and voice actors in all of Hollywood. As reported by Deadline, the upcoming Paramount+ series "Knuckles" will not only see Idris Elba returning as the titular villain-turned-antihero, but will also star the likes of actor and musician Scott Mescudi (also known as Kid Cudi), "The Righteous Gemstones" star Edi Patterson, comedian Ellie Taylor, and Julian Barrett.
Other additions to the cast include Adam Pally and Tika Sumpter (reprising their roles as Wade Whipple and Maddie, respectively), as well as Rory McCann, most well-known for his role as Sandor Clegane in HBO's "Game of Thrones." The cast of "Knuckles" is packed with some of the biggest names in the entertainment industry, and fans of the franchise ought to be excited to see how all of these talented voices impact the series moving forward.
Its unknown who these new cast members will be playing in the Knuckles spin-off
Despite the star power of this cast, it's still currently unknown who exactly these new additions will be playing in the Paramount+ series "Knuckles." For now, all we know about the show is that it will pick up some time after the events of "Sonic the Hedgehog 2," and follow Knuckles' efforts to train police officer Wade Whipple in the arts of an Echidna warrior –- despite the fact that Wade is a human being, not an echidna.
The series is also being referred to as a "journey of self discovery" for Knuckles, and could perhaps continue his redemption arc from "Sonic the Hedgehog 2" in which he befriends Sonic (Ben Schwartz) and Miles "Tails" Prower (Colleen O'Shaughnessy) and turns against Doctor Robotnik (Jim Carrey) to ultimately save the day. This inner journey may also focus on his backstory as a member of the Echidna tribe, which was destroyed back on his home planet by the owl tribe led by Sonic's former master, Longclaw (Donna J. Fulks).
Although there is still a great deal of uncertainty about where all of these acclaimed actors might fit into Knuckles' journey, fans of the "Sonic" video game franchise ought to be delighted that Paramount+ has snagged such an impressive cast for the newest chapter in the "Sonic the Hedgehog" film franchise.