How NCIS: Los Angeles Could Be Setting Up For A Cold Case Spin-Off
Sonja Flemming/CBS
"NCIS: Los Angeles" Season 17 will be the final installment of the long-running CBS procedural; however, if the "NCIS" universe has taught us anything throughout the years, it's that new spin-off shows will always come along and breathe new life into the franchise. The Australian-based spin-off, "NCIS: Sydney," will premiere later this year, but could there be another series in the works?
The latest episode of "NCIS: Los Angeles," titled "Maybe Today," sees the team join forces with the NCIS cold case homicide unit to solve a mystery that dates back to the year 2003. A new character named Daisy Van Sant (Rose Abdoo) represents the other department and helps the regulars try to get to the bottom of the case, but will she become a regular fixture in the "NCIS" franchise moving forward?
This week's episode seemed like a way to test the waters for a future spin-off involving Van Sant and the cold case division. After all, this particular franchise is fond of sneaking backdoor pilots into ongoing seasons from time to time
Daisy Van Sant could lead a cold case spin-off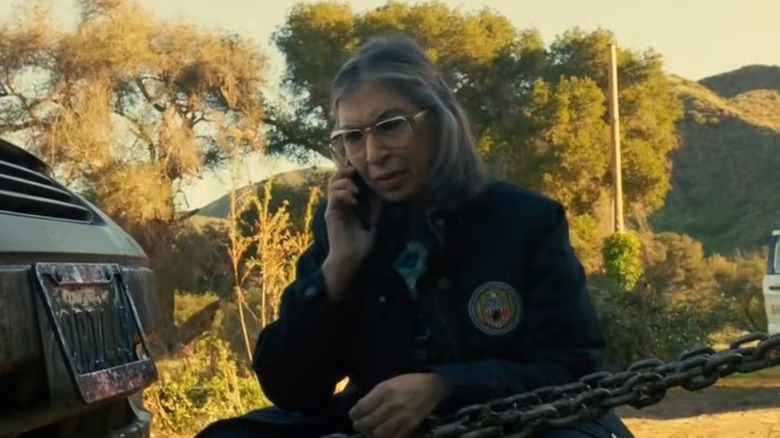 CBS
The "NCIS" franchise is synonymous with backdoor pilots. These are episodes that essentially entail new characters being introduced to a mothership series in the hope that fans gravitate toward them and demand spin-offs. "NCIS: Hawai'i" broke the spin-off tradition by resisting this method in favor of having faith in a fresh batch of characters from the get-go. However, "NCIS: Los Angeles" Season 17's latest episode has backdoor pilot vibes sprinkled all over it.
Daisy Van Sant is portrayed as a strong character who'd make a good boss, so perhaps she'll head a spin-off about the cold case division. In the past, "NCIS" series have typically introduced an entire team of new characters in episodes of this ilk, so Season 17's latest installment bucks a trend by only introducing one newcomer. That said, pausing some ongoing storylines to give the team a random cold case mission suggests that CBS is thinking about the future of the franchise.
Only time will tell if "NCIS: Cold Case" becomes a thing. If it doesn't, though, there will definitely be other spin-offs at some point.