The 15 Most Obvious Awards Bait Movies Ever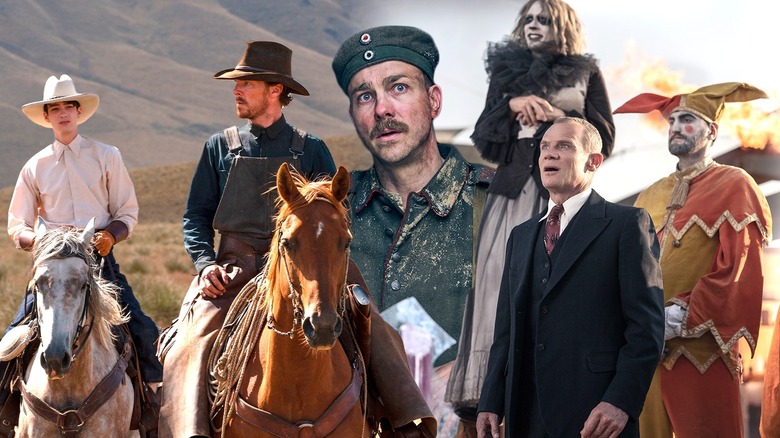 Static Media
Between the months of November and March of every year, above-the-line and below-the-line talent cross their fingers and say a prayer in hopes of earning the prestige that comes along with winning a high-profile award. After decades of rolling out the red carpet in recognition of the hard work of those who have mastered their craft, one question has crossed the minds of filmmakers and moviegoers alike: How does a movie win an award? And before that, how does it become nominated? When comparing the ceremonies' yearly dockets, the answers become more obvious.
Many have connected the dots and noticed similar stories with certain qualities are more likely to make the cut over others. With this, a trend of carefully strategized movies designed to appeal to awards voters was born. As early as 1948, when the term "Oscar bait" was coined in a New Republic review of John Ford's "Fort Apache," studios and filmmakers have been using this knowledge to their advantage by engineering movies for the sole purpose of winning awards. Today, the term is thrown around generously. But to understand what warrants the dismissive label, here are the 15 most obvious awards bait movies ever.
All Quiet on the Western Front (2022)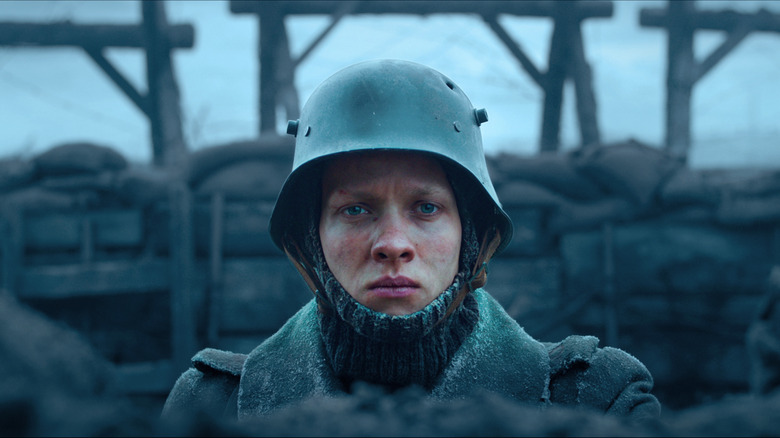 Netflix
You can't have an awards season without a war drama frontrunner bombing its competitors with historical tragedy, intense sound design, and gritty visuals. At the 95th annual Academy Awards, Netflix entered the ring with the German epic "All Quiet on the Western Front" as its contender. Although the movie went on to win seven British Academy Film Awards and four Academy Awards, Netflix missed out on its highly desired Academy Award best picture win. But a movie doesn't have to be an all-around winner to be considered awards bait.
The awards circuit's fascination with war films has existed since the very beginning, with the Academy Awards' first-ever best picture win going to 1929's "Wings." One year later, the original adaptation of "All Quiet on the Western Front" took home the award. If you haven't already, you'll notice a trend of adaptations winning awards over original stories, more often than not. But truly, Netflix teaming up with director Edward Berger to recreate a war movie that's already won an Academy Award for best picture couldn't be a more blatant attempt at awards baiting.
Babylon (2022)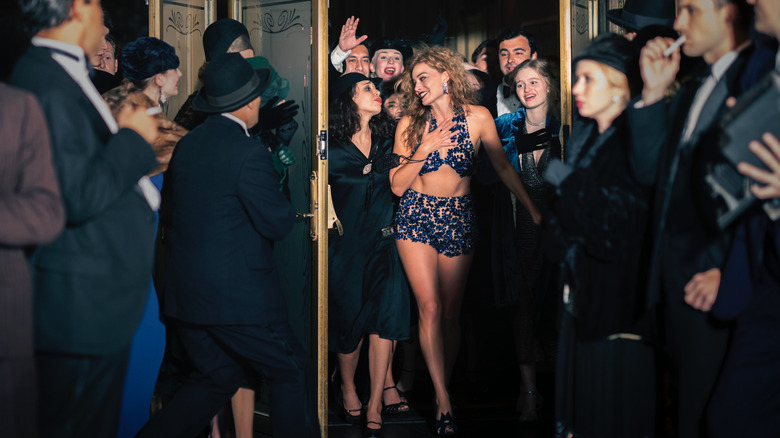 Scott Garfield/Paramount +
No one loves Hollywood more than Hollywood, so when a movie glorifying the film industry premieres during the Christmastime sweet spot right before the most prominent awards ceremonies, it's guaranteed to earn nominations in all the biggest categories. Even when said movie bombs at the box office and divides audiences down the middle, Hollywood can't help but pat itself on the back. Based on its dismal marketing campaign and vague trailers, "Babylon" never really cared about drawing in a big audience. Instead, the prestige picture relied on its self-indulgent celebration of cinema, grandiose production design, and sensationalized debauchery to secure a place in the awards circuit.
Director Damien Chazelle had done it before with "La La Land" to great avail, so why not try the same formula again? "Babylon" earned the predictable nominations of best picture, best original score, best production design, and best costume design across various award ceremonies such as the Golden Globes, the Critics' Choice Awards, the Satellite Awards, the British Academy Film Awards, and the Academy Awards.
The Power of the Dog (2021)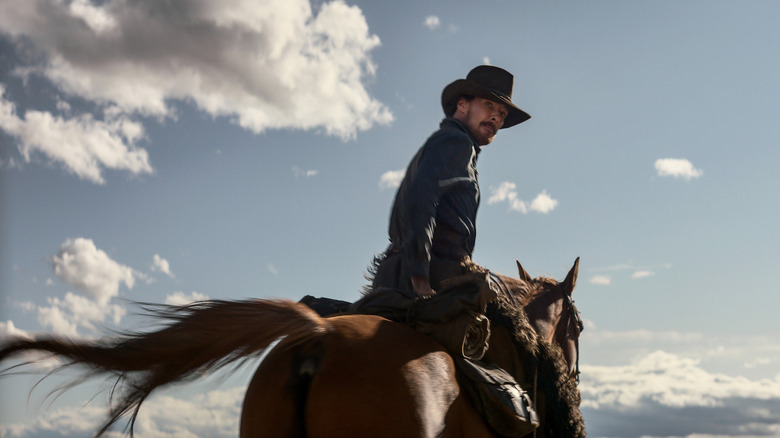 Netflix
In 1994, director Jane Campion's period drama "The Piano" received universal acclaim with several nominations and wins during the year's award season, with Campion being the first woman to win the Palme d'Or at the Cannes Film Festival. In another attempt to be taken seriously among other established studios, Netflix was quick to sign on for Campion's new Western drama "The Power of the Dog." Although Westerns rarely fare well in terms of wins, "The Power of the Dog" was a viable contender with its star-studded cast, melancholy tone, artsy cinematography, and original orchestral score.
Period piece adaptations are award-season staples and "The Power of the Dog," based on the Thomas Savage 1967 novel of the same name, fit the bill. Considering this and the fact that "The Power of the Dog" felt out of place in Netflix's existing catalog, the acquisition felt like little more than an attempted awards grab. Luckily for them, their gamble was a success. "The Power of the Dog" received 11 nominations at the Academy Awards. Unfortunately, the movie only walked away with one win for best director, but it did earn Campion the honor of being the first female director to be nominated more than once.
Don't Look Up (2021)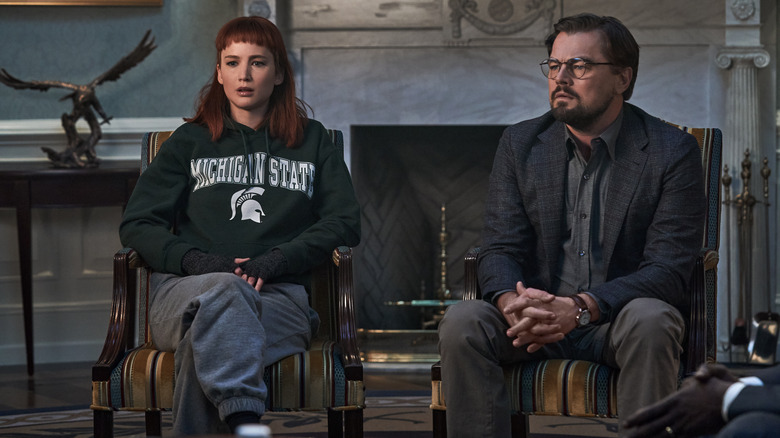 Niko Tavernise/Netflix
One strong contender wasn't enough for Netflix during the 2021-2022 awards season. To really make an impact, they needed to cover all of their bases, which is where Adam McKay's political satire "Don't Look Up" came in. Revolving around a pair of astronomers determined to alert the world to an impending collision with a comet, it was a perfect fit for McKay's unique brand of dark humor. And with Cate Blanchett, Meryl Streep, Leonardo DiCaprio, Jennifer Lawrence, and Timothee Chalamet in the ensemble cast, it was tailor-made to appeal to awards voters who love a star-studded affair. 
Despite unfavorable reviews, voters couldn't leave these A-Listers hanging, especially with the film's important topical message — no matter how poorly it was handled. The film was nominated in a number of categories for many of the major film awards, such as the British Academy Film Awards, the Golden Globes, the Critics' Choice Movie Awards, and the Academy Awards. Unfortunately, it didn't receive any wins, leaving Netflix glad they still had "The Power of the Dog" in their back pocket.
The Irishman (2019)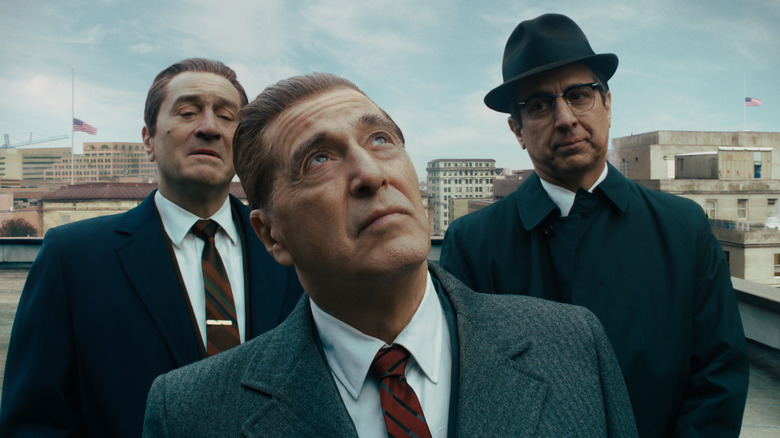 Netflix
Just about anything Martin Scorsese touches turns to gold. With several Academy Award nominations under his belt by 2019 — the year "The Irishman" was released on Netflix — the streamer struck awards gold when acquiring the epic gangster film in 2017. Considering Scorsese's outspoken distaste for streaming services, the acquisition came as a surprise. But Netflix paid a pretty penny for Scorsese's longest-running and most expensive project to date. 
The only reason to spend all that money was for a bid at awards recognization — and maybe a little boost in watch time and traffic. After all, Joe Pesci came out of retirement just for this movie, starring alongside big names Al Pacino and Robert De Niro. "The Irishman" was nominated across multiple categories, but only picked up a few wins at the end of the day. Netflix was sent back to the drawing board after being dubbed the awards season's biggest loser.
Cats (2019)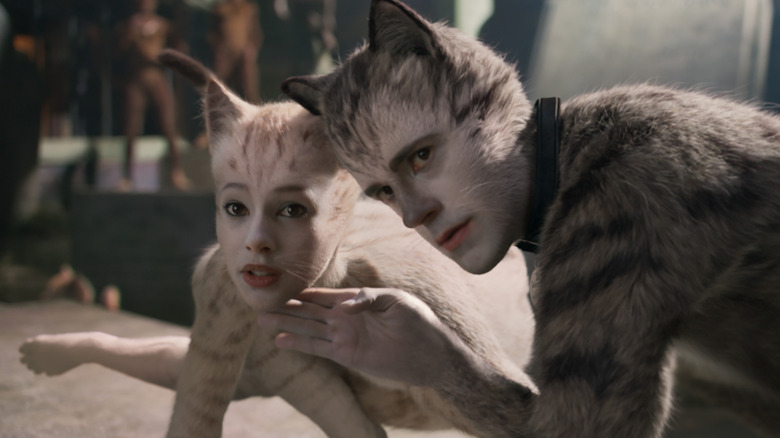 Universal Pictures
The disastrous film adaptation of Andrew Lloyd Webber's musical "Cats" proves that a movie doesn't need to be successful to be considered awards bait. Just about every element that led to this film's existence screams for awards attention. But even with an A-list ensemble cast and award-winning filmmaker Tom Hooper on board, "Cats" failed on every front with its disturbing visual effects and directionless storytelling, losing a total of $113.6 million at the box office. In hopes of recreating his success with "Les Misérables," Hooper misfired with an embarrassing effort to game the system. 
Since the early days of Judy Garland and Gene Kelly, awards voters haven't been able to get enough of musicals. "Cats" was in the conversation for several key awards practically before filming even started. It was never going to be the easiest musical to adapt, but Tom Hooper's attempts to push the envelope horrified audiences. Once Universal got a taste of the backlash, they had no other choice but to remove "Cats" from its For Your Consideration page, effectively taking it out of awards contention. Of course, this didn't stop the dreaded Golden Raspberry Awards from nominating the movie across multiple categories. It'll be a long time before the cast and crew will be able to live down this blemish on their resume.
Green Book (2018)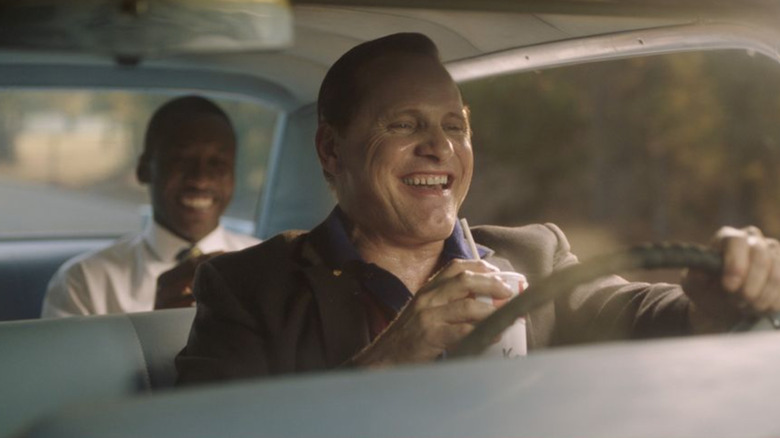 Universal Pictures
Biographical films like "Green Book" happen to be another popular awards genre, and director Peter Farrelly certainly knew that going into the project. Before "Green Book," Farrelly was known for his irreverent comedies. All of a sudden, he was making an uncharacteristic career shift. But Farrelly didn't need any experience outside his usual comedies, considering the built-in, sure-to-win qualities of "Green Book." The historical biopic leaned heavily into awards bait territory by using its subject matter and white savior trope to pander to the older generation of awards voters. Unlike its competitors depicting similar themes, such as "BlacKkKlansman" and "If Beale Street Could Talk," "Green Book" never forced the voter to think too deeply about the more problematic elements of this cross-cultural friendship. 
Although the handling of the story was criticized by some (including Don Shirley's family), performances by industry favorites Mahershala Ali and Viggo Mortensen were praised. "Green Book" ended up taking home best picture at the Academy Awards, which shocked just about everyone, with the overall consensus being that the decision was a mistake. Still, what else can you expect from a feel-good story about interracial harmony?
Bohemian Rhapsody (2018)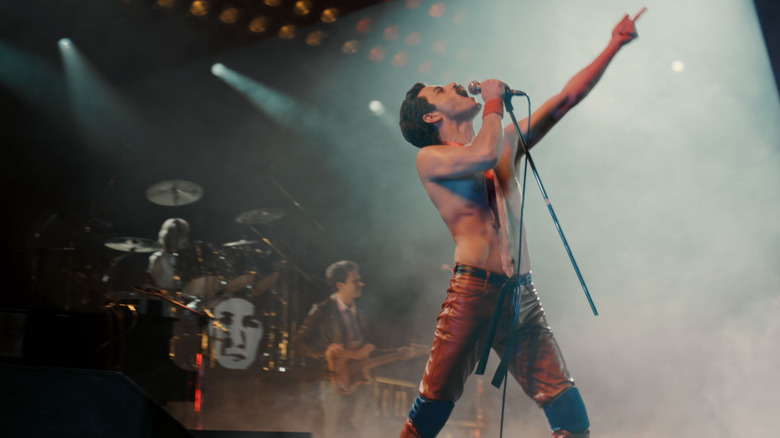 20th Century Studios
Going up against "Green Book" in a multitude of categories was another biographical film, this one depicting the life of Queen singer Freddie Mercury, "Bohemian Rhapsody." And it certainly helps matters that the main character is one of the biggest pop culture icons of all time. However, the movie only hints at Mercury's personal journey with his sexuality and AIDs diagnosis, which many have criticized for overly sanitizing a beloved musician. These elements of the story were only vaguely touched on, likely in an attempt not to alienate more conservative viewers. 
Even with these aspects of Mercury's life missing, "Bohemian Rhapsody" snuck its way onto awards ballots. Voters would be able to pat themselves on the back with a nod to the LGBTQ+ community, while still awarding a very traditional biopic. At the Academy Awards, it won in all but one of its nominated categories, missing out on best picture to "Green Book." Film awards may be obsessed with history, but only when it's stripped and sanitized of any real nuance.
La La Land (2016)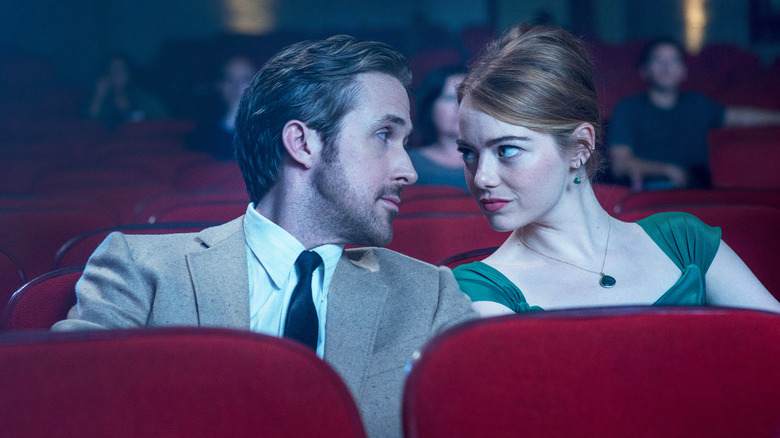 Lionsgate
Musical numbers and tortured artists? Chazelle strikes again with "La La Land," an ode to Hollywood that was made to win awards. It's the kind of movie that fills awards voters with nostalgia. Sincere performances from Ryan Gosling and Emma Stone remind voters of the young ambitious artists they used to be, how they pulled themselves up by the bootstraps and made it in this crazy, magical industry. While that's all well and good, it's hard not to roll your eyes at the obvious pandering. As if it weren't already clear enough that the movie was begging for awards recognition, Chazelle had to make sure everyone knew by changing the original release date to the end of 2016, aka prime time for awards season.
Unsurprisingly, the movie did phenomenally. It went on to receive 14 Academy Award nominations, tying for the title of most nominations for a single film. After "La La Land" was incorrectly announced as the best picture winner instead of the correct winner, "Moonlight," the awkward moment felt more like a relief, as the majority agreed that "Moonlight" was the superior choice. Still, "La La Land" was able to celebrate by pulling off more than enough wins across major awards ceremonies.
The Artist (2011)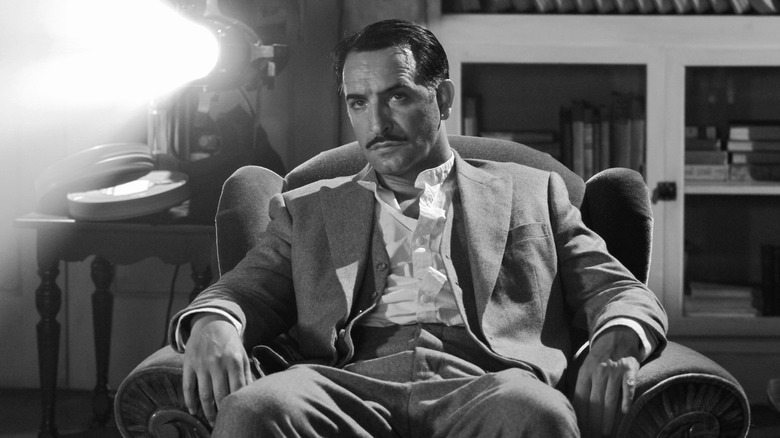 Warner Bros. France
You can't talk about artistic, self-indulgent films about classic Hollywood without bringing up the mostly-silent black-and-white film "The Artist." Many film fans — and especially industry voters — have a sentimental eye for Hollywood's glamorous past, so it's natural they would look back at this romanticized time in filmmaking with a feverish fondness. And then award "The Artist" accordingly.
The cinema-loving story about the transitional era from silent films to talkies, containing old-school stylistic choices of black and white and a 4:3 aspect ratio, worked like catnip. Critics loved it and it performed surprisingly well among general audiences, proving that an awards-bait movie can still be universally adored. It made awards history being the first French-produced film to win the Academy Award for best picture and the first mostly silent film to win since the first Academy Awards. Overall, the bait was successful, winning best picture at every major awards ceremony.
Extremely Loud & Incredibly Close (2011)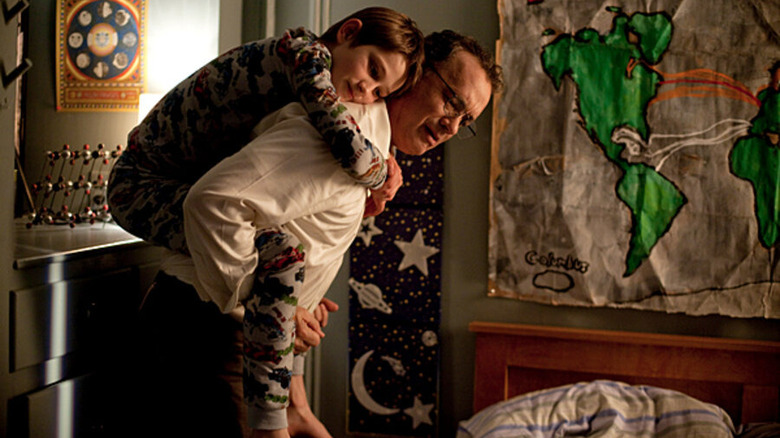 Warner Bros. Pictures
An adaptation of Jonathan Safran Foer's 2005 novel "Extremely Loud & Incredibly Close," Oscar-winner Stephen Daldry's tear-jerker film about 9/11 has been heavily criticized as contrived, exploitative awards bait. That first sentence alone ticks multiple boxes for guaranteed nominations. Awards voters love to cry, and they love to be moved by tragedy. With seasoned award winners Tom Hanks and Sandra Bullock starring alongside one another, "Extremely Loud & Incredibly Close" knew it would secure a spot during awards season. 
Audiences and critics saw right through the facade and were disappointed that an important story was mishandled in an attempt to manipulate award nominations, with Chris Krapek of HuffPost claiming it's "not only the worst reviewed best picture nominee of the last 10 years, it's easily the worst film of 2011." Controversy surrounded the film's best picture nomination at the Academy Awards, with many blaming the Academy's flawed voting system for allowing it to eke out a spot. As we know, "The Artist" took home the award, leaving "Extremely Loud & Incredibly Close" without any wins.
The King's Speech (2010)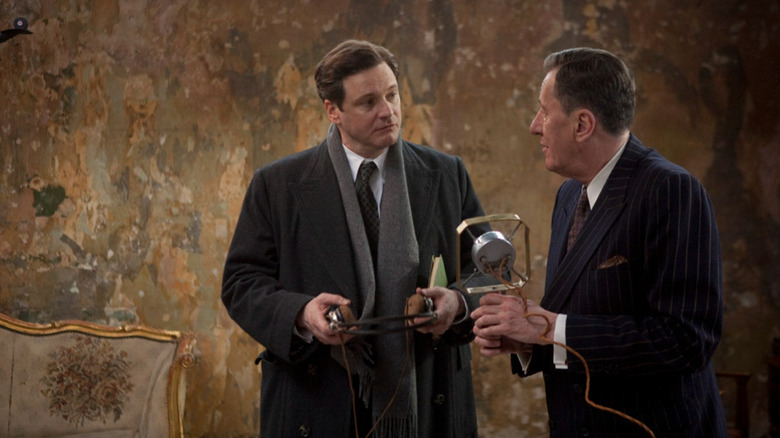 Paramount Pictures
Before Hooper's "Cats" catastrophe, the director reigned supreme with his award-nominated films "Les Misérables," "The Danish Girl," and, initially, his historical drama "The King's Speech." Right away, the film's historical context and real-life figure of King George VI are enough to capture the attention of the industry's biggest awards. Royalty plus England during World War II? It practically has Oscar written all over it. The movie went on to win best picture at the Academy Awards, an obvious but uninspiring choice.
Known as one of the most significant infamous wins, audiences and critics have pointed out that "The Social Network" should've won. Although the film also focused on a real-life figure Mark Zuckerberg, "The King Speech" had a leg up as a period piece — an award favorite genre. Some have debated whether the movie deserves all the backlash, with one Reddit thread discussing whether the term awards bait is thrown around only when someone doesn't agree with the winner. Of course, the idea of awards bait is subjective. Still, it's hard to deny the favoritism toward formulaic storytelling, carefully executed release schedules, and strategic campaigns, all of which were taken advantage of by "The King's Speech."
Crash (2004)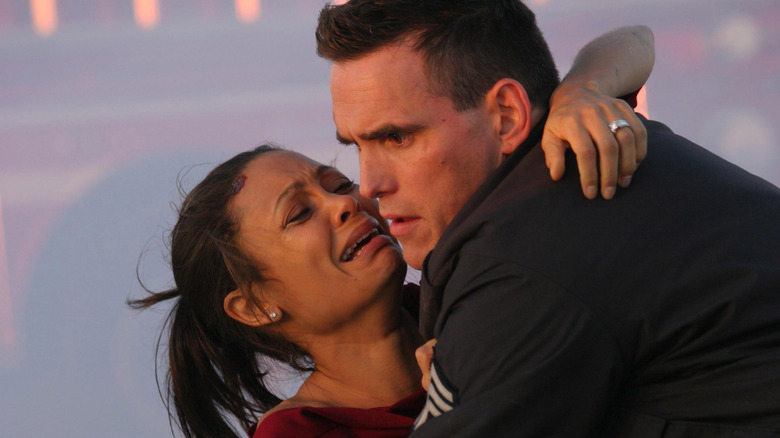 Lionsgate
While "Cats" may be the most hated movie on this list, "Crash" beats the musical when it comes to awful awards bait that was actually nominated and won, including the Academy Award for best picture. Often claimed to be one of the worst best picture wins in history, the movie faced backlash when it beat out the favored frontrunner "Brokeback Mountain." While the win was incredibly shocking, in hindsight, it couldn't have been more predictable. Austin Collins of Vanity Fair reflects on "Crash's" baiting qualities, writing, "for all its interweaving and cross-cutting and climactic spiritualism, is a throwback to a familiar strain of Oscar-friendly, liberal message movie — in which the 'message,' often, is that people are complicated, goodness is relative, and evil is not a terminal condition." 
The story clumsily exploits the political climate in the aftermath of 9/11 with its problematic portrayals of race relations. But as we've already seen with the previous films listed, instead of being a concern for voters, they seem to favor these simplistic depictions. In the long run, winning best picture may be the worst thing to ever happen to "Crash." Now an easy target for hatred, perhaps the movie received harsher critique than it deserves. But then again, it's hard not to call out awards bait when you see it.
Forrest Gump (1994)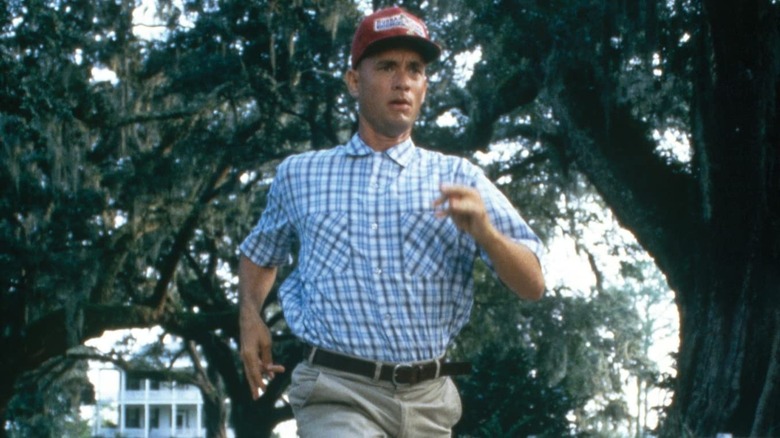 Paramount Pictures
A modern-day classic, "Forrest Gump" is one of those polarizing movies met with both adoration and controversy. The epic comedy-drama is based on Winston Groom's 1986 novel of the same name and possesses all of the film industry's favorite buzzwords: sentimental, inspirational, historical, war, and sanitized social commentary. The melancholic film balances a range of emotions as intellectually disabled Forrest (Tom Hanks) navigates a life of challenges and redemption from the 1950s through the 1980s. However, the film's problematic ideation of the American dream is no more than a contrived, feel-good attempt to bait awards.
"Forrest Gump" won six Academy Awards, including best picture, and three Golden Globe Awards. Some Academy members have since expressed regret for their decision, and if given a second chance, they would've voted for "Shawshank Redemption" to win best picture instead. But timing is everything, and "Forrest Gump" was the perfect bait for 1994, when the film industry was more forgiving of deliberate ignorance.
The Deer Hunter (1978)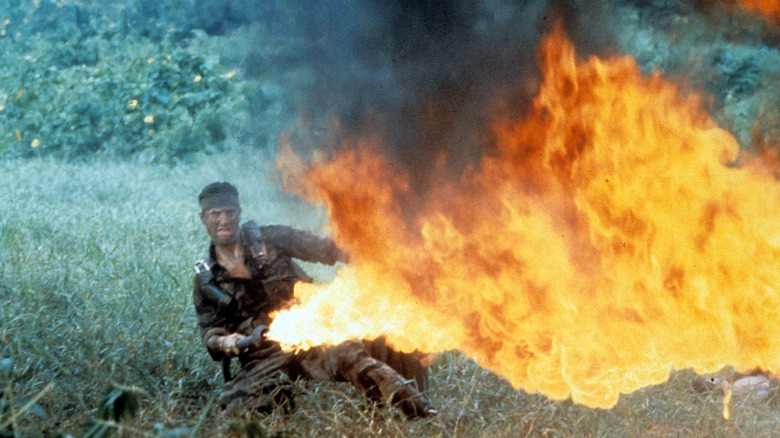 Universal Pictures
Many credit Michael Cimino's war drama "The Deer Hunter" with being the first movie to use awards bait tactics to win over critics and voters. Unlike most best picture winners, "The Deer Hunter" didn't sugarcoat its harrowing themes of war, trauma, and the human condition. Nothing about the film feels sentimental or heartwarming, so how did it bait the system into winning the most prestigious of awards? Marketing. 
"The Deer Hunter" took an unconventional approach to its release schedule, which is now widely used today to drum up awards attention. Instead of an initial wide release, the film was first shown on cable television, followed by limited appearances in theaters. Once the Academy Award nominations were announced, the film opened up for a wider release. When the formula proved successful, award campaigns were born, becoming a new focus for studios and filmmakers, oftentimes prioritized over actual ticket sales. And that, my friends, is awards bait 101.