The Daisy Jones & The Six Cast Found Their Groove During Band Camp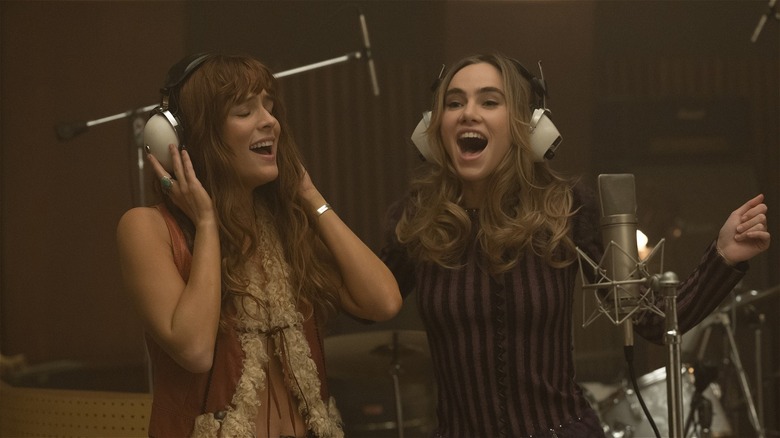 Lacey Terrell/Prime Video
From page to screen, it can be challenging to adapt a best-selling novel — especially one hinging on the success of a rock band. When Amazon adapted Taylor Jenkins Reid's book, "Daisy Jones & the Six" for a limited series, there were some hurdles to clear to stay true to the source material. Not only did the series have to carefully thread the needle of portraying a tumultuous dynamic between lead singers Daisy Jones (Riley Keough) and Billy Dunne (Sam Claflin), but they also had to sing while doing it. Before filming began, the onscreen band members got the feel of a true rock band by visiting Sound City Studios.
"We were taken there straight away to rehearse and to learn all this music together. We had months and months of preparation together," Josh Whitehouse, who plays bassist Eddie Roundtree, told Today. Unlike the animosity shared between Eddie and Billy, the actors found camaraderie, which only increased with the COVID lockdown delayed shooting.
"It gave us an extra year and a half of spending time together," he explained. The result onscreen is nothing short of magnetic. Tom Wright, who plays legendary music producer Teddy Price, was surprised at how convincing the band became.
"I was blown away. I was knocked out. They looked, they sounded and they felt like a real band," he agreed.
There was learning curve for the series leads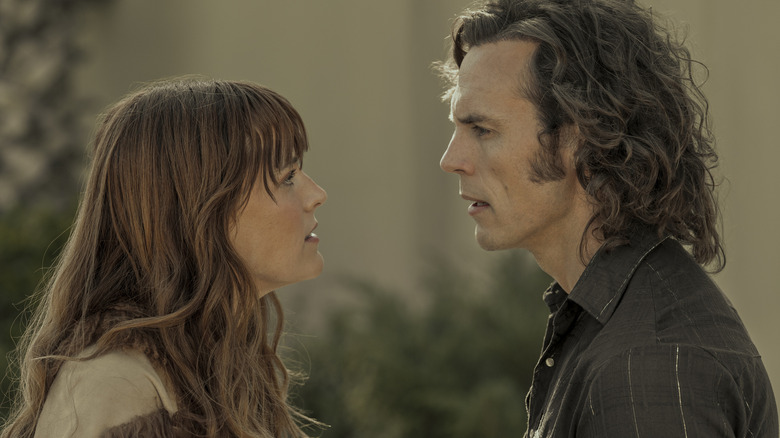 Lacey Terrell/Prime Video
Chemistry is an important part of the band dynamic, but the series leads of "Daisy Jones & the Six" had additional concerns. Riley Keough and Sam Claflin had the added pressure of conveying a torrid emotional affair through song. In this case, Keough's musical ancestry did not seem to be an asset. Both she and Claflin reported nervousness at learning all the songs written for their characters. Claflin reported his audition was a disaster, choosing a lighthearted Elton John song to sing and not knowing how to play the guitar. He was grateful they had a year to practice cultivating character dynamics and get to the vocal range needed for the songs.
"Do you remember having that meeting..." Claflin reminisced with Keough during an interview with Variety. "And we all sat in the studio, and you and me basically going: 'I don't think I can sing this. This is too high.'" For a time, this made producers consider bringing in vocalists who would sing for Billy and Daisy onscreen.
"I think that really inspired me to work harder," Keough explained. "To be better," Claflin agreed. It seemed to do the trick. Keough and Claflin exuded the characters and learned how to belt their songs like a real live rock band.