Sam Claflin Kicked Off His Daisy Jones & The Six Audition With Moonshine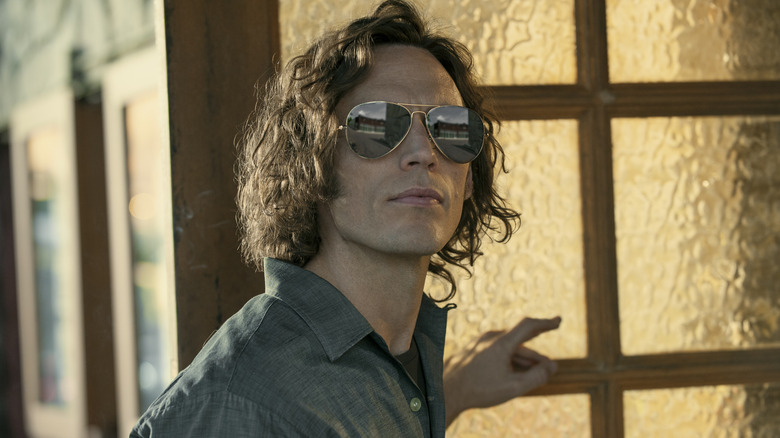 Lacey Terrell/Prime Video
When Taylor Jenkins Reid's novel "Daisy Jones & The Six" was published in 2019 it quickly became a New York Times bestseller, and it has since sold over one million copies. The book functions as an oral history of a fictional 1970s rock group (it's not not Fleetwood Mac), making it especially well-suited for adaptation. Now a miniseries for Amazon Prime, "Daisy Jones & The Six" doesn't stray far from its oral history roots, presenting the show as a docuseries with interviews from members of the band.
Sam Claflin and Riley Keough star as Billy Dunne, The Six's bandleader, and Daisy Jones, the band's new star singer. Jones' arrival sends the band soaring to great heights, but it also launches a period of turbulence as Dunne tries to balance his musical aspirations with his responsibilities as a husband. The "Daisy Jones & The Six" trailer captures that tumult with promises of fistfights and coquettish glances.
"Daisy Jones & The Six" follows a buzzy band at the height of its powers. To transform into rocker Dunne, Claflin got on a buzz of his own.
The British actor was completely unfamiliar with moonshine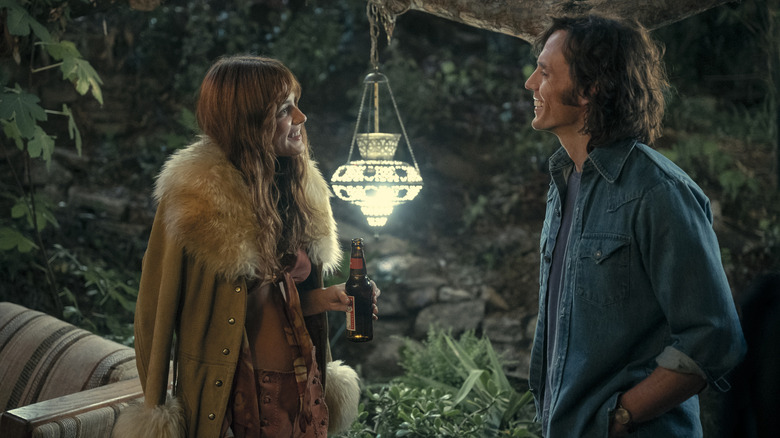 Lacey Terrell/Prime Video
If you're recreating the highs and lows of a rock band in the 1970s, it goes without saying that drugs and alcohol will be involved. That said, Sam Claflin and Riley Keough didn't anticipate real alcohol making its way behind the scenes.
In an interview with Steve Varley, Sam Claflin and Riley Keough recalled the audition process for "Daisy Jones & The Six." "I'm not a very big drinker," Keough said between giggles, "and Tony Berg, who is one of the producers of the music, came up to me with a shot of whiskey and it was, like, 10 in the morning. I was like, 'Oh my God, I can't take a shot at 10 in the morning, that's outrageous.' So I politely sort of, like, sipped it. Oh! And actually before my audition — "
Here, Claflin interrupted his co-star to ask, "Did you have the moonshine?" The pair smiled guiltily at one another, as she clearly had no idea what he was talking about. Claflin explained, "[Music supervisor] Frankie [Pine] forced me to have moonshine before the audition." "That is so hardcore," replied Keough. Claflin, who was born and raised in England, wasn't familiar with the boozy southern staple."It was so rock 'n' roll," he said. "I didn't even know it was a real drink."
"I wanted to really try to create a sense that this is a real band," Pine, who worked to forge camaraderie in the band, told The New York Times. "When you're a real band, you hang out together, you eat together, you drink together." Apparently, one of those drinks was moonshine.