Succession S4 Episode 4 Reveals Connor's True Feelings For Logan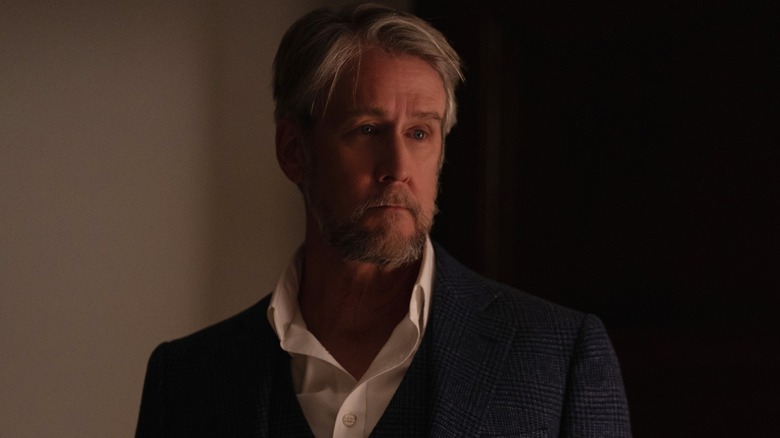 Macall B. Polay/HBO
Contains spoilers for Succession Season 4, Episode 4, "Honeymoon States"
"Succession" shook up Season 4 in the most unexpected way possible with Episode 3 innocuously titled, "Connor's Wedding." The towering patriarch Logan Roy (Brian Cox) died suddenly and unspectacularly on a private jet, surrounded by his employees, while his children attend Connor's (Alan Ruck) and Willa's (Justine Lupe) special day. After a moving and unforgettable episode, it seems everyone is back to their old and terrible ways as they swoop in on everything Logan leaves behind.
While most are vying for the top spot of CEO at Waystar Royco, the eldest Roy sets his sights on another precious asset. Just in case he doesn't end up in the White House, Connor secures another notable home in Episode 4. Marcia (Hiam Abbass) makes a glorious return from her prolonged shopping excursion in Milan and quickly pawns off Logan's pristine townhouse (complete with an in-home elevator) to Connor and Willa.
The move is illuminating on both parts as it showcases their lack of sentimentality for Logan's property. Additionally, it also highlights the deeper truth of Logan's firstborn son, which is how little he actually cared for his unloving, distant father.
Connor doesn't hesitate to buy up his dad's luxurious home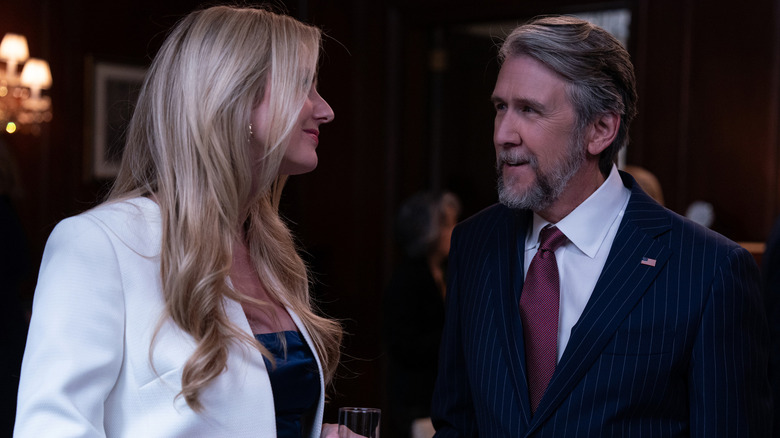 Macall B. Polay/HBO
The quickness with which this inordinate transfer of wealth occurs is startling and absurd. Connor wastes no time and acts almost the second after he walks in the door and exchanges pleasantries with Marcia. Connor immediately jumps at the opportunity to put in the first offer but before he can even say a number, Marcia beats him to the punch. She gives him a staggering range of $60-70 million dollars before he suggests $63 million. Marcia accepts Connor's first offer, showing just how uninterested she is in negotiating, and the two literally spit shake over the deal.
The fact that this deal occurs during Logan's wake makes this transaction even more disrespectful. It seems as if Marcia couldn't wait to be rid of the place she and Logan shared together, despite her proclamations of supposed intimate conversations. While it may have once been in the realm of possibility for Connor to want the place for sentimental reasons, his conversation with Willa comes in like a wrecking ball to check our assumptions. He quickly convinces her of the benefits of nabbing the real estate, and it doesn't take long for her to start openly declaring she wants to start knocking out walls to make it feel more like her own. Connor even jokes with his siblings when he leaves them to privately discuss business: "Mi casa es su casa."
After Connor's depressing confession in Episode 2 that broke fans' hearts, this hasty move feels much more like an attempt to secure some prime real estate than an attempt to feel closer to his deceased father. It's clear that of the Roy siblings, he's certainly adjusting to life post-Logan the quickest.