Why Adult Ethan From The Marvelous Mrs. Maisel Looks So Familiar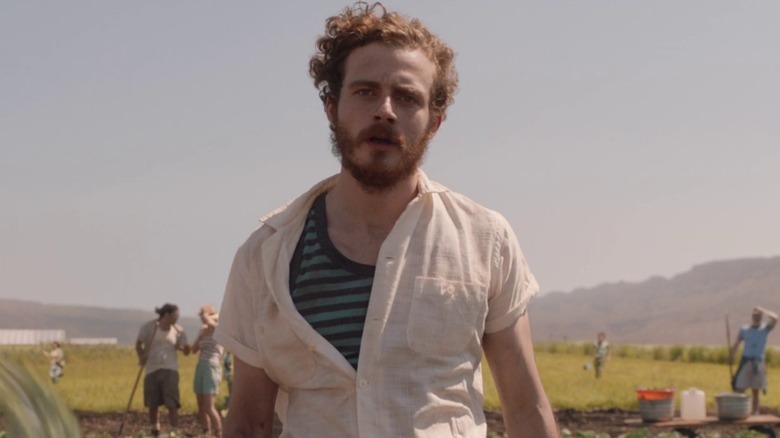 Amazon Prime Video
The ongoing fifth and final season of Prime Video's "The Marvelous Mrs. Maisel" has surprised fans with its recourse to a time-tested TV narrative device that very few people were expecting to turn up on this particular show: the flash-forward. Each one of the three "Maisel" Season 5 episodes released so far has contained scenes depicting the characters' futures, specifically the events of their lives in the 1980s, two decades on from the show's "main" timeline. This device has allowed the series to re-contextualize its alternate-world depiction of the mid-century comedy scene by imagining how it would be looked back on in-universe, and, so far, there is plenty of reason to believe that the 1980s storyline also has its share of emotional surprises in store.
Although the show's adult characters are still being played by their usual actors with the appropriate hair and makeup, the characters of Midge's (Rachel Brosnahan) children, Esther Maisel and Ethan Maisel, who are still kids in the 1960s timeline, are naturally played by adult stars in the flash-forward scenes. One of those stars is the charismatic young actor playing the older version of Ethan Maisel, now living both physically and emotionally far away from his mother in a kibbutz in Israel, and studying to take up the life of a rabbi. The actor in question is Ben Rosenfield, a rising film and TV star whom you may remember from a handful of other projects. Here's where you may have seen Ben Rosenfield before.
Ben Rosenfield broke out on the screen as Boardwalk Empire's Willie Thompson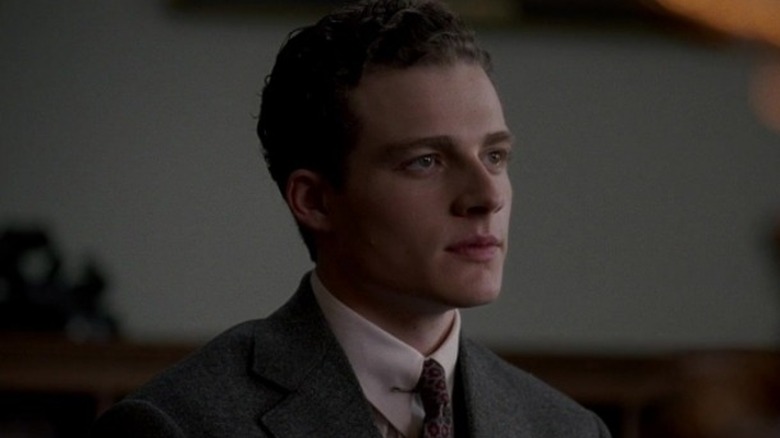 HBO
American actor Ben Rosenfield had his beginnings as an actor in the theater, starring alongside Carey Mulligan and Chris Sarandon in an off-Broadway production of "Through a Glass Darkly," a stage adaptation of the classic Ingmar Bergman film, in 2011. He then had roles in the 2012 film "Greetings from Tim Buckley," opposite Penn Badgley and Imogen Poots, and in the 2013 documentary "Teenage," which featured him in the role of Tommie Scheel.
Rosenfield's first major break as a screen actor, and arguably his most visible role to date, came in 2013, when he joined the cast of HBO's prohibition era crime drama "Boardwalk Empire." Rosenfield played the role of William "Willie" Thompson, the son of Elias "Eli" Thompson (Shea Whigham) and June Thompson (Nisi Sturgis). Smart, hard-working, and levelheaded, Willie is introduced as the Thompson's family golden boy and great shining hope for a success story outside of the crime world in which Eli and his brother Nucky (Steve Buscemi) move. Unfortunately, he is forced to drop out of Temple University and start working to support his family when Eli goes to jail, which ultimately throws his whole life into disarray as he begins to resent his father, grows closer to his uncle, and following a series of dark circumstances, ends up joining Nucky's criminal operation. Originally a recurring star on Season 4, Rosenfield was upgraded to series regular on Season 5.
Ben Rosenfield was the star of The Great Gatsby reimagining Affluenza
Following his breakout on "Boardwalk Empire," Ben Rosenfield continued to have a prolific film career with various supporting roles in independent films, and it didn't take long for him to land his first leading role. The role in question came in the 2014 coming-of-age drama "Affluenza." Written by Antonio Macia and directed Kevin Asch, "Affluenza" is a modern-day reimagining of F. Scott Fitzgerald's "The Great Gatsby" that swaps the Roaring Twenties for the period of economic and material indulgence just prior to the 2008 financial crash.
Taking place in Long Island (just like its literary inspiration), "Affluenza" is centered on the character of Fisher Miller (Rosenfield), who serves as a counterpart to the novel's protagonist and first-person narrator Nick Carraway. A young man with hopes of getting into professional photography, Fisher moves into the house of his wealthy aunt and uncle Bunny (Samantha Mathis) and Philip Miller (Steve Guttenberg), and he begins to ingratiate himself into Long Island's social bubble of powerful one-percenters and their ultra-privileged children, eventually coming into contact with Dylan Carson (Gregg Sulkin), the stepson of Long Island's richest man. Much like Nick Carraway and Jay Gatsby, Fisher and Dylan grow close and become best friends, and Fisher tries to help Dylan win back the love of Kate Miller (Nicola Peltz) — the film's take on Daisy Buchanan, naturally. Although not critically well-received, "Affluenza" allowed Rosenfield to demonstrate his chops as a movie star, leading to even more film roles.
Ben Rosenfield was one of the leads of the romantic drama 6 Years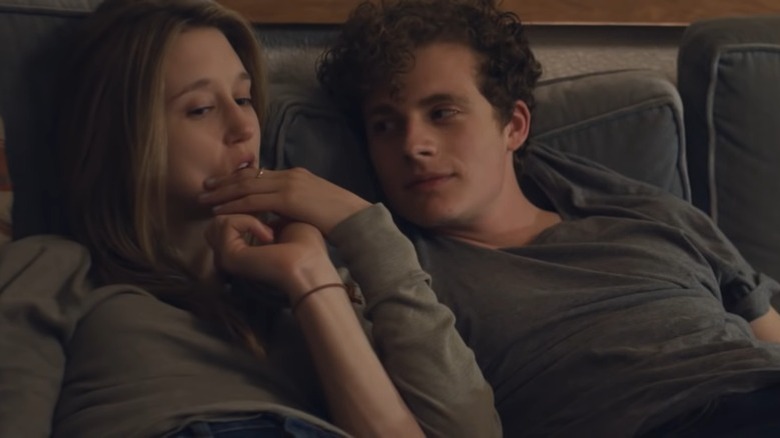 The Orchard
"Affluenza" wasn't Ben Rosenfield's only notable film project in 2014. In the same year, he had a small role in the J.C. Chandor period drama "A Most Violent Year," starring Oscar Isaac and Jessica Chastain. Then, just a year later, Rosenfield got another chance to headline a film, starring in the romantic drama film "6 Years," opposite Taissa Farmiga.
The film, written and directed by American filmmaker Hannah Fidell, depicts the turbulent tail end of the six-year romantic relationship between Dan Mercer (Rosenfield) and Melanie Clark (Farmiga). Rosenfield's character Dan is an aspiring musician and intern at the Austin-based label Topo Records, and Mel works as a teacher's assistant at an elementary school. Although deeply in love with each other, the two have trouble communicating, and honoring the balance and responsibilities required of a long-term relationship. 
Taking place over the course of two eventful weeks, "6 Years" takes on the shape of a proper melodrama, full of heightened conflicts and intense moments and narrative turns. Many of those are mapped to the tension that arises when Dan, feeling stuck career-wise in Austin, is told by his parents that they're willing to pay his rent if he moves to New York City, and then gets offered a job at the new Topo Records office in Brooklyn, leading to uncertainty and anxiety in his already fraught relationship with Mel. Rosenfield's unbridled, emotionally conflicted performance was roundly acclaimed by critics.
Ben Rosenfield had a memorable supporting role in the underrated Indignation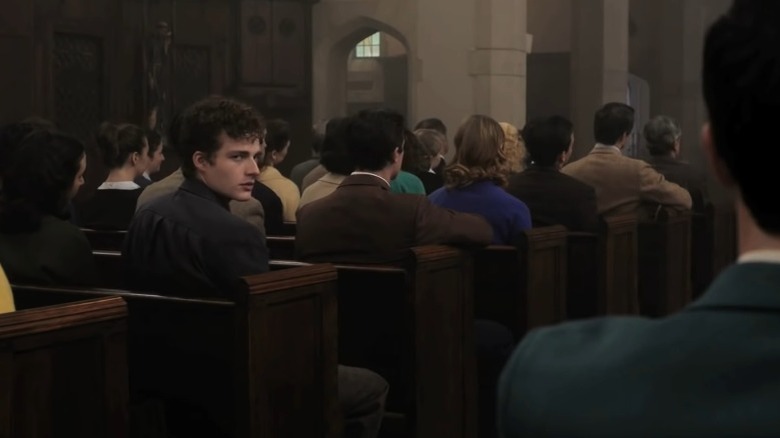 Summit Entertainment
Following "6 Years," Ben Rosenfield had a very memorable supporting role in the highly underrated 2016 film "Indignation." Helmed by veteran screenwriter James Schamus in his debut as a director, the film is an adaptation of the eponymous 2008 Philip Roth novel, and tells an exacting story about the stifling societal landscape of the 1950s through the perspective of Marcus Messner (Logan Lerman), a diligent, cultured, yet deeply repressed young Jewish man from Newark, New Jersey who is offered a scholarship at a prestigious Christian college in Ohio, and accepts it in part to avoid getting drafted into the ongoing Korean War.
Although primarily remembered as a dramatic showcase for Lerman and his main co-stars Sarah Gadon and Tracy Letts, "Indignation" is the sort of classically thorough character drama that gives everyone in the ensemble a chance to shine, including Ben Rosenfield, who plays certified theater kid Bertram Flusser, one of Marcus' two Jewish roommates at Winesburg College along with Ron Foxman (Philip Ettinger). Privileged, snooty, and high on his own supply, Bertram proves an endurance test for Marcus, who would much rather not have to share his living space with any roommates at all, and continually resists his cotenants' invitations to socialize and enjoy campus life. Then, as the film progresses, we and Marcus come to understand more about Bertram's hidden layers, giving Rosenfield the opportunity to make a very strong impression even in his relatively few scenes.
Ben Rosenfield played Phylis Schlafly's closeted son John on Mrs. America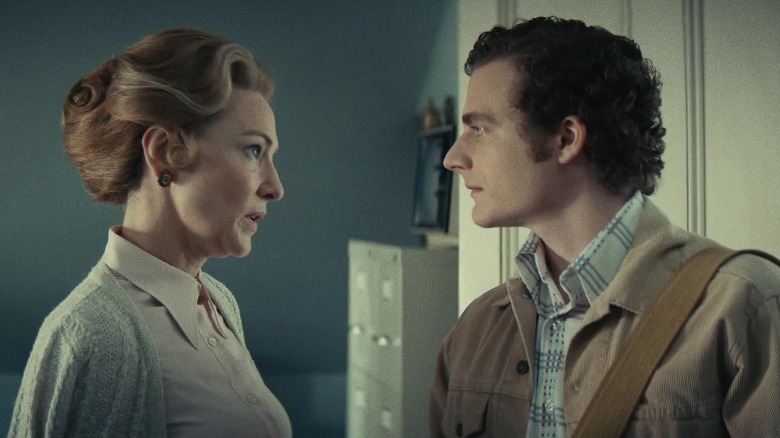 FX on Hulu
The 2020 FX on Hulu miniseries "Mrs. America" was notable for depicting multiple complex female figures from real-life American political history, beginning with protagonist Phyllis Schlafly (Cate Blanchett) but also including various other prominent activists in the 1970s feminist movement to which Schlafly was radically opposed. And, although primarily focused on the women characters, the show also made sure that the men in their lives were also portrayed in a nuanced and compelling way, such as Schlafly's eldest son John.
As the eldest child of Phyllis and Fred Schlafly (John Slattery), John bears the burden of living up to the enormous expectations and moralistic pressures placed on the Schlaflys by their conservative public, which make his life particularly difficult, seeing as he is a closeted homosexual. Yet the show's John Schlafly is nonetheless fully devoted both to his family's political cause and to his mother, with whom he has a tight-knit relationship despite the fact that she is the only one who has picked up on his sexual orientation — and is, of course, not terribly accepting of it. While navigating life as a closeted ultra-conservative, taking care of his younger siblings, and dealing with the veiled disapproval of his mother, John also harbors an unrequited crush on the fictional character of Thomas (Dan Tracy), the eldest son of Schlafly's (also fictional) friend and political ally Alice Macray (Sarah Paulson).