Why Gus Easton From So Help Me Todd Looks So Familiar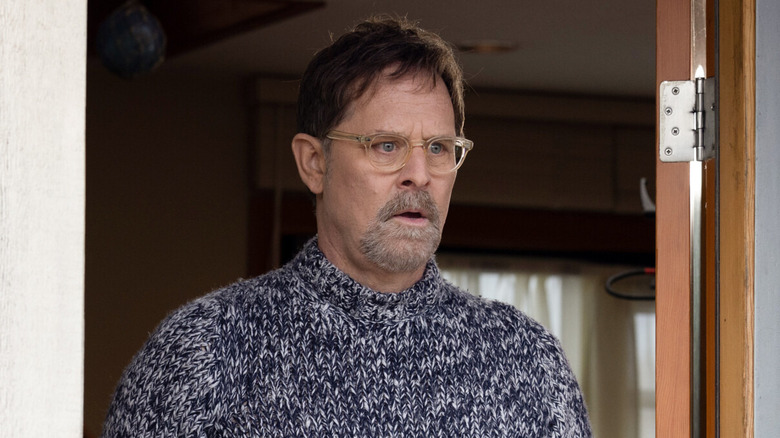 Justine Yeung/CBS
The CBS detective procedural "So Help Me Todd" has quickly grown its fanbase in its first season. The show focuses on Todd Wright (Skylar Astin), a disgraced private investigator who takes a job at a law firm where his mother, Margaret Wright (Marcia Gay Harden), is a lawyer.
Gus Easton is one of the key supporting characters filling out the show's world. A lawyer who lives in a boat house and often appears in court disheveled, Gus has found himself opposite Margaret in the courtroom on multiple occasions. The two, however, have grown closer outside the courtroom, with Margaret ultimately working up the courage to ask him out. The duo's budding romance, however, hits a roadblock with the revelation that Gus is considering taking the partnership position at Crest & Folding, a role that would make him Margaret's boss and which Margaret herself was angling for.
Jeffrey Nordling plays the role of Gus Easton, and here's why he looks so familiar.
Nordling played a fellow coach in the Mighty Ducks franchise
Jeffrey Nordling began his career with a guest appearance on the fantasy series "Beauty and the Beast." Over the years, he made minor appearances in several notable shows, including "Star Trek: Deep Space Nine," "Murder, She Wrote," and "Touched By An Angel."
Nordling's first prominent role came in the 1996 film "D3: The Mighty Ducks." In the franchise's third entry, Nordling plays Coach Ted Orion, a former NHL player who is now the coach of the junior varsity team at a prep school named Eden Hall Academy. Several members of the Mighty Ducks team end up in Eden Hall thanks to scholarships, putting them under the tutelage of Coach Orion after their old coach, Gordon Bombay (Emilio Estevez), decides to take another job.
Coach Orion clashes with the old members of the Mighty Ducks team, who struggle to adapt to his playing style and his insistence on not allowing Ducks uniforms or traditions. This ultimately leads to the Ducks' old captain, Charlie Conway (Joshua Jackson) to quit the team. Following the death of his father, Coach Bombay returns to facilitate a reconciliation with Coach Orion and Charlie, revealing that Orion's career ended when he didn't move with the Minnesota North Stars to Dallas, staying back instead to care for his disabled daughter.
When Eden Hall informs Coach Orion that they intend to force the Ducks out of the school, Orion takes their side, promising to quit if they do so. In the final match against the school's Varsity team, Orion brings back the Ducks' old jerseys, then reinstates Charlie as captain during the game, ultimately leading to a win.
Nordling played a divorced father in an ABC family drama
Jeffrey Nordling followed up his work as Coach Orion with a major TV role in the ABC drama series "Once and Again." The show focused on several characters in the Chicago suburb of Deerfield, including Jake Manning, played by Nordling. Jake was the ex-husband of Lily Manning (Sela Ward) and father to Grace (Julia Whelan) and Zoe (Meredith Deane).
The show's first season focuses on Jake's divorce from Lily, caused by his cheating on her. Jake and Lily both work towards navigating post-divorce life, with Jake working with Lily at a school carnival, where he meets Rick (Billy Campbell), who is forming a budding romance with Lily. While Jake tries to get back together with Lily, Grace, and Zoe, both meet Tiffany (Ever Carradine), who was Jake's mistress during his marriage. Jake and Lily spend more time together than planned and end up sleeping together. Lily ultimately forces the divorce proceedings to move forward as Jake faces trouble with his restaurant.
Over the course of the show's second and third seasons, Jake's divorce from Lily gets solidified, and he formalizes his relationship with Tiffany, with her becoming his girlfriend. He also works to mend his relationship with Grace after she discovers that Jake's cheating caused her parent's divorce. Tiffany reveals she is pregnant during the second season, giving birth to a girl in the third season. The series ends with Jake and Tiffany getting married.
Nordling was an enemy turned ally of Jack Bauer on 24
Jeffrey Nordling became a familiar face to fans of the Fox action series "24," as he joined the show in the seventh season, titled "Day 7." In the series, Nordling plays Larry Moss, the Special Agent in Charge of the FBI field office in Washington, D.C. Among Moss' subordinates in the office is Agent Renee Walker (Annie Wersching).
Moss and Walker are working on investigating technology-related thefts in the lead-up to "Day 7." The field office investigates the kidnapping of Michael Latham (John Billingsley), the designer of Homeland Security's CIP firewall, by the same group. Discovering that former CTU agent Tony Almeida (Carlos Bernard) is part of the group, Moss reluctantly authorizes Walker to bring in Jack Bauer (Kiefer Sutherland) to help capture the group, with reservations about his violent interrogation techniques.
When Walker goes rogue to help Bauer, Moss tracks her, arriving just as Walker and Bauer arrest Almeida. He subsequently tells Walker to remove Bauer. Despite his disapproval of Walker breaking protocol to try to fix Bauer freeing Almeida, Moss helps defend her from the Department of Justice when they investigate her for her interrogation methods.
Moss ultimately comes around to helping Bauer and Walker, helping track a suspicious secret agent, and assisting Chloe O'Brian (Mary Lynn Rajskub) in trying to find a mole in the office, even as he continues to disapprove of Bauer's methods. However, subsequent events cause Moss to arrest both O'Brian and Walker before he realizes Bauer is being set up as the fall guy.
Moss is ultimately killed by Almeida while trying to stop a terrorist group from escaping with a dangerous bio-weapon.
Nordling played a villain on Nashville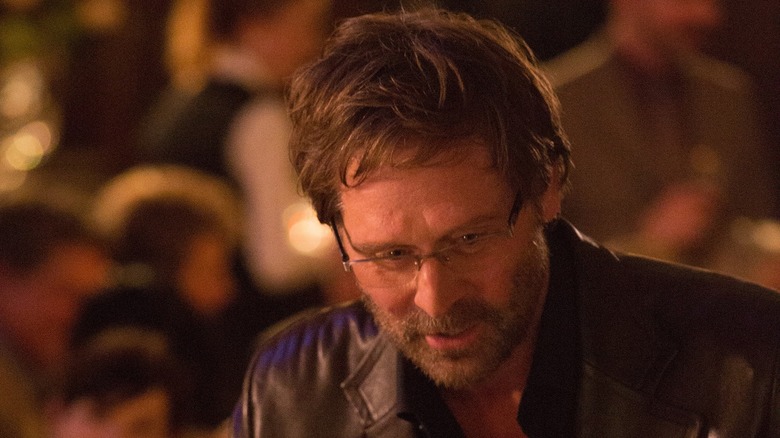 Jake Giles Netter/CMT
Jeffrey Nordling joined the musical drama series "Nashville" in its fifth season, coinciding with its move from ABC to CMT. In the series, Nordling plays Brad Maitland, whose reputation precedes him on the series. The ex-husband of Jessie Caine (Kaitlin Doubleday), it's revealed that Brad was physically abusive to both her and Jake Maitland (Myles Moore), their son.
Brad ultimately makes his first appearance at a fundraiser where Jessie is in attendance with her boyfriend, Deacon Claybourne (Charles Esten). He slips back into his abusive ways over the course of the season, mocking Jessie and forcing her to bring Jake, for whom he shares custody, home from spending time with his friends so he can spend time with Brad instead. He ultimately makes a ploy to purchase the record label Highway 65, first trying to buy out Deacon, then trying to partner with Zach Welles (Cameron Scoggins), being rebuffed by both men.
In the sixth season, Brad tries to sign both Alannah Curtis (Rainee Blake) and Daphne Conrad (Maisy Stella), trying to convince the former to leave her band in the process. He sexually harasses Alannah in his attempt to get her to sign with him and declares that he will send Jake to boarding school, leading to a fight between him, Jessie, and Deacon.
Deacon, Zach, and Alannah ultimately team up to meet with other women who Brad sexually harassed, and they give him an ultimatum. To make sure his actions don't go public, Brad gives Jessie full custody of Jake and gives Zach his record label.