Why Anna Barton From Netflix's Obsession Looks So Familiar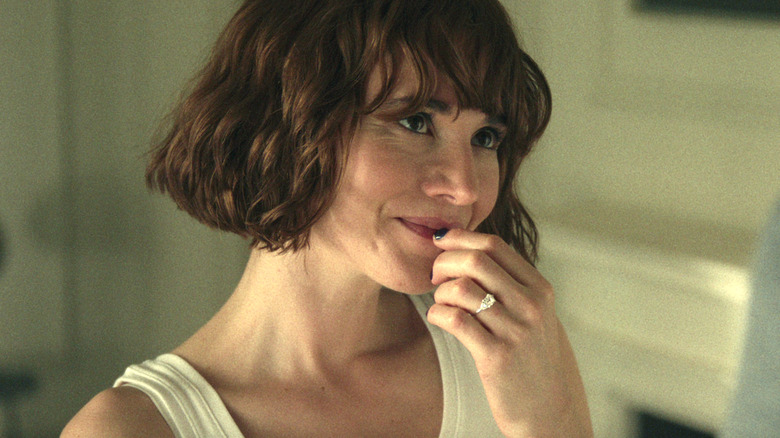 Netflix
Netflix's "Obsession" is an erotic thriller that follows the initial spark and devastating fallout of an illicit relationship that grows between an accomplished London surgeon, William Farrow (Richard Armitage), and his son's fiancée, Anna Barton (Charlie Murphy). The former is played by Richard Armitage, an actor who has appeared in everything from Peter Jackson's "Hobbit" trilogy to 2018's "Ocean's Eight." He's one of several recognizable actors who pops up in "Obsession," which also counts "Obi-Wan Kenobi" star Indira Varma and "Ms. Marvel" star Rish Shah among its cast.
But what about Charlie Murphy, the actor who plays Anna, the other half of the show's secret couple? Well, if viewers who turn on "Obsession" feel like they've seen Murphy in something before, there's actually a very good reason for that. Indeed, Murphy has shown up in an increasing number of noteworthy projects in recent years, including "Happy Valley," "Halo," "Peaky Blinders," and others.
With that in mind, here's where "Obsession" viewers may have seen Murphy before.
Charlie Murphy was a part of Happy Valley from the very beginning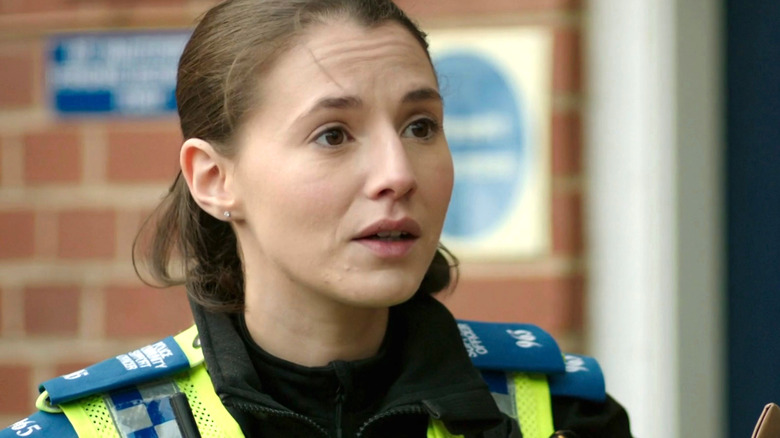 BBC One
For most TV viewers, Charlie Murphy is perhaps best known for her role as Ann Gallagher on the British crime series, "Happy Valley." Ann plays a major role in the show's debut season as the victim at the center of a kidnapping plot that spans most of the series' first six episodes. However, while some may have assumed that Ann wouldn't return in future episodes of "Happy Valley" after she was rescued, she went on to become a member of the show's central police force.
Ann subsequently became a recurring figure on "Happy Valley," and it was because of Murphy's performance as the character that she always felt like a vital part of the series even in the moments when her role in it was more limited than others'. Prior to the series' conclusion at the end of its third season, Murphy even got the chance to steal one last scene as Ann that not only helped the show's other characters remember how much she had been through but also reminded "Happy Valley" viewers why she had always come across as such a beacon of strength and clarity.
She had a brief but pivotal role in The Last Kingdom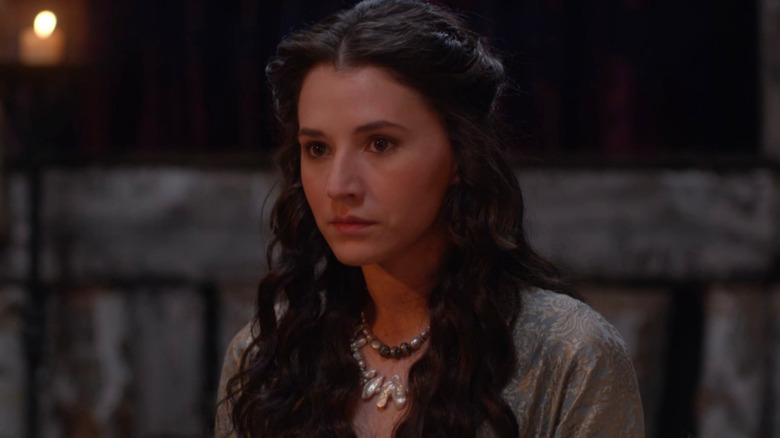 Netflix
"The Last Kingdom" fans will likely remember Charlie Murphy for her brief but scene-stealing role as Queen Iseult. Introduced near the tail end of "The Last Kingdom" Season 1, Iseult is a shadow queen who is capable of predicting the future. When she makes her debut, it's revealed that some, including her husband, believe that Iseult will lose her sorcery powers should she ever give up her virginity. As fans of "The Last Kingdom" already know, that's exactly what ends up happening after she crosses paths with Uhtred (Alexander Dreymon).
Once she joins up with Uhtred, Iseult is forced to make a series of choices that lead to her deciding to give up her powers by sleeping with him, which may or may not be the decision that also leads to her death. Her murder comes as a major shock in the "Last Kingdom" Season 1 finale, especially given how quickly she and Uhtred had bonded. That said, Iseult's death wouldn't have had much of an impact had it not been for Murphy's performance.
Despite having very little time to do so, the actor ensures that Iseult not only comes across as both capable and caring but also feels like someone who immediately fits right in on "The Last Kingdom," which just makes her sudden death all the more shocking and tragic.
Murphy played a double agent in The Foreigner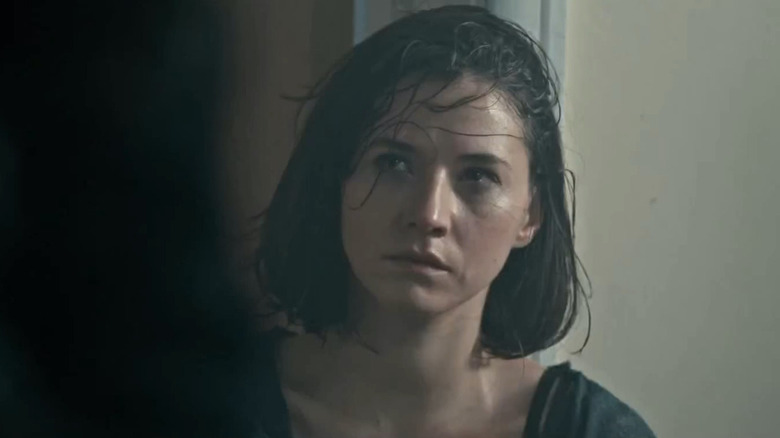 STX Entertainment
Fans of Jackie Chan and Pierce Brosnan may recognize Charlie Murphy from her turn in the 2017 thriller, "The Foreigner." The film, which follows Chan's grieving father as he sets out to hunt down the terrorists responsible for his daughter's death, features more than its fair share of memorable supporting characters, including Murphy's Sara McKay. Initially introduced as the mistress of Brosnan's duplicitous politician, Liam Hennessy, it's revealed around the midpoint of "The Foreigner" that Murphy's Sara isn't who her lover thinks she is.
Instead, Brosnan's Hennessy discovers that Sara intentionally seduced him so that he could be irrevocably tied to a series of bombings and, therefore, forced to support those responsible for them. Things, of course, don't end up going well for Hennessy, Sara, or any of her collaborators. However, while she only has a limited number of scenes in the film, Murphy believably portrays her character's radical beliefs and makes it easy to buy the twist surrounding her character.
In other words, while it wouldn't be easy for anyone to make much of a mark in a film that is led by movie stars like Pierce Brosnan and Jackie Chan, Murphy still manages to do just that in "The Foreigner."
She portrayed a union activist in Peaky Blinders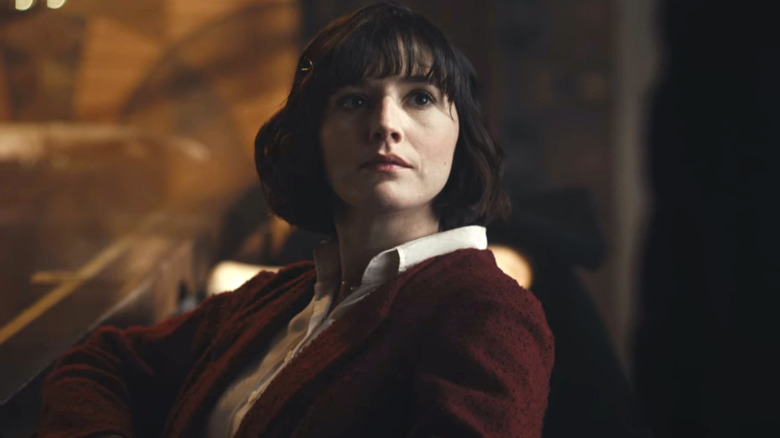 Netflix
Standing up to an accomplished and formidable mobster like Thomas Shelby (Cillian Murphy) isn't an easy thing to do. Nonetheless, that's exactly what Jessie Eden did when Charlie Murphy made her debut as the character in "Peaky Blinders" Season 4. Throughout the series' fourth season, Jessie repeatedly proves to be a formidable foe for Thomas, one who is not only connected to a number of people he wants to know but who is also capable of banding all of his workers together against him.
In the end, Thomas still ends up manipulating Jessie just like he does so many of the characters in "Peaky Blinders." Despite that fact, Murphy's performance perfectly highlights the intelligence, strength, and unwavering faith in her political beliefs that make Jessie initially feel like such a unique match for Thomas. As a matter of fact, her and Cillian Murphy's flirtatious, confrontational scenes together rank firmly as some of the high points of "Peaky Blinders" Season 4. 
That's a testament to not only her and her co-star's chemistry together but also the fiery spirit that Murphy brought to her performance as Jessie Eden.
Murphy brought real humanity to her Halo character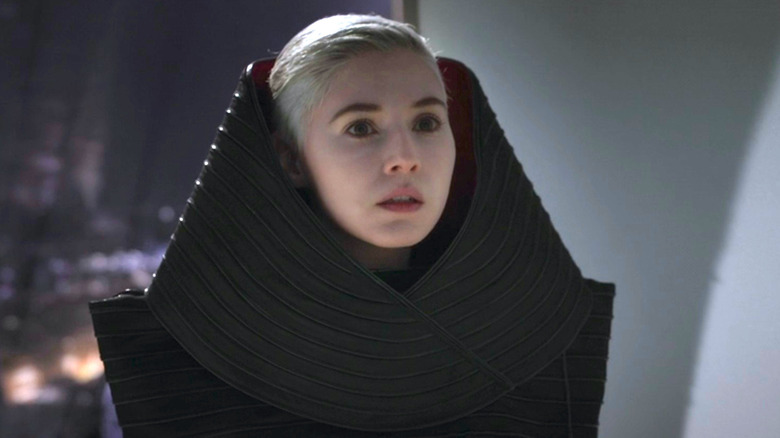 Paramount+
Charlie Murphy gave one of her most unique and unexpected performances to date when she appeared as Makee in Season 1 of "Halo." The Paramount+ original series, which is inspired by the popular "Halo" video game franchise, explores a military conflict in the distant future that pits humanity against an alliance of alien races known as the Covenant. With that in mind, Murphy plays Makee, a human orphan who was raised by the Covenant to hate humanity just as much as them.
Thanks to her human origins and her Covenant upbringing, Makee occupies an interesting place in the central war of "Halo," one that is made all the more fraught by her status as a "Blessed One," which means she has the uncommon ability to activate the kind of ancient artifacts that are seen as integral to the Covenant's alien beliefs. Murphy, for her part, manages to make Makee's complicated connection to the Covenant's war against humanity feel emotionally grounded even in a show that often isn't.
While Makee suffers a tragic fate at the end of "Halo" Season 1, the impact she makes on the show's story and, specifically, Pablo Schreiber's Master Chief will likely still be felt in future episodes — and that's mostly a credit to Murphy's performance as the character.