The Marvelous Mrs. Maisel: Why Mike Wallace Looks So Familiar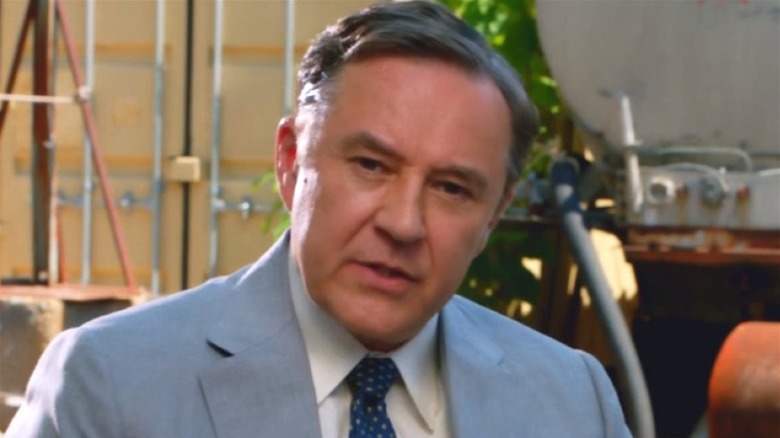 Amazon Studios
Amazon found a gem when it launched one of its most successful original projects with "Marvelous Mrs. Maisel." The story follows Miriam "Midge" Maisel (Rachel Brosnahan) as she attempts to build a successful standup comedy career with the help of her manager and friend, Susie Myerson (Alex Borstein). Taking place in the mid-1900s, the show has always been a deep dive into the struggles of building a career in comedy and being a woman in a male-dominated industry.
Season 5, the finale of the series, began some revelations in the form of a 1981 interview with "60 Minutes" host Mike Wallace sitting down with an older version of Midge and doing a career retrospective with the comedian. They cover the good things like her 18 consecutive sold-out shows and performing with Bob Hope at Carnegie Hall, while also covering her less-than-great moments, like her multiple marriages and a 25-year friendship with Susie, which is now on the fritz.
Of course, if the name Mike Wallace sounds familiar, it is intentional. As one of the most prominent journalists of his generation, he is definitely a name you would know. However, the actor that brought the historical news legend to life — Currie Graham — also likely looks familiar, as he has been in some of your favorite shows over the last three decades. Here is why Mike Wallace on "Marvelous Mrs. Maisel" looks so familiar.
Currie Graham played Thomas Bale on NYPD Blue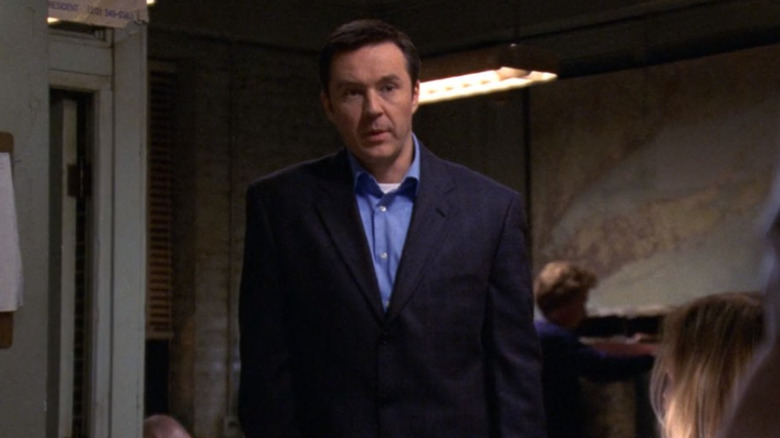 ABC
Police procedural shows have been bread and butter content for networks, reaching all the way back to "Starsky and Hutch," and continuing today with shows like "Blue Bloods" and "Criminal Minds." Of course, every one of those series has something that makes them stand apart from the others, and in the case of "NYPD Blue," it was the beginning of a darker and more gritty take on the cop show. And, of course, seeing Zack Morris (Mark-Paul Gosselaar) as a detective instead of a truant and mischievous high school kid helped to intrigue some.
Currie Graham appeared in Season 12 in 2005 as Lieutenant Thomas Bale. As a former internal affairs officer, Bale was meant to come into the department and turn it into a more modern and less maverick operation. After 11 seasons, the series had become comfortable in what it was, and Bale was there to turn it on its head. Graham talked about his character and what drew him to it.
"Bale is very direct, very matter-of-fact," Graham told Today. "And there's something about that I really like. Because this is kind of an emotional show, and here's a guy who chooses to reveal nothing of himself. But he's very tightly wound, and I always find characters like that interesting because I wonder, 'What's going on under there?' There's obviously something serious going on inside."
Graham went head to head against idealists in Raising the Bar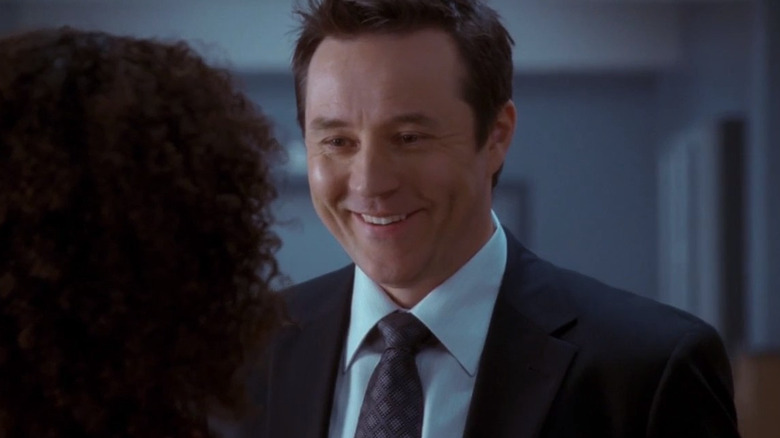 ABC
Just like cop shows, legal dramas feel like they are a dime a dozen. Seemingly every network has tried its hands at creating a "You can't handle the truth" moment on the small screen. While "Law & Order" and "Suits" seemed to find the right audience to see them go for a long period of time, others fell through the cracks and disappeared into obscurity.
One of the more tragic cases of a short-lived legal drama is the late-2000s TNT series, "Raising the Bar." Mark-Paul Gosselaar appears as an idealistic public defender who cares more about the client's lives than many of his compatriots. Currie Graham appears on the other side of the coin as a more hard-edged and embittered prosecutor who holds the rest of the office under his pessimistic thumb.
While the fans were surprised by the series' cancelation, Graham spoke about the end when doing press for his appearance in the movie "Cabin Fever: Patient Zero." "I mean, I always felt going into that that it was going to be a five, six, seven-year job, and certainly, the evolution of my character on that show was great. I really loved it," Graham told Rama's Screen.
Graham battled legal legends in Boston Legal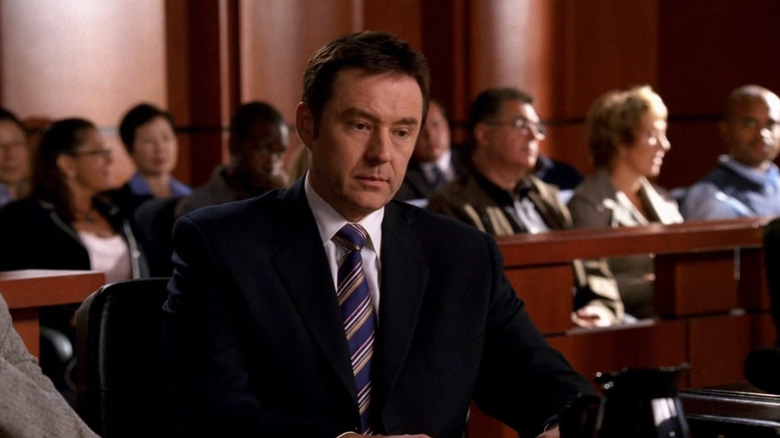 ABC
Speaking of legal dramas that found a way to stick around for a time, "Boston Legal" did so by using the endless charm of a lead duo of James Spader ("Blacklist," "Avengers: Age of Ultron") and William Shatner ("Star Trek," "Miss Congeniality"). Following the exploits of two attorneys who have a tendency to work against the grain to achieve victory, audiences never knew what they were going to get.
Of course, any good series about attorneys needs a formidable villain to rage against in the courtroom. Currie Graham provided that very thing in his role as Assistant District Attorney Frank Ginsberg. ADA Ginsberg is a man with aspirations to land himself in the District Attorney's office and often uses the cases led by Alan Shore (Spader) and Denny Crane (Shatner) in an effort to make a name for himself. Shore often beats him in court, earning him the honor of being his mortal enemy.
Like many of Graham's roles, he has to work alongside some of the industry's most legendary actors. Following this experience, Graham advised younger actors on how to hold their own in those moments. "I think the most important thing for actors, young or at any age for that matter, is preparation," he told Reviewbrain. "Being completely prepared is what gives actors the ability to feel free with the material. Working with Dennis Franz or James Spader, I saw first-hand the amount of control they had over the material, and their work certainly reflects that."
Graham played a wealthy industrialist in Agent Carter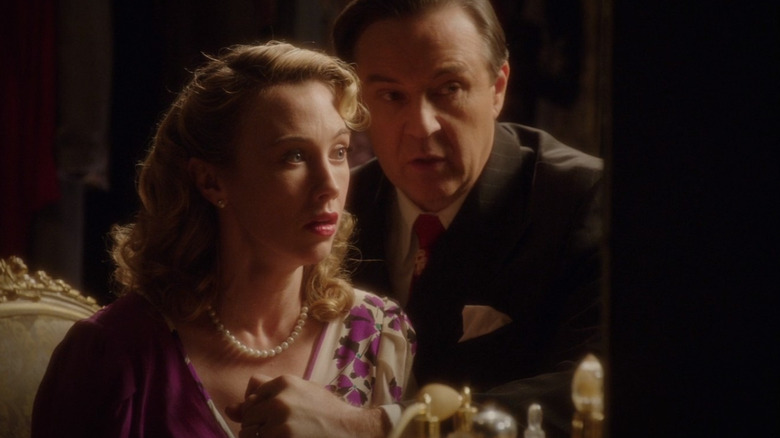 Disney+
The Marvel Cinematic Universe is deep with stories that span decades (on Earth, at least) and involve a wide variety of characters. Spin-off TV shows were bound to happen once the franchise was thriving, and "Agent Carter" saw Peggy Carter (Haley Atwell) become a founding member of the organization that would eventually become S.H.I.E.L.D.
Currie Graham appeared in the kind of role that he seems to be born to play: an ambitious man who finds himself on the wrong side of the ethical line. He appears as Calvin Chadwick, a wealthy industrialist, and owner of Isodyne Energy, which allowed him to become a member of the Council of Nine. His discovery of the Zero Matter became the center point of their plot until he was dismissed and instructed to focus on his upcoming senatorial race. While he feared he would eventually be betrayed by the Council of Nine, he was ultimately killed by his wife, Whitney Frost (Wynn Everett).
While this was a smaller role on a short-lived period drama, Graham proved that he had the chops to be a part of one of the biggest franchises in history.
Graham got the spotlight in Season 3 of Murder in the First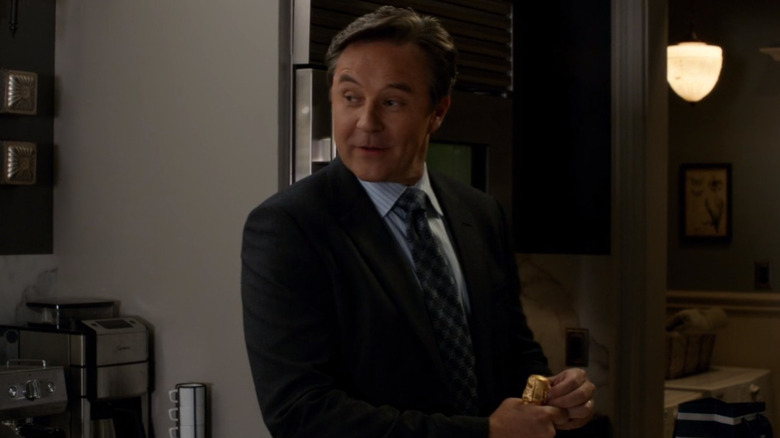 TNT
For what seemed like all of eternity, cop shows, and legal dramas stayed faithful to the case-of-the-week format. British series like "Broadchurch" and "Luther" showed American audiences that taking the time to dive deeper into each case in a season-long storytelling format could offer a more profound experience. "Murder in the First" adopted this idea in the mid-2000s, and each of its three seasons focused on one single case.
Currie Graham returned to his usual role as an attorney when he appeared in all three seasons as Chief Prosecutor Mario Siletti. In Season 1, he was primarily a background character as Taye Diggs ("Chicago") and Kathleen Robertson ("Boss") investigated a Silicon Valley prodigy (Tom Felton) for murder. While Graham saw a little more depth to the character in Season 2, it wasn't until Season 3 that the character finally got the attention he deserved.
"I was very flattered, and I was very honored," Graham told Fansided when he found out he was getting his own subplot. "Steven [Bochco] had mentioned to me last season about writing Mario out of the corner he was in, and sort of opening up his life and his storyline for this season and future seasons because he felt like it's a very interesting character kind of boxed in a bit by his job and what's going on with him. Steven was pretty open about this is what may happen for Season 3."
Graham was a friend and landlord The Rookie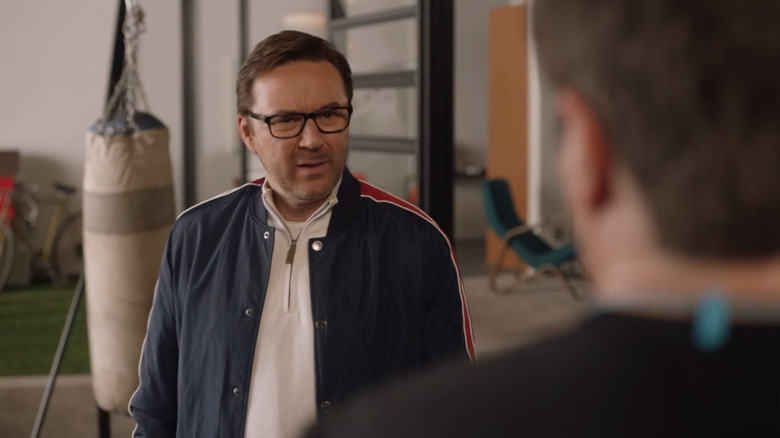 ABC
Another series that needed to find a way to separate it from the rest of the genre was "The Rookie." It changed up the procedural cop drama by focusing on a middle-aged man making a change of career from construction worker to Los Angeles police officer. The series is primarily successful, thanks to the charming lead performance of Nathan Fillion. Of course, one of the best parts of being a little bit older than the rest of the people around you is that you have networked for a long time, and that networking gave Nolan a place to live in Season 1.
Currie Graham appears in six episodes of Season 1 as Ben McRee, a millionaire tech businessman who allows Nolan to crash at his larger-than-life mansion in Beverly Hills. While the part is mostly just a side character, he offers some pretty handy moments narratively for John Nolan to talk about his issues with a contemporary sounding board, instead of with the younger officers. Graham did appear one more time in Season 3 to give Nolan's son an opportunity at his business when he decided to drop out of college.
The list of projects in Graham's filmography is astounding, as he has appeared in almost everything you can think of over the last few decades. "E.R." and "Pacific Blue" in the '90s, "24," "Desperate Housewives," "Criminal Minds" in the 2000s, and "Arrow," "Grey's Anatomy," and "Mad Men" in the 2010s, creating a long-running career that has only gotten better with time.