Successful TV Shows That Ended On Their Own Terms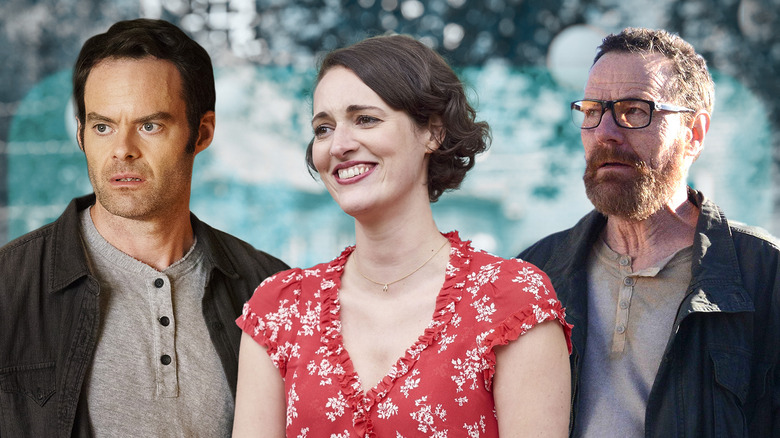 Static Media
There's no worse feeling than finding out your favorite show has been canceled before the story and characters have had a chance to develop fully. After investing yourself in what was obviously supposed to be a three-season arc, the show gets the axe after one or two seasons. We've seen it before with '80s-centric "Freaks and Geeks," Netflix's "I Am Not Okay With This," HBO's "Minx" and "Westworld," and many others. In some instances, with a bit of luck and enough outrage, previously canceled shows have been revived, like when Netflix took over Fox's "Arrested Development" and again with "Lucifer," but revivals rarely live up to the original. 
Avoiding cancelation is a TV show's equivalent to avoiding the plague. There are a number of reasons why a show might meet its untimely fate, including anything from low viewership to creative differences. In fact, it seems more often than not that a show's ending is completely out of the control of the creators involved. But occasionally, a show will come along and beat the odds, giving fans the closure they deserve. The following are some of the most successful TV shows that ended on their own terms.
Succession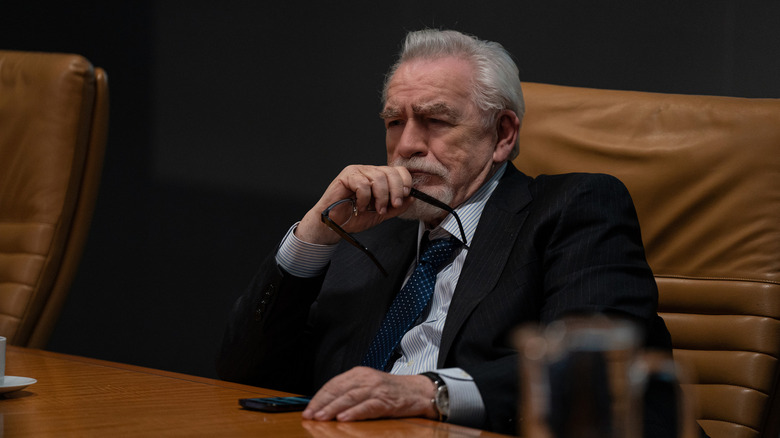 Macall B. Polay/HBO
After six years of watching the dysfunctional Roy family battle it out for control of their media conglomerate Waystar RoyCo, HBO's comedy-drama "Succession" comes to a "natural" end with Season 4. The award-winning show has received widespread acclaim for its compelling characterizations, stand-out performances, strong direction, and timely, complex humor. There's no doubt that the betrayals and backstabbings could've gone on for years to come, but only the best shows know when to call it quits before it's too late.
When discussing the thought process behind ending the show, showrunner Jesse Armstrong tells The New Yorker, "I've never thought this could go on forever. The end has always been kind of present in my mind. From Season 2, I've been trying to think: Is it the next one, or the one after that, or is it the one after that?" He continues, "HBO has been generous and would probably have done more seasons, and they have been nice about saying, 'It's your decision.' That's nice, but it's also a responsibility in the end — it feels quite perverse to stop doing it." Although the "Succession" we know and love meets its conclusive end, Armstrong teases he may be open to revisiting the world in the future with possible ideas for spin-offs.
Barry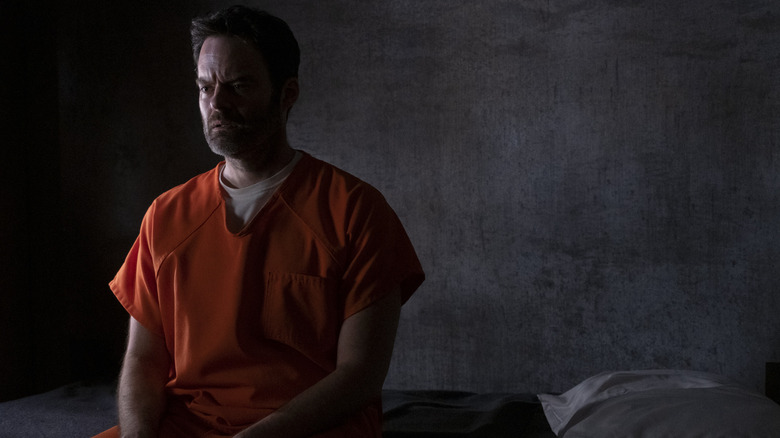 Merrick Morton/HBO
Another HBO favorite says its goodbyes in 2023 with the end of Alec Berg and Bill Hader's comedy-drama "Barry." Since 2018, hitman-turned-actor Barry Berkman has been trying to outrun his past, but it seems in Season 4, it's finally caught up to him. After three seasons of critical acclaim and awards recognition, Hader acknowledges the story's natural end in an interview with Variety. "You realize, well, we could pad a lot of stuff, and just make story. But if we're going forward, it ends in Season 4."
"Barry's" half-hour episodes have never been known for beating around the bush or extending storylines for the sake of more content. From the beginning, the show has carefully balanced the upsetting with the funny, and as the story progresses, an even darker reality is exposed as Barry goes to greater, more dangerous lengths to prove his redemption. But with Barry finding himself locked behind bars in the final season, the series-long question of whether the hitman can ever change his ways is finally answered, and he may not like the answer.
Atlanta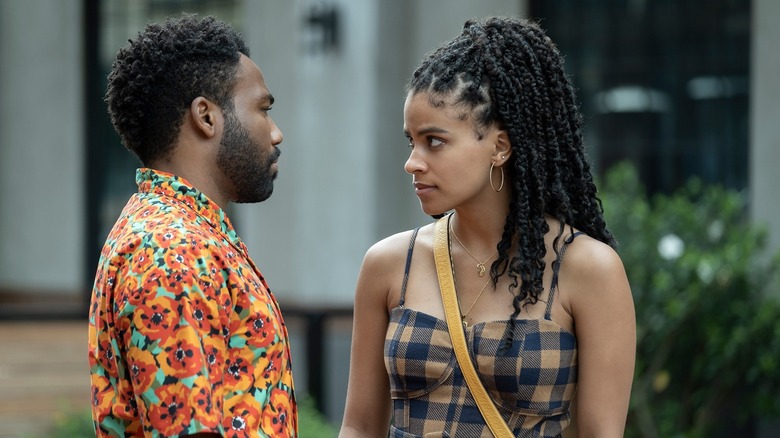 FX
Going into Season 1 of FX's comedy-drama "Atlanta," showrunner Donald Glover admits he didn't really know what he was doing, instead approaching the show as if it were going to get canceled. Luckily, that never happened, and by Season 2, "Atlanta" had become a highly acclaimed, award-winning hit. While the first two seasons focus on the experiences of the four main characters, Earn, Paper Boi, Darius, and Van, as they navigate the Atlanta hip-hop scene, Season 3 takes the characters abroad and leans further into the surrealist elements "Atlanta's" unconventional storytelling is best known for. The fourth and final season premiered just a few months after the third, taking the characters back to their roots in Atlanta.
Glover spoke about the decision to end the show during the Television Critics Association press tour, saying, "I feel like when the conditions are right for something, they happen, and when the conditions aren't right, they don't happen. I don't feel any longevity. Because then things start to get weird. The story was always supposed to be what it was. And the story, it really was us. Everybody in that writers' room, everybody on set. It really was what we were going through and what we talked about. ... I think it ends perfectly." Glover also revealed he originally planned for "Atlanta" to end after two seasons, but fortunately, that wasn't the case. It's safe to say the show's legacy wouldn't be the same without the final two seasons that gave audiences a satisfying conclusion.
Fleabag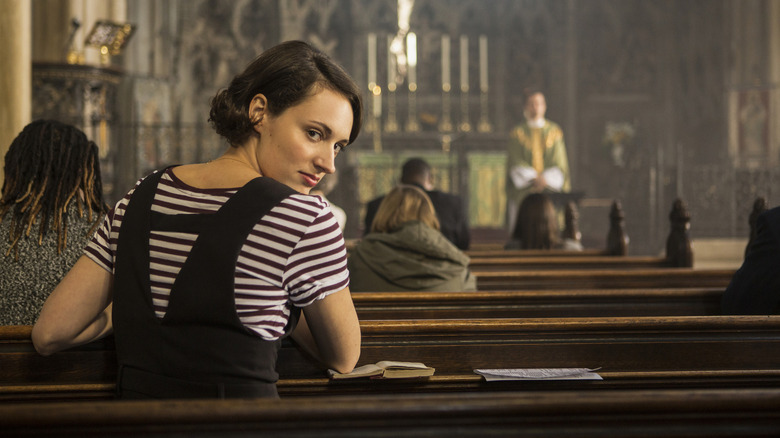 BBC
Based on Phoebe Waller-Bridge's one-woman play of the same name, the comedy-drama "Fleabag" is not the kind of show that can be stretched out over the course of multiple seasons, and Waller-Bridge knew this from the very beginning. Only two seasons long, with a total of 12 episodes, viewers accompany the titular character as she navigates life after the death of her best friend. The relationship between the viewer and Fleagbag — maintained through the show's signature fourth-wall breaks — is used as a coping mechanism for the grieving protagonist. "But by the end, she's let the camera in too close and she wants to push you away. Then at the very end of the first season, I don't look at the camera anymore after my confession," Waller-Bridge explains to The Hollywood Reporter. Season 2 ends with a goodbye from Fleabag as she leaves the camera — and, therefore, the viewer — behind for good.
When asked about "Fleabag" returning, Waller-Bridge explains, "I feel like it's done ... She went on the biggest journey over the past two seasons, and she started as someone who sort of hated herself and ended up as someone believing that she could love again and forgive herself. I have to respect that arc and let her go and live for a bit." The concise and deliberate beginning, middle, and end make for a memorable show that leaves a lasting impact on anyone who watches.
The Good Place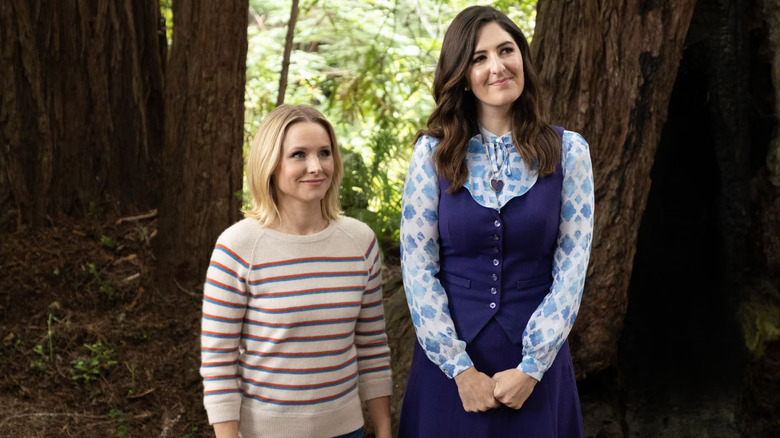 NBC
NBC sweetheart Mike Schur is responsible for some of the network's biggest comedy hits, from "Parks and Recreation" to "The Good Place," both of which were able to end on their own terms. Going into "The Good Place," Schur wasn't interested in dragging out the show for longer than felt reasonable. But it wasn't until Season 3 that Schur and his writers started mapping out a conclusive ending for characters Eleanor, Chidi, Tahani, Jason, Janet, and Michael. "A lot of things on this show unfolded pretty organically, and the ending is one of them. We had the idea and then built on it, instead of junking it for some other idea," Schur tells The Hollywood Reporter.
Although the show's concept of an afterlife could theoretically go on for eternity, Schur was more interested in wrapping up the story by giving each character the resolution they deserve. "There's really only one goal ever for a show finale, in my mind, and that's to make people who have been watching the show and invested time and energy and emotion in the show feel like it's a good ending," Schur explains. Just like the characters in "The Good Place," the viewers learn the lesson that all good things must come to an end.
The Leftovers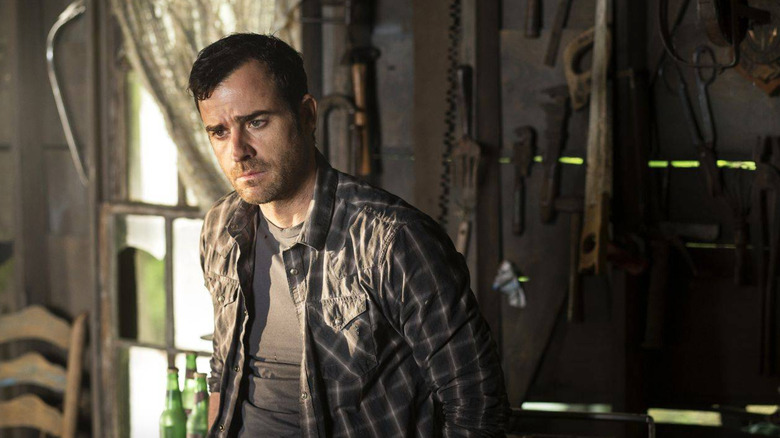 HBO
Showrunner Damon Lindelof wasn't going to make the same mistake he made years before with the controversial ending of "Lost" when he teamed up with Tom Perrotta to adapt his novel into the supernatural drama "The Leftovers" for HBO. "If the takeaway from 'Lost' was that there was a disgruntled portion of the fan base that said, 'You did not give satisfactory answers to the mysteries,' then I feel somewhat liberated with 'The Leftovers' because that's off the table," Lindelof told The Hollywood Reporter going into the third and final season. This line of thinking paid off when "The Leftovers" series finale was met with universal acclaim, and fans were satisfied with the ambiguous ending that still managed to tie up loose ends.
When discussing the reasoning behind ending the series with Season 3, Lindelof explained to Entertainment Weekly, "I feel like television shows should have beginnings, middles, and ends. As we were getting to the end of the second season of the show, it started feeling to all of us that these characters were closer to their end than their beginning." With that, "The Leftovers" pulled off a thought-provoking, memorable conclusion.
Derry Girls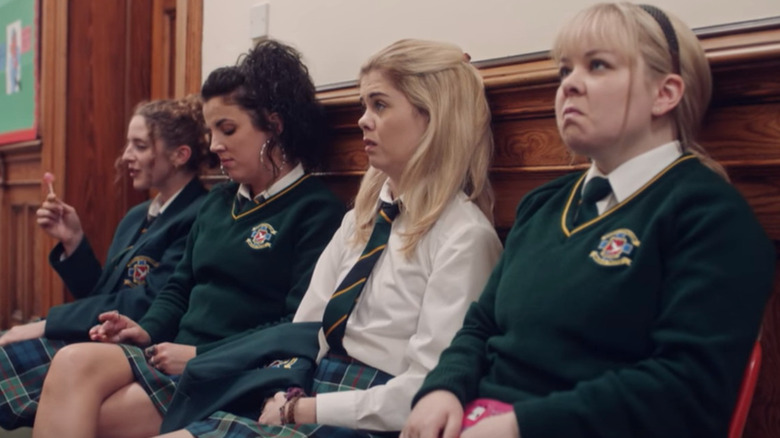 Channel 4
The coming-of-age experience is tumultuous enough, but the backdrop of Northern Ireland's Troubles complicates things even further for the four teens in Lisa McGee's "Derry Girls." Centered around the juxtaposition of the girls' youthful innocence against their country's political unrest, the show captivated audiences with its irreverent humor, charismatic performances, and well-handled political undertones when it debuted in 2018.
When McGee decided to end the show with the pandemic–postponed Season 3, fans were understandably disappointed, but for McGee, it was the plan all along. "You never know what will happen in 10 years' time, but as a writer, you just know when it's complete. I'll miss them, but I feel like I got to take those characters exactly where I wanted to take them," she told Radio Times magazine. By Season 3, the inevitable happened, and the girls grew up. The final 45-minute episode has the characters signing the Good Friday Agreement — a fitting finalization as both the girls and the country begin a new era.
Breaking Bad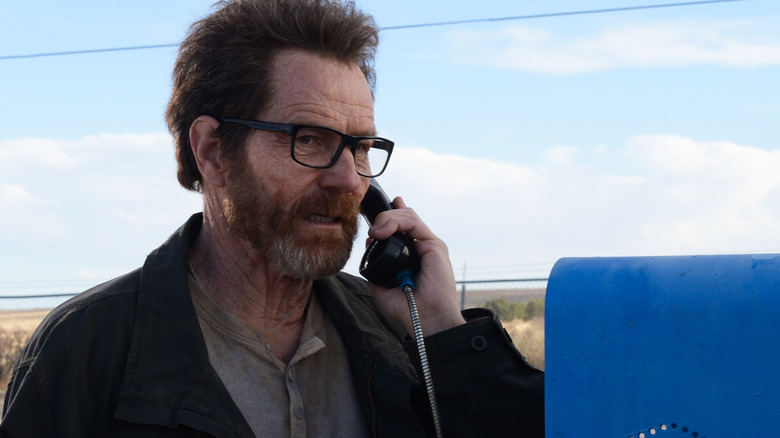 Ursula Coyote/AMC
Since its five-season run from 2008 to 2013, Vince Gilligan's "Breaking Bad" has been regarded as one of the greatest television shows ever made, winning a total of 16 Emmy Awards and two Peabody Awards. So much of the show's success can be attributed to its well-executed finale, which came at a time when the show was at the height of its popularity. Everyone was hungry for more "Breaking Bad," but Gilligan knew Walter White's drug kingpin days needed to come to an end as he fulfilled his villainous arc. 
"I pushed harder than anyone for it to end when it did," Gilligan told Digital Spy. "I was very anxious about the idea of folks suddenly moving on, and saying, 'Is that show still on the air? I used to watch it. It used to be good.' I'd wanted folks rather to say, 'Don't end it now!' That's what I wanted, and that's what we got, thank goodness." Five seasons was undoubtedly the sweet spot, but what some fans don't know is that it almost didn't make it past Season 3. The show's network, AMC, felt the viewership numbers didn't warrant more than three seasons, but once Sony Pictures Television started shopping around for other takers, AMC quickly changed its mind — a smart move that gave Gilligan a chance to tell the story he needed to tell.
Better Call Saul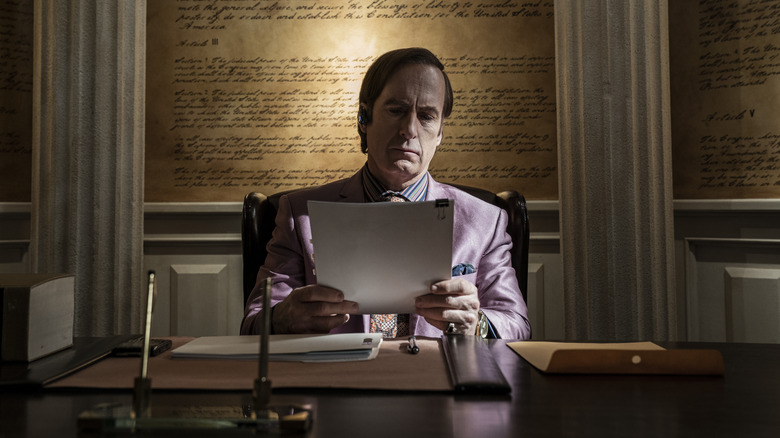 Greg Lewis/AMC/Sony Pictures Television
After the success of "Breaking Bad," Gilligan expanded the world even further alongside Peter Gould with the spin-off series "Better Call Saul" as well as a series epilogue "El Camino: A Breaking Bad Movie." Both have been met with overwhelming praise unlike any other television franchise before. Many even consider "Better Call Saul" better than its predecessor, preferring the show's complex characterizations, stylistic choices, and masterful storytelling. 
When the show ended with Season 6 in 2022, fans were grief-stricken all over again, but this time, even worse, as Gilligan announced the end of the entire franchise. "You've got to know when to leave the party," Gilligan tells the Television Critics Association. "You don't want to be the guy with the lampshade on his head. ... I know I was asked the same thing at the end of 'Breaking Bad' and I gave the same answer, but I need to prove to myself that I'm not a one-trick pony." In the final season, the prequel shifts into a sequel as the timeline catches up and transcends the "Breaking Bad" era. This time jump gave fans the closure they needed after following the story for 15 years. The overall franchise proves just how successful television can be when creators know when to say goodbye. 
Dead to Me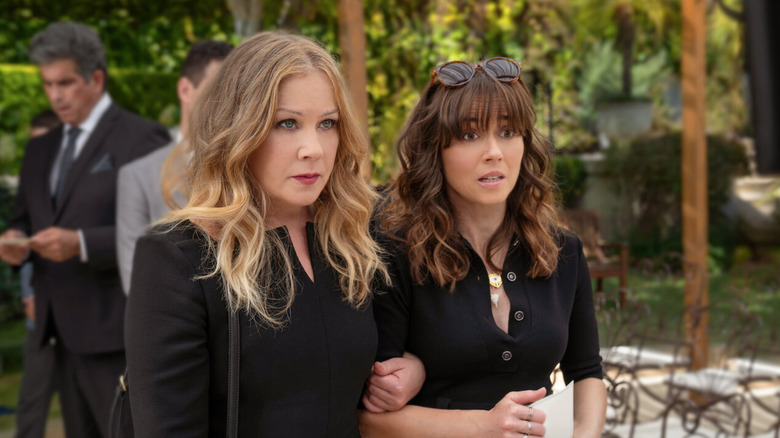 Netflix
Pitched as a dark comedy/mystery, Liz Feldman's "Dead to Me" is responsible for just as many tears as it is laughs. The show's premiere on Netflix in 2019 set the stage for the new hit that wasn't running away anytime soon. Feldman has never been interested in dragging out a story and "Dead to Me" was no different. Her plan: there was none. "Some writers do go in knowing the whole thing, but for me, a show only benefits from being organic and iterative. I knew how I wanted to start and had some flagpole moments along the way, but even the first season ended in a totally different way than I planned," she tells The Hollywood Reporter.
Eventually, the story presented an end with Season 3. "I always knew that it was going to be a short-lived show ... I wanted the ending to feel important and not just, like, 'Oh s***, we're going to get canceled!' It's like I almost wanted to beat them to the punch — decide our own destiny." With Feldman in complete control, fans and critics felt the bittersweet ending fulfilled what they needed from the story and characters.
Girls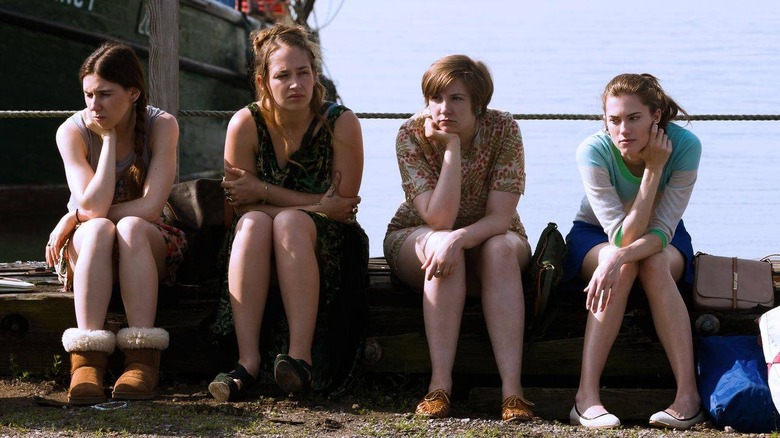 HBO
Coming off the heels of her first feature film, "Tiny Furniture," Lena Dunham entered a new world as HBO offered her a deal to develop a new show for the network. Under the mentorship of Judd Apatow and showrunner Jenni Konner, the millennial comedy-drama "Girls" was born. As Dunham's first breakout project, there was no telling whether the show would last long enough for Dunham to see it through. Quickly, it became clear that audiences resonated with the show's fresh take on coming of age in New York City.
After five years, Dunham and her team decided to end things with Season 6. She tells Rolling Stone, "We always wanted to go out while people were still engaged in the show, still talking about it. It felt like the saddest thing that could happen would be for people to be like, 'Is "Girls" still on?'" Dunham approached the final season with the same excitement as the first. "[That] first season, we pushed ourselves as hard as we could, and now we get to make more. You kind of have the same experience ending a show — you're like okay, everything I ever wanted to say about these characters, this time of life, let's blast it out right now."
Parks and Recreation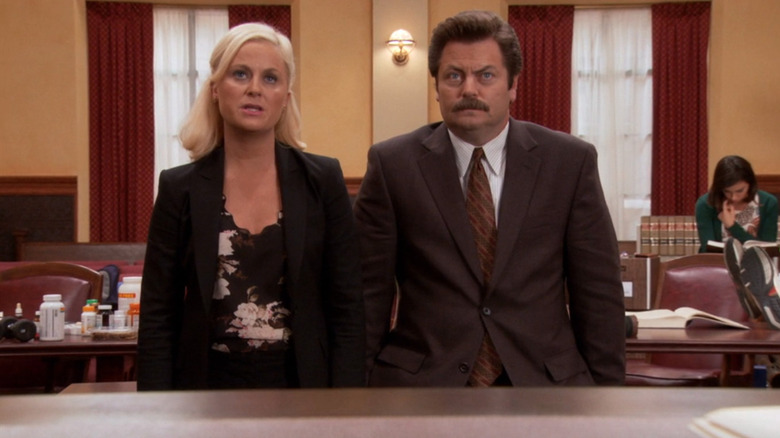 NBC
Before Schur was pondering the afterlife, he helped co-create the mockumentary-style sitcom "Parks and Recreation" alongside Greg Daniels. The quirky political satire introduced audiences to the lovable government employees in Pawnee, Indiana's Parks and Recreation Department. Over the course of six years, fans grew attached to their favorites, making the sentimental final season a touching farewell. For everyone involved in the show, the seventh and final season was a major accomplishment after the rough beginning was plagued with constant threats of cancelation. Despite the challenges, Schur and Daniels came out on top and ended the show on their own terms.
As "Parks and Recreation" drew closer to its natural end, it was time to make a decision. Luckily for Schur, NBC was on board. "I don't know if I'll ever be that lucky again, that the creative team got together over the course of many months, picked a plan for how to end the show, and then the network was just like: Thumbs up. ... It's such a happy network-TV story," Schur expressed in an interview with Entertainment Weekly. Although Schur was prepared for the many potential cancelations, he ultimately got the last say. "It just felt like it was the right time. ... It's just so exciting that we have this opportunity to round up the gang one last time, you know?"
Seinfeld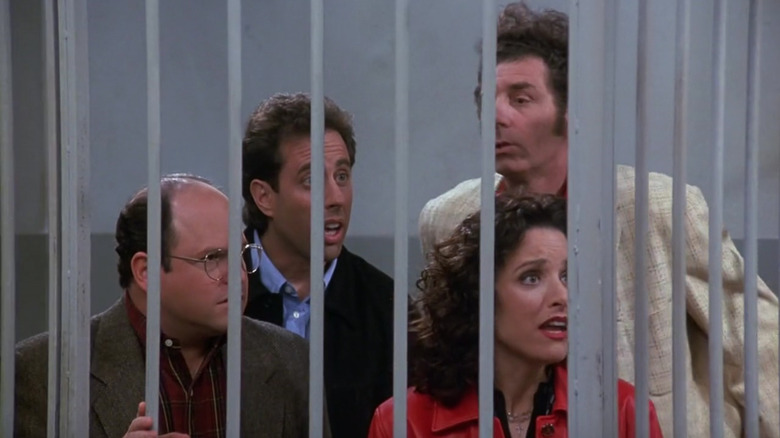 NBC
In show business, no one wants to overstay their welcome, and the same can be said for Jerry Seinfeld and Larry David's sitcom about nothing, "Seinfeld." The show ran for nine seasons over the course of nine years. After all that time together, the cast and crew had become more or less a family, so deciding to end things was no easy feat. According to Seinfeld, he brought the cast together and opened the conversation. "I went, 'I was thinking maybe this is our moment to make a good exit.' We've had a lot of good fortune here. Maybe we shouldn't push our luck too far. And we all agreed that this was the right moment. ... That was powerful, I remember that... I remember because as soon as we all agreed, that was it," Seinfeld recalled during a press conference.
The send-off was as memorable as Seinfeld could've hoped. The two-part finale was watched by 76.3 million people and even played in Times Square. Although it was met with mixed reviews, one disappointing episode could never ruin the legacy of "Seinfeld," not even its last. Today, David and Seinfeld still stand by the fact that they wouldn't have done it any differently. That's the beauty of being in control of your own destiny.