Impractical Jokers: Q Says Colin White Had It Out For Him On The Hockey Punishment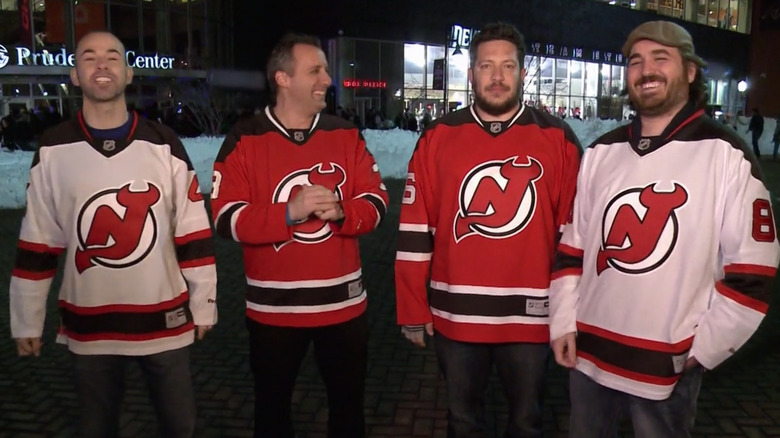 TruTV
"Impractical Jokers" is a show that rarely requires athletic prowess. Nerves of steel? Sure. But James Murray, Brian "Q" Quinn, Sal Vulcano, and Joe Gatto are better equipped to endure arena-sized embarrassment than feats of strength or speed. That being said, the Jokers make a pretty good punching bag, as seen in the Season 4 episode "Deal With the Devils."
As their punishment, Quinn and Vulcano must endure a flurry of slapshots from Stanley Cup Champions Grant Marshall and Colin White during a New Jersey Devils game. By the end of the onslaught, Quinn can barely stand up, and the Devils mascot has to push him off the ice.
According to Quinn, White might have gone easier on him if he hadn't egged on the hockey veteran. "Before we started shooting, I was talking to him a little bit and we were goofing around a little bit," Quinn said in an After Party Web Chat. "We got into a little male camaraderie, busting each other's chops, and I think that made him really, really want to fire shots at me."
Quinn's taunting earned him harder slapshots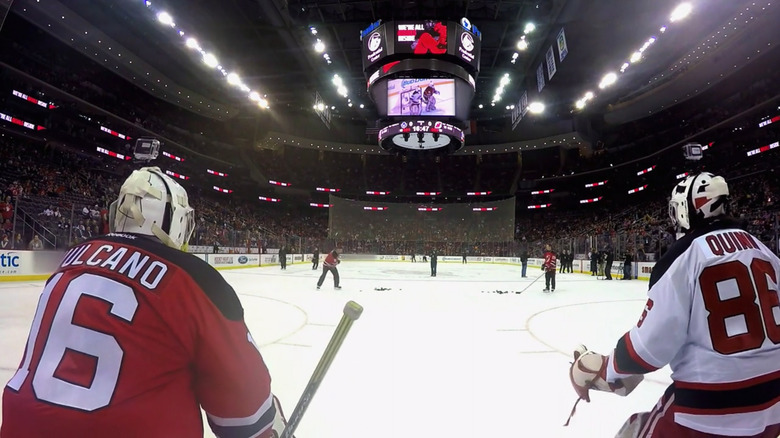 TruTV
By Brian Quinn's estimation, his well-meaning tiff with Colin White didn't cause the hockey player to direct every single puck towards him. "I would think that the hits were probably equal," Quinn said of the number of pucks shot at each Joker. Quinn contends, however, that the pucks that White did shoot at him were hit much harder. "I think I took harder hits than Sal, and Colin White had it in for me," he said of the brutal punishment. "I took that one hit to the chest where I went down hard, and I didn't really see Sal taking that sort of hit. I don't think it was pleasant for Sal either because Sal's a big wimp."
It's also possible that Vulcano had better puck endurance owing to his years playing the sport. "Sal played a lot of hockey," Quinn revealed. "It was his go-to sport for many, many years." Quinn, meanwhile, is partial to soccer — the sport that he'd use to exact vengeance on James Murray and Joe Gatto. In the 2016 special "British Invasion," winners Quinn and Vulcano unleash the fury of the Wycombe Wanderers F.C. to shoot painfully fast soccer balls at Murray and Gatto as they attempt to tend goal. Luckily, the pair had the foresight to not taunt the footballers first.