Modern Family: Who Did Edward Norton Play?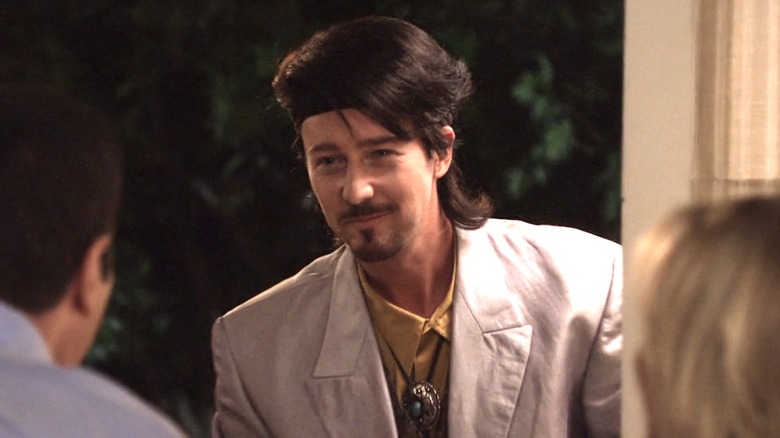 ABC
Edward Norton's career has been marked by a variety of unpredictable ups and downs, but even amid the various peaks and valleys of his career, the three-time Academy Award nominee has always been one of the more respected actors in the game. He has, however, made a few puzzling career sojourns over the years, but few were quite as out of left field as his 2009 cameo on ABC's hit comedy "Modern Family."
That cameo came during the series' first season on the air, when fans were only just getting to know the members of the extended Dunphy and Pritchett families. In the episode, Norton found himself getting quite acquainted with Phil Dunphy (Ty Burrell) and his loving wife Claire Dunphy (Julie Bowen) as part of a surprise anniversary gift from the former to the latter. He also did so in full period regalia, donning some serious '80s attire to play Izzy LaFontaine, the fictional bass player for one of the era's biggest one-hit wonders, U.K. new wave outfit Spandau Ballet. And yes, the actor actually showed up sporting a respectable British accent to play the part.
Norton played a fictional bassist from the '80s pop era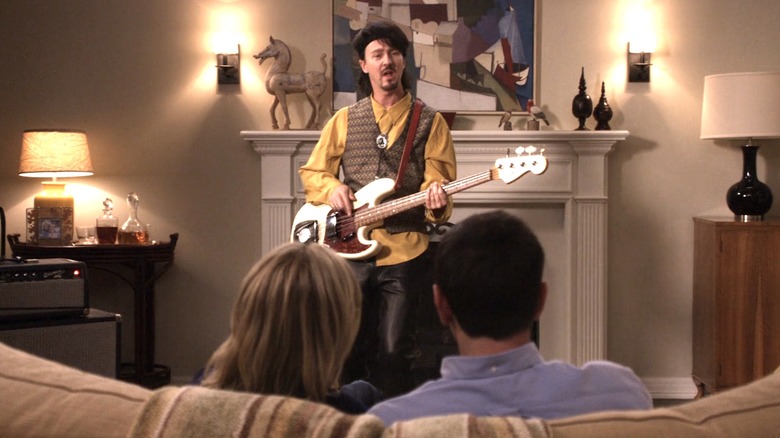 ABC
Claire Dunphy tracks down Izzy LaFontaine believing her hubby Phil is a full-on super fan of Spandau Ballet. We soon discover that Phil has no idea who the band is, nor has he ever heard the song Claire believes was playing on the radio when the couple shared their first kiss.
That tune is Spandau Ballet's biggest hit, the classic 1983 ballad "True," which has also memorably turned up in the likes of "Sixteen Candles," "50 First Dates," "Charlie's Angels," and "The Wedding Singer." Few of those projects used the song quite as hilariously, however, with Edward Norton going all-in on not just playing the song, but playing it comically poorly as Phil and Claire fumble through the unfortunate situation.
If you're wondering exactly how an actor of Norton's stature wound up booking a cameo on a fledgling sitcom, the actor admitted during a 2012 Sirius XM interview that he did so as a favor to his pal Ty Burrell. "Well, the guy who plays Phil Dunphy is a comic genius," he said, "and he happens to be an old New York theater pal of mine." Norton explained how he and Burrell had done a play together years prior, and remained close. So when Burrell called him up to tell him about the Izzy LaFontaine role, Norton admitted, "I couldn't say no, it was too funny." Norton's cameo indeed ranks among the best on a series boasting no particular shortage of great cameos.