Star Trek: Picard S3: Riker & Troi's Story Was Put On Hold For Vadic's Swan Song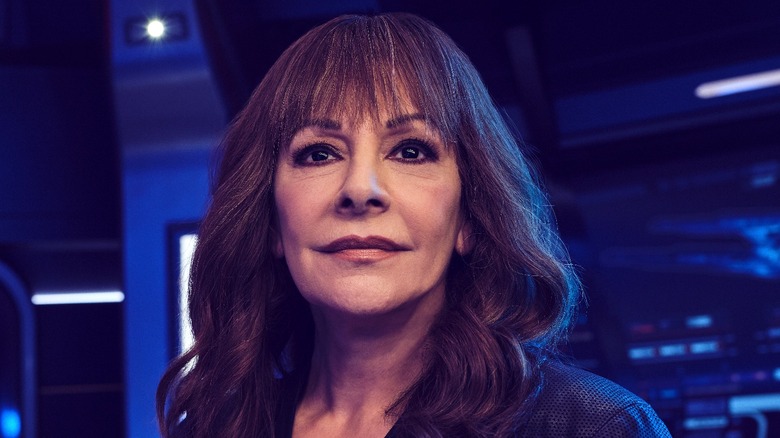 James Dimmock/Paramount+
Few sci-fi romances compare to that of William T. Riker (Jonathan Frakes) and Deanna Troi (Marina Sirtis). Over the course of "Star Trek: The Next Generation," the pair's romance didn't run so smoothly; films carried their story even further with a much-anticipated wedding in "Star Trek: Nemesis." What seemed like a possible "happily ever after" for the couple seemed to be reinforced by their first appearance on "Star Trek: Picard." Of course, nothing is as it seems — something that would prove all too true when Riker and Troi finally confronted an unimaginable tragedy. Hiding their feelings after a child's death deserved to be explored in great detail — a fact the series' creative team understood.
But the Season 3, Episode 8 scene didn't come about as originally planned. Season 3 showrunner Terry Matalas spoke with Collider about what went into the pivotal episode. He revealed the decision to separate two storylines that were both powerful to the series, favoring Vadic's (Amanda Plummer) demise as its own important moment. "We initially had [the Rikers] in [Episode 7], as well, but cutting between the Rikers and Vadic's monologue was killing Vadic's monologue, and killing the Rikers," Matalas said. "It was breaking up the stories in ways that [were] not helping either one of them."
Worf and Raffi also had their story altered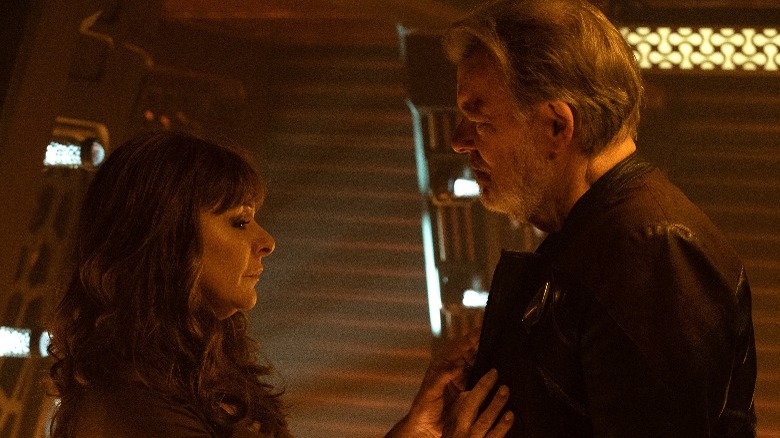 Trae Patton/Paramount+
The Rikers weren't the only characters to have their story put on hold for a week. Raffaela Musiker, aka Raffi (Michelle Hurd), is a newer addition to the expansive "Star Trek" universe. Her relationship with Seven of Nine (Jeri Ryan) already had fans talking, but a pairing with Worf (Michael Dorn) has really sealed her place among fan favorites; some have even mentioned giving Worf and Raffi their own spin-off to carry on their quirky chemistry. There is certainly room for their adventures to continue — just not in Episode 7. Realizing how much this duo meant to "Picard" gave Matalas and the creative team pause for thought.
According to the showrunner, the pair would have also been featured in Episode 7. Much like in the case of the Rikers, Vadic's impressive (and scene-stealing) appearances would prove to be too dominant among the storylines. The captain of the Shrike's monologues were just too important and adding the other storylines into the mix would have created chaos. "That was going to be Amanda Plummer's swan song. It's so hard, because [there are] so many great ideas and so many great things that go, but you don't have all the time and money to do it," Matalas added.