Who Plays Kira On La Brea?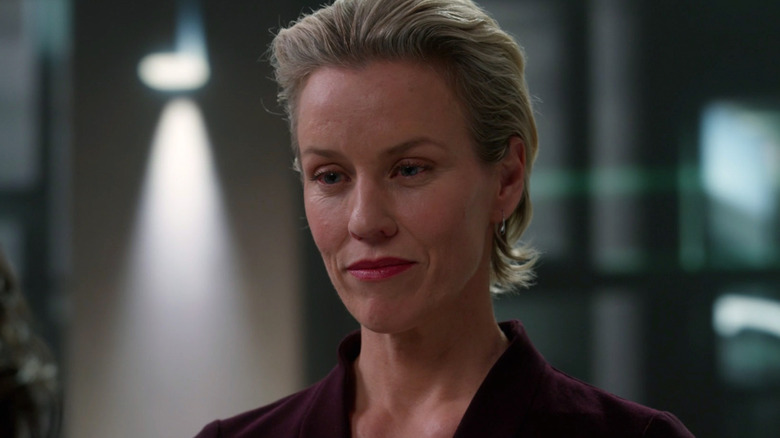 NBC
One of the pivotal characters in Season 2 of NBC's "La Brea" is Kira, the second-in-command to James Mallet (Jonno Roberts), who is the leader of the mysterious Lazarus Project and Gavin's (Eoin Macken) long-lost biological father. For a refresher, the Lazarus Project is the group from the year 2076 that's responsible for the massive sinkhole that swallowed part of Los Angeles and started the series. It's a time travel operation to exploit prehistoric Earth for its resources. In 10,000 B.C.E., Gavin gets captured while trying to infiltrate the Lazarus Tower and learns about his connection to the project. 
Kira started out as a physicist, then ran the Lazarus Project's classified research, and then became the chief of operations. As Gavin and James reconnect, a protective Kira warns Gavin not to interfere with the Lazarus Project and is willing to go to violent lengths to keep him from interfering. Eventually, after Levi (Nicholas Gonzalez) blows up the Lazarus Project building, Kira becomes the leader of yet another group of survivors trying to eke out an existence in prehistoric times.
"La Brea's" third and final season is confirmed, although it doesn't yet have a release date. With Kira surviving the events of Season 2, it's possible she could return for Season 3 and play a role in the events to come. If so, it will mark the return of Simone McAullay, an Australian actress born in the UK. She's appeared primarily in British television series, so you may recognize her from one of these roles.
Simone McAullay has been on several British and Australian TV shows
Simone McAullay's first major television role came in 2003 when she joined the cast of the Australian police procedural "Blue Heelers," playing the role of Constable Susie Raynor for four seasons. Her involvement in police procedurals continued, and most fans of English-language police dramas probably recognize McAullay best from her role as Becca Fisher on the underrated ITV series "Broadchurch," which stars Olivia Colman and David Tennant as two police detectives tasked with solving a murder in a seaside town in England.
Becca Fisher is a Broadchurch resident and Australian transplant who runs the local Trader's Hotel. Early in the season, she gets in trouble with the law for trying to purchase cocaine for Chloe Latimer (Charlotte Beaumont), whose younger brother Danny (Oskar McNamara) is murdered. On top of that, she's having an affair with Chloe and Danny's father Mark (Andrew Buchan). When this is discovered, it provides Mark with an alibi but also ruins his marriage to Beth (Jodie Whittaker). Becca also shows up during Season 2 to attend the trial of Danny's killer, Joe Miller (Matthew Gravelle). 
During this period, McAullay also made guest appearances on British TV series like the firefighter drama "The Smoke," the workplace sitcom "The IT Crowd," and the medical drama "Holby City." Otherwise, McAullay's TV credits include voicing the tavern owner Alisa on "Cowboy Bebop," as well as acting in Australian TV shows like the police drama "The Strip," the soap opera "Home and Away," and the science fiction climate change series "The Commons."