Andy Samberg Got On SNL By Doing A Jimmy Fallon Impression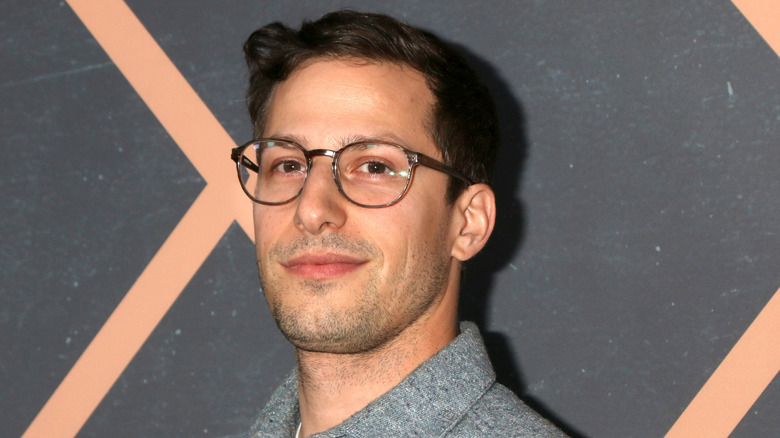 Kathy Hutchins/Shutterstock
You've got to be pretty funny to be on "Saturday Night Live," and the process of making it into the cast is notoriously daunting. Plenty of current and former "SNL" cast members have detailed how serious creator and showrunner Lorne Michaels is during audition processes, rarely laughing — so anyone trying to grab a spot in the cast typically has to do something pretty bold to have any shot.
According to Andy Samberg, who was in the cast from 2005 to 2012, he went with an impression of another cast member to try and secure the job. During an interview with shock jock Howard Stern on the host's eponymous radio show, Samberg opened up about what he did. When Samberg said he distinctly heard then-writer and cast member Tina Fey laugh during his audition, Stern asked what specifically made her laugh, and Samberg answered, "You know what, I did an impression of Jimmy Fallon, and she laughed at that." He later revealed it was very specific: "It was Jimmy Fallon at a funeral. [Because] he's so happy. 'Oh my God! It's so sad, right?! Oh my God, it's such a nice gift basket for the occasion! It's got five kinds of meats!'"
There are a lot of stories about Andy Samberg's SNL audition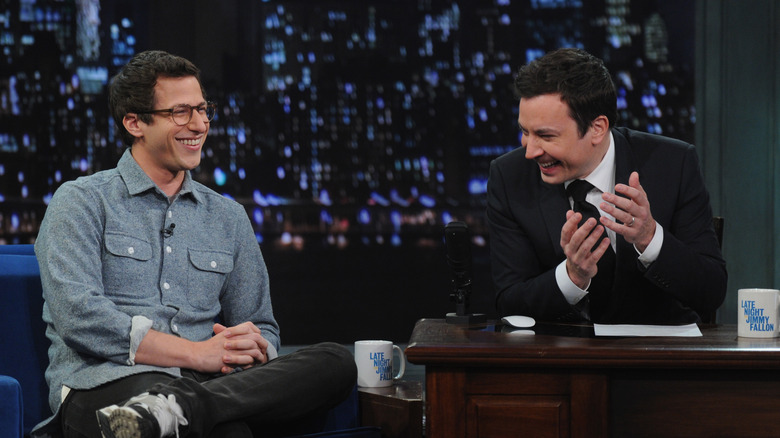 Jamie Mccarthy/Getty Images
Fallon isn't the only impression that Samberg did during his audition. As he told Stern during the same interview, he had to come up with some impressions. "I did Alan Rickman in 'Die Hard.' Again, it was all just sort of sh***y bits. The whole impression was just, 'McClane.' And they were like, 'thank you.'"
In the definitive oral history of "SNL" written by James Andrew Miller and Tom Shales, "Live from New York," Bill Hader shares another incredible story related to Samberg's audition. After crossing paths with Lorne Michaels and being flown to New York by the show with his Los Angeles-based sketch group, Hader got an official audition... and ran into a future co-star. "I remember going up in the elevator with this guy who had tons of props and I had no props and I was like, 'Oh my God, I should have brought props.' And Andy said he was looking at me going, 'F***! That guy doesn't need any props!"
In the end, both of them got hired and became two indispensable cast members during their time on the late-night show.
What has Andy Samberg been doing since SNL?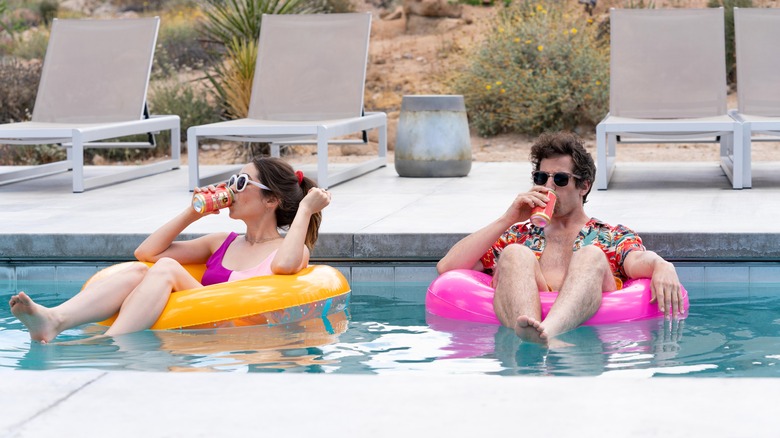 Jessica Perez/Hulu
After leaving "Saturday Night Live" in 2012, Samberg could have faded into obscurity. Instead, he kept working with his Lonely Island cohorts Jorma Taccone and Akiva Schaffer to create some truly outstanding projects. During his run on "SNL," the three made the budget comedy "Hot Rod," which flopped upon release but ultimately became a cult classic. The three also joined forces to write, direct, and star in 2016's "Popstar: Never Stop Never Stopping," a mockumentary about a fake pop star named Conner4Real (played by Samberg) that also performed poorly at the box office only to become a beloved cult film. He also famously starred in Mike Schur's "Brooklyn Nine-Nine," a workplace comedy about the New York Police Department.
Along with Schaffer and Taccone, Samberg also formed Lonely Island Productions, which has produced hits like "PEN15," "I Think You Should Leave with Tim Robinson," and the original Hulu movie "Palm Springs," in which Samberg stars alongside Cristin Milioti. He most recently lent his voice to the Disney+ film "Chip 'n Dale: Rescue Rangers" alongside John Mulaney.