Why Andy Samberg Was Initially Reluctant To Star In Brooklyn Nine-Nine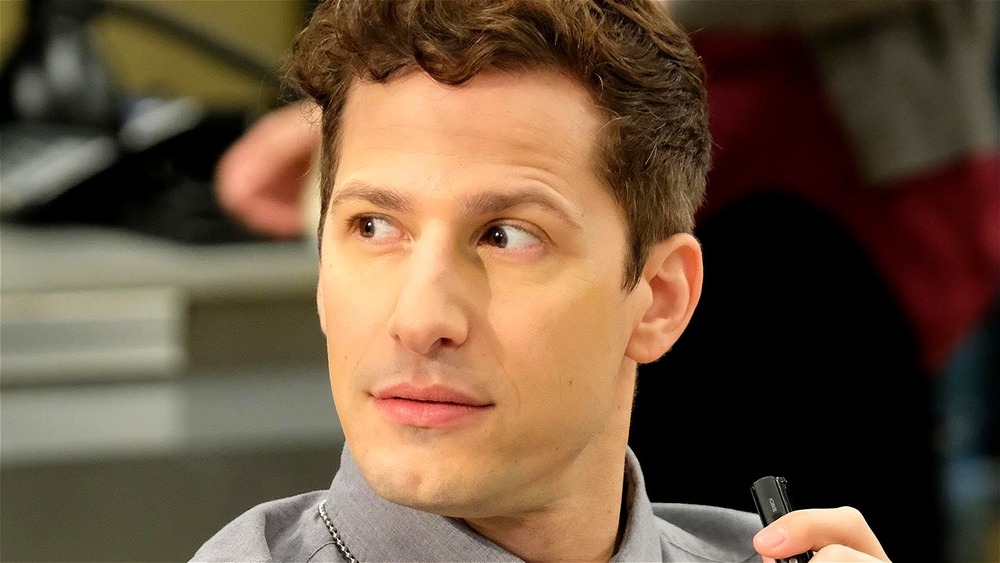 NBC
The workplace comedy sitcom Brooklyn Nine-Nine has grown over the course of its run into a critically and commercially beloved series, with a fanbase that includes the likes of Seth Meyers, Mark Hamill, Guillermo Del Toro, Lin-Manuel Miranda, and Sean Astin, with the latter two even appearing on the show as guest stars. The show's popularity even saved it from cancellation in 2018, as Fox's decision to ax the show was met with enough public outcry for NBC to pick it up for the following season, per Variety.
The show's varied ensemble is one of the keys to its success, with the cast ranging from unlikely comedic performers like Andre Braugher, best known for his dramatic fare, and Melissa Fumero, whose biggest role previously had been in the soap opera One Life To Live, to comedy veterans such as Wet Hot American Summer's Joe Lo Truglio and Idiocracy's Terry Crews. At the ostensible center of the show, however, is Andy Samberg as Detective Jake Peralta. It's difficult to imagine the show without the SNL alum's presence in the cast, but according to Samberg himself, that was the version audiences almost got.
Parks and Recreation helped Samberg decide to do Brooklyn Nine-Nice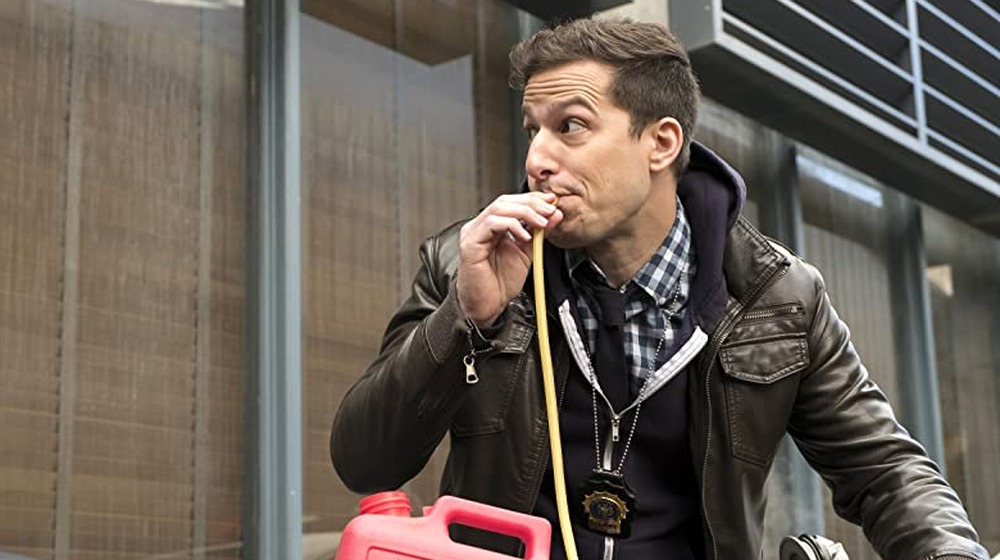 NBC
In the show's first press tour, which was conducted before the show's premiere on Fox, Samberg spoke about how he wasn't looking for a new TV series to dive into after leaving SNL, per TV Guide. However, the involvement of executive producers Dan Goor and Mike Schur was a big selling point for Samberg, as he was a fan of the duo's previous work with the NBC series Parks and Recreation. He had taken particular note of their work on the show with another SNL alum. According to Samberg himself, "I was a huge fan of Parks and I saw what these guys had done with Amy [Poehler], who is basically my hero." The opportunity to work with the duo to possibly recreate the success they'd had with Poehler was too good to pass up.
Samberg also mentioned that he didn't have anything specific he was aiming for in his career, speaking about how that had turned out badly for him in the past. "I don't generally try to think about trajectory," Samberg told the assembled critics, "because every time I have tried that it has backfired miserably for me, so I just try to do whatever feels right." Samberg's willingness to go with the flow when it came to potential projects was certainly an asset, as it meant that he wouldn't have dismissed Brooklyn Nine-Nine out of hand when they came knocking simply because it didn't fit into what he wanted to do at that stage of his career.
Samberg's decision to join Brooklyn Nine-Nine certainly paid off for fans of the show, as he has delivered a number of the show's most memorable moments. He will have a few more opportunities to do so when the show returns for its eighth and final season.