Why Blake Gallo From Chicago Fire Looks So Familiar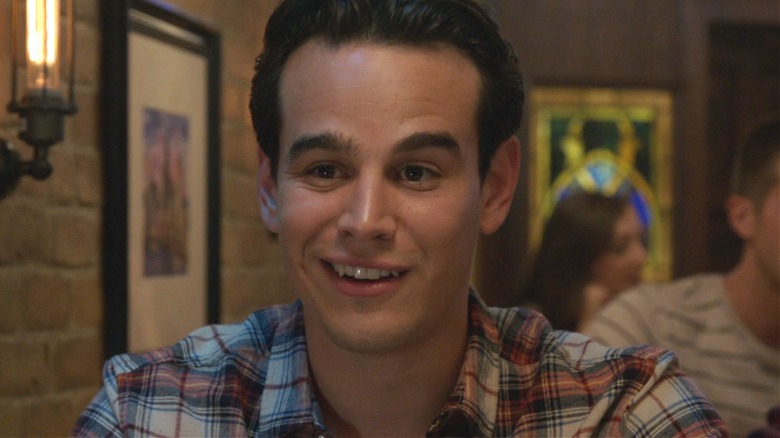 NBC
"Chicago Fire" certainly has a wide range of personalities and motivations, and Blake Gallo (Alberto Rosende) is definitely one of the most energetic and headstrong members of Firehouse 51. Making his first appearance in Season 8, Gallo also manages to pop up in the sibling shows of "Chicago Fire," which include "Chicago Med" and "Chicago P.D." Known for his relentlessly upbeat attitude, incredible exuberance, and the recklessness of youth, Gallo quickly earns respect from his peers because of his love for his job and his dedication to saving lives, even if it puts his own on the line.
Speaking with Hello Magazine, Rosende was asked if he was anything like his character in "Chicago Fire," and he replied, "In a lot of ways we're similar but I have the thing in my head that says, 'no that is extremely dangerous, don't do that.' Gallo does not!" Rosende continued, "But we have a similar sense of humor. I am a little older – I am closer to 30 and I think he's closer to 20 and has a younger mentality. He hasn't reckoned with his mortality. He has an understanding of loss, but he has a youthful idealism and energy that allows him to run in head first." Though Rosende is definitely best known for "Chicago Fire," his career started just a few years before and can easily be recognized for his efforts in several other well-known shows.
Rosende's first named role was on Blue Bloods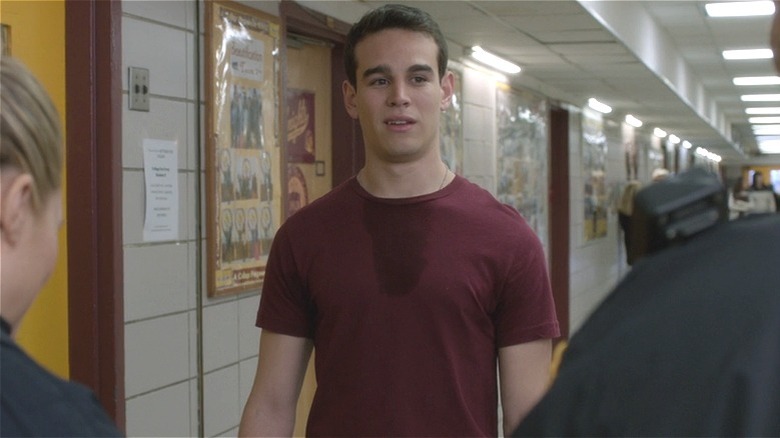 CBS
Although Alberto Rosende got his first acting credit in a 2013 short called "The Swing of Things" as an unnamed swing dancer, the very first named role for the actor came in the form of an episode of "Blue Bloods" in 2015. Appearing in the Season 5 episode titled "Sins of the Father," this particular episode of "Blue Bloods" has a plot involving Ted Santiago (Hemky Madera) being attacked by a mob of people. Called into action, Jamie Reagan (Will Estes) and Eddie Janko (Vanessa Ray) come to Ted's aid because it is believed that he hit a child with his car and tried to flee, only for a group of people to swarm the vehicle and try to pull him out.
As Jamie and Eddie investigate Ted, they soon begin to suspect that his son, Carlos Santiago (Alberto Rosende) is involved somehow. Highlighting just how old Rosende was at the time, his character is actually in high school when Jamie and Eddie go to visit him, which only complicates their police work further. However, Rosende is still immediately recognizable as Carlos, even if he is pretending to be a teenager.
Rosende next outing was on Law & Order: SVU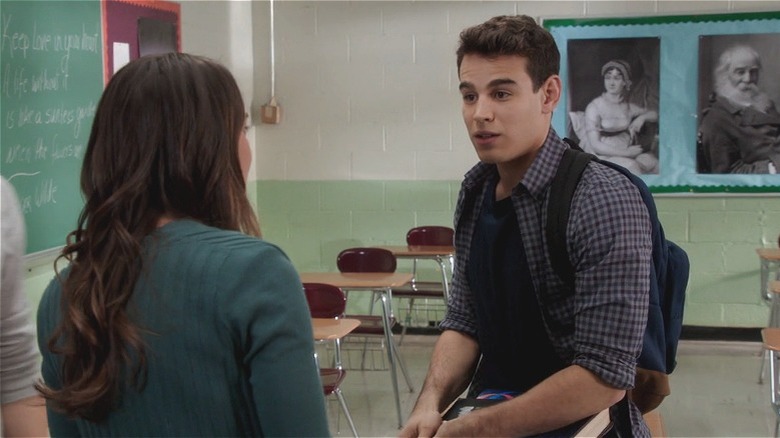 NBC
The next place people might remember Alberto Rosende from is on another police procedural, "Law & Order: SVU," and once again, Rosende only appeared in one episode. Popping up in the 2016 episode "Catfishing Teacher" from Season 17, this episode of the popular television series deals with high school once again, which definitely highlights that Rosende was at that point in his career where he could still pass as a teenager. However, considering the normal subject matter of "Law & Order: SVU," these aren't the typical issues that adolescents have to deal with.
This is because the episode begins with the teacher Phoebe Burnap (Kelli Barrett) engaged in sexual activities with a student, and shortly after, again with Jordan Messina (Rosende). Unfortunately, events quickly spiral out of control as only "Law & Order: SVU" can, and suddenly several questions arise not only about Phoebe, but other teachers and administrators as well. Jordan later provides details for the investigation, and he explains how he was manipulated. Luckily, the next endeavor for Rosende provided a giant boon to his career.
Rosende gained fame and recognition from Shadowhunters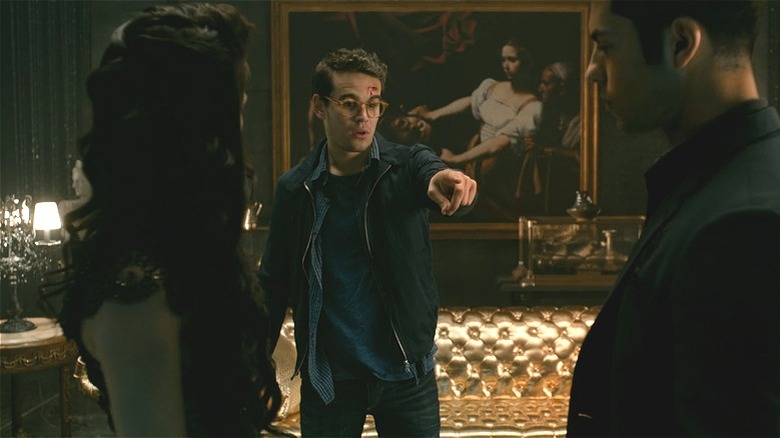 Freeform
Though Alberto Rosende's early career consisted of high school antics, the role that put him on the proverbial map was on 2016's "Shadowhunters." Chock full of magic, mysterious forces, unseen worlds, and of course interpersonal drama, Rosende plays the role of Simon Lewis, the best friend of the main character Clary Fairchild (Katherine McNamara). Credited for all 55 episodes of the show, Rosende's character goes through quite the roller coaster in terms of relationships and powers, and at one point, even becomes a vampire.
Speaking with Heavy Mag, Rosende explained how much he enjoyed meeting tons of "Shadowhunter" fans at 2019's Oz Comic Con, and he said, "To have a show that made it past the pilot and Season One, that was weird because we had the first season ordered, but then to go beyond that and do Season Two with more episodes and then do a third season, it was amazing. We got fifty-five episodes and that was huge. To have that because people enjoyed it and then to get to meet them it has been a little bit of magic that we have had." 
Fortunately for Rosende, he landed his role as Blake Gallo in "Chicago Fire" the same year "Shadowhunters" came to its conclusion, and audiences have been enjoying his presence in the "One Chicago" franchise ever since.