Top Gun: Maverick Star Glen Powell In Talks To Join Twister Sequel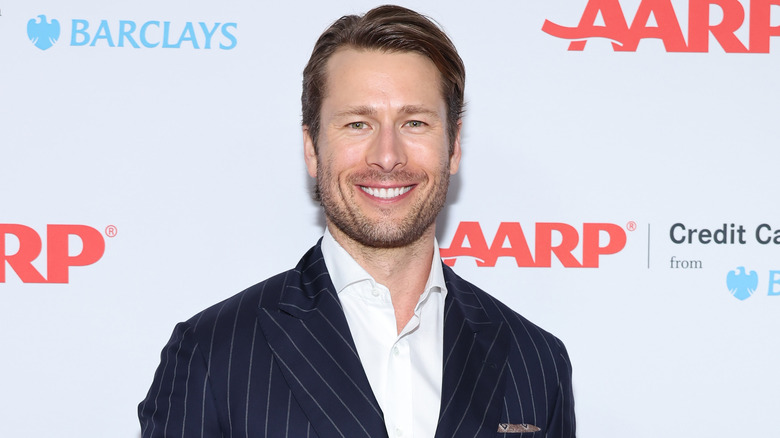 Amy Sussman/Getty Images
For actor Glen Powell, 2022 served as a well-earned pay-off to several years of consistent work and stellar roles. Powell started buzzing on fans' radars in earlier films like "Hidden Figures" and "The Expendables 3." But his role alongside Tom Cruise and Miles Teller in "Top Gun: Maverick" definitely helped the star's career reach new heights. In the movie, Powell played trainee Lieutenant Jake "Hangman" Seresin, a cocky but skilled aviator who even manages to swoop in for a crucial save for his crew. Powell excelled in the role as Hangman so well that it's almost difficult to think that, at one point, we could have missed out on him starring in "Top Gun: Maverick" at all. Fortunately, everything worked out, and Powell was a part of one of the best-received film sequels in recent memory.
Powell has been busy with other projects since "Top Gun: Maverick," but potentially, one of his latest will see him trading in high-speed jets for high-speed winds. According to Deadline, Powell is in talks to join "Twisters," the sequel to the 1996 blockbuster film "Twister" that starred Bill Paxton and Helen Hunt as a pair of storm hunters dealing with some deadly tornadoes. Deadline further reported that Powell would star alongside Daisy Edgar-Jones with "Minari" director Lee Issacs attached to helm the project. No story details or characters have been revealed just yet. But having those Edgar-Jones and Issacs involved with "Twisters" already gives it a good shot at being as successful as the original hit film. And if talks go through and Glen Powell stars in "Twisters," it would be yet another project that's a sequel to a successful box-office classic.
Twister was one of the biggest films of the '90s
Just as the original "Top Gun" is considered an '80s blockbuster classic by many, the same can be said about "Twister" for the '90s. The disaster film was already considered a big deal before it premiered, as it involved a major studio collaboration between Universal Pictures and Warner Bros. and executive production from Steven Spielberg. And on the creative front, "Twister" was certainly no slouch in that department either, as it was directed by Jan De Bont, who was still riding the momentum from his work on "Speed."
It all seemed to pay off, as "Twister" became the second highest-grossing movie of 1996. It also received Oscar nominations for its visuals and sounds. That's a massive legacy for "Twisters" to either rival or surpass. But it might just be up to the task. Another Deadline article noted that while Universal is taking the lead this time with Amblin Entertainment, Warner Bros. is still involved with some co-financing. In addition, Deadline further reported that Steven Spielberg highly approves of the film's script from Mark L. Smith of "The Revenant." Having Powell onboard "Twisters," who impressed audiences in "Devotion" and "Top Gun: Maverick" last year, certainly won't hurt.