Why Did Drake & Josh End After 4 Seasons?
Despite going off the air in 2007, "Drake & Josh" remains a fond memory for many people who grew up watching Nickelodeon. The show starred Drake Bell and Josh Peck as stepbrothers who learn to get along and live out their dreams, all while avoiding the sinister schemes of their sister, Megan (Miranda Cosgrove). From asking girls out on dates to running over Oprah Winfrey with their car, the series had no shortage of wacky situations for the pair to get into, but sadly, the good times ended after four seasons (not counting the Christmas movie that came out in 2008).
As for why it ended, the show had simply run its course. The show's creator, Dan Schneider, told Blogspot back in the day, "Drake & Josh ended because we all felt it was time to say goodbye." Four seasons consisting of over 50 episodes is a good run for any series. He went on to say, "Both Drake Bell and Josh Peck had been with Nickelodeon for nearly eight years (I first hired them for The Amanda Show). They were ready to move on and try new things." While fans were likely disappointed to see the show end, it wouldn't be the last time the duo appeared on screen together. 
Drake Bell and Josh Peck reunited on Grandfathered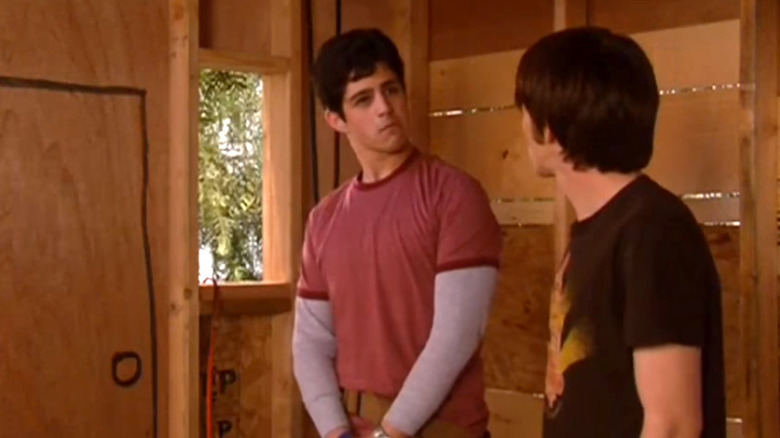 Nickelodeon
While the two have gone on to other projects, they'll forever be linked in the minds of fans. That's why it was so refreshing to see the pair reunited on the short-lived Fox series "Grandfathered." While Josh Peck was a regular on the show, Drake Bell stopped by for an episode, and several "Drake & Josh" references followed. Bell's character even mentions how Peck's character looks a lot like his stepbrother, who's currently in jail for stalking Oprah Winfrey. 
While it was a nice reunion, no doubt fans would've loved more "Drake & Josh," even if it ended up seeing the characters go to college. Dan Schneider closed out his statement: "The network already had plenty of episodes of Drake & Josh for reruns, and they were excited about the idea of me creating a new TV series for Miranda Cosgrove (which I did: iCarly)." The show's sister series, "iCarly," may yet give fans reason to hope. That show was brought back as a revival for Paramount+, which did the same for another popular Nickelodeon show, "Zoey 101."
Could more "Drake & Josh" be in the future? Who's to say at this point? But for anyone wanting to relive their childhood and see Drake and Josh perform as the Blues Brothers at the talent show again, all episodes are available on Paramount+.