Abbott Elementary S2 Episode 21: Taraji P. Henson's Cameo Was Award-Worthy
ABC/Gilles Mingasson
The most recent episode of "Abbott Elementary" Season 2 finally introduced one much-talked-about character: Janine's (Quinta Brunson) mom, Vanetta. And who took on the role of Vanetta? None other than veteran actress Taraji P. Henson.
In the episode, aptly titled "Mom," Vanetta shows up at Janine's classroom claiming she came to check up on Janine after she didn't answer her phone — Janine counters this by saying they haven't talked in 6 months, but is happy to see her mother nonetheless. However, it soon becomes clear that Vanetta has an ulterior motive for visiting Janine: Her phone is getting shut off for going over her data plan and she needs over $600 to pay what she owes. 
When Janine confronts her about this, Vanetta plays innocent. Barbara (Sheryl Lee Ralph) is the first to become suspicious especially after Janine confides in her about the situation, especially when Janine implies that she is considering using the money she saved up for a solo trip to help her mom out. The situation comes to a head when Janine walks in on Barbara confronting Vanetta — and even offering to give Vanetta the money herself in order to protect Janine. Janine then finally confronts her mom and says she'll help her set up a payment plan and give her the first couple of payments, but that she won't give up her vacation money.
Vanetta is, without a doubt, a frustrating character — but played perfectly by Henson. Here's what fans think of Henson's guest appearance as Janine's mom.
Fans think the casting of Henson is perfect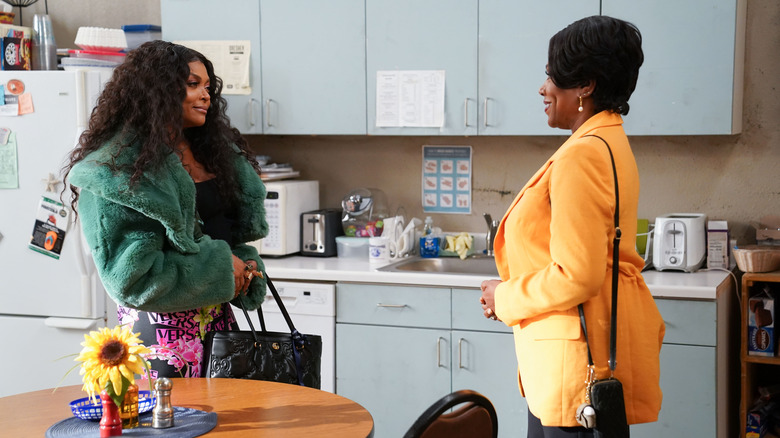 ABC/Gilles Mingasson
Fans on Twitter can't get enough of Taraji P. Henson as Janine's mom in "Abbott Elementary." First of all, they think that Henson is the most fitting casting choice for Vanetta. One fan, @ChinaKeyy, wrote, "Taraji is literally perfect for playing Janine's mom." And @FruityBowTies agreed, simply writing, "Taraji. perfect casting." Similarly, @knightleysemma wrote that they thought Henson did a great job in the role.
Specifically, fans loved the confrontation scene between Vanetta and Barbara. One fan, @NadiaJo64713750, wrote, "A Taraji P. Henson vs Sheryl Lee Ralph faceoff was everything I didn't know I needed." Further, @KelseyDavisNews agreed that the moment was exactly what she didn't know she needed before thanking Quinta Brunson for the episode. And @Tiarasmileyy wrote, "Taraji was everything I needed for this episode. Her scene with Sheryl Lee Ralph was true acting. You can tell these women are very seasoned in this game."
That fan wasn't the only one bringing attention to Henson's stellar acting — many fans are even calling for her to win an Emmy for the guest performance. One fan, @mouseabolition, wrote, "I'm incapable of seeing Taraji P. Henson act without mentioning that her RANGE is inSANE like how does one sparkle in literally every role they've played I'm –." Another fan, @MrErnestOwens wrote, "So basically Taraji P. Henson is winning the Best Guest Actress in a Comedy Series Emmy this year after that stellar performance? Got it." And @siralphey called for the Academy to start engraving her Emmy already.
Finally, @willowhalliwell posted a video clip of a standing ovation and wrote what everyone else was thinking: "Taraji P. Henson has arrived!"