Moon Knight's New Persona Has A Villainous Marvel History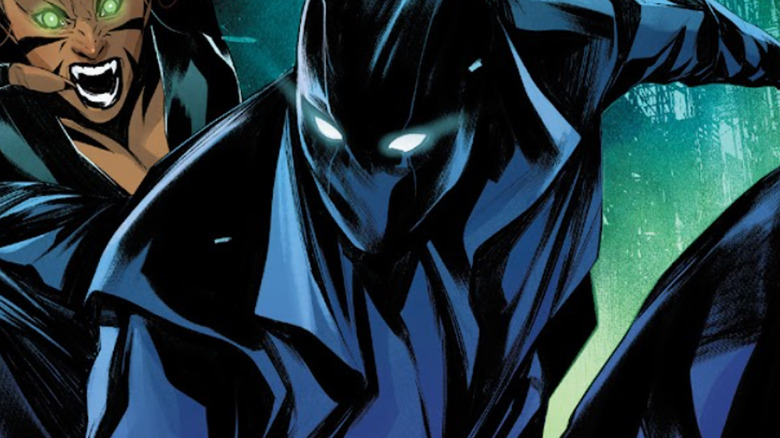 Marvel Comics
*Contains spoilers for "Moon Knight" #22 by Marvel Comics*
While Marvel Comics readers have already been introduced to several of Moon Knights' alternate personalities, from Marc Spector, Jake Lockley, and Steven Grant, the antihero just took up a surprise villainous role in the Marvel Universe as the newest Midnight Man.
In the current "Moon Knight" series from Marvel Comics, Marc Spector has continued to be the defender of the night, protecting those in need through his Midnight Mission. Moon Knight has seen his team grow as the Midnight Mission's importance rose, and he's welcomed the likes of the vampire Reese, the former Hydra agent Soldier, and the former Avenger Tigra into the organization. But, with deadly and supernatural threats from Zodiac, Rutherford Winner, and a group of vampires called the Structure trying to take him out, Moon Knight has realized how important it is to expand his operations. 
However, despite previous billionaire status with his Steven Grant persona, Spector needs cash to keep operations afloat. It has led him down a surprising road, as he's impersonating the villain Midnight Man to successfully pulls off robberies and crimes. While it might seem odd for Moon Knight to pretend to be one of his reoccurring foes, Spector's reasoning makes sense.
Who is Marvel's Midnight Man?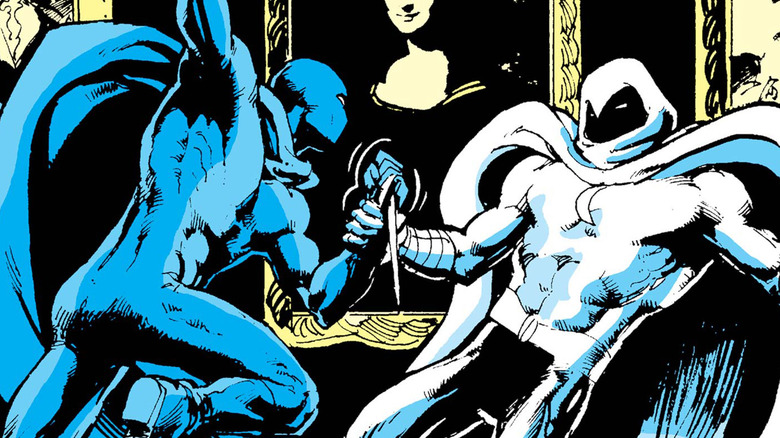 Marvel Comics
Midnight Man debuted as a classic villain in "Moon Knight" #3 by Doug Moench and Bill Sienkiewicz. In his first appearance, Moon Knight confronts Midnight Man, Anton Mogart, who is a costumed art thief, as he attempts to pull off a major heist. Marc Spector and Midnight Man exchange blows before the villain is thought to be killed after being hit by a rubber bullet and falling into a nearby river. Midnight Man survived the incident but was deformed due to the encounter. The original Midnight Man made his live-action debut in the Marvel Cinematic Universe's "Moon Knight," where he was played by the late actor Gaspard Ulliel. The character only appeared in one episode and was killed on-screen by Moon Knight.
Midnight Man would return in Chuck Dixon and Russ Heath's "Moon Knight" comic run, where it was revealed he had a son, Jefferey Wilde. While Wilde would eventually work alongside Moon Knight and became his sidekick, he would later be a controlled agent for Secret Empire, who wanted to take Moon Knight off the board. Wilde would return in "Moon Knight" by Charlie Huston, Mico Suayan, Frank D'Armata, and Joe Caramagna. However, Spector would be forced to kill Wilde as he sought revenge on the antihero. 
Now, in his current ongoing series, a new Midnight Man is emerging in the Marvel Universe: Spector himself.
How Moon Knight becomes the Midnight Man
Marvel Comics
In "Moon Knight" #22 by Jed MacKay, Alessandro Cappuccio, Rachelle Rosenberg, and VC's Cory Petit from Marvel Comics, Midnight Man makes a surprise return, as someone donning the mantle has engaged in a string of robberies at the homes of wealthy people. Dubbed "Midnight Man III," Tigra tries to figure out who he is, staking him at night. But, when she encounters the Midnight Man and slices his mask off, she learns Marc Spector has taken his place.
Moon Knight's new persona isn't a new alter ego like Steven Grant or Jake Lockley, nor is it his legitimate attempt at becoming a villain. Instead, he says after Zodiac took his funds, he needed to find a way to pay for the Midnight Mission and everything involved with it. Realizing he couldn't commit robberies as Moon Knight without putting unwanted eyes on the Midnight Mission, Spector decided to bring back the Midnight Man. Breaking into houses allowed Spector to learn more about a group called the Committee, who has been going after him. While Moon Knight's girlfriend Tigra wasn't impressed with his lack of trust surrounding his new identity, they eventually reconcile. 
So, instead of a new Midnight Man with a connection to the original two becoming a problem for Moon Knight, the latest version of the villain is actually Moon Knight trying to use the identity to further the work of the Midnight Mission and learn more about its emerging dangers.
Midnight Man is a great new disguise for Moon Knight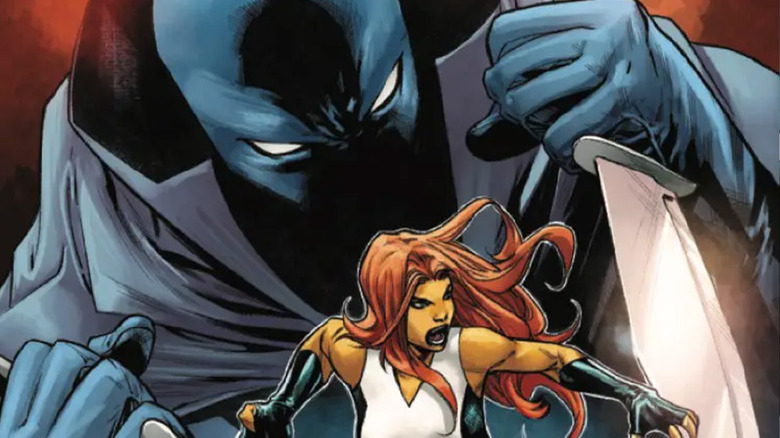 Marvel Comics
Ultimately, Moon Knight donning the mantle of Midnight Man is an excellent way for him to go undercover without bringing attention to himself. There have already been multiple versions of Midnight Man, so his arrival isn't a total shock to those who have seen the villain before. Plus, moonlighting as a villain allows Moon Knight to bend the rules of being an antihero (not that he strictly followed them) and do what must be done to commit robberies on the rich and learn more about the Committee. But Marc Spector's execution wasn't perfect and he'd probably be the first to admit it. 
While his criminal activities seemingly went well, his wanting to keep Tigra safe and not telling her about his new role as the Midnight Man proved to be a big mistake. If he wants her to trust him, he needs to be more honest in the future, which he promised to do by the issue's end. Hopefully, it's not the last time readers see Spector as the Midnight Man as it's a welcome addition to Moon Knight's alter-egos.
Readers can see Marc Spector's new personality in action as Marvel's new Midnight Man in "Moon Knight" #22 by Jed MacKay, Alessandro Cappuccio, Rachelle Rosenberg, and VC's Cory Petit from Marvel Comics, which is now available in comic book stores and online retailers.