Moon Knight Just Got A New Girlfriend Perfect For The MCU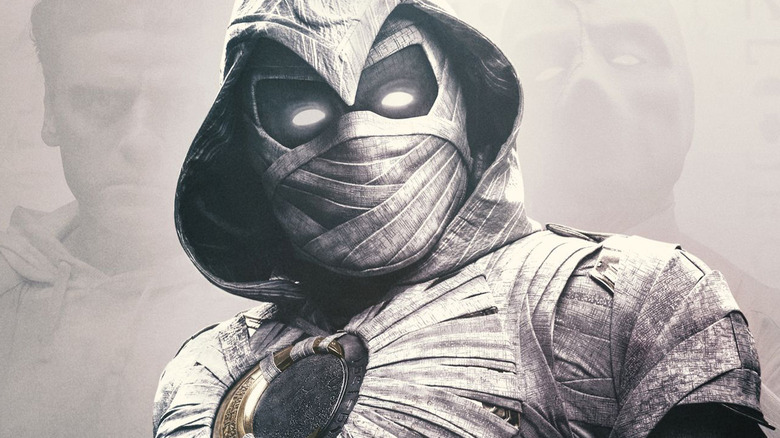 Disney+
*Contains spoilers for "Moon Knight" #22 by Marvel Comics*
Marvel's Moon Knight is rekindling an old romance with a former Avenger, as "Moon Knight" #22 by Jed MacKay, Alessandro Cappuccio, Rachelle Rosenberg, and VC's Cory Petit has Marc Spector take his friendship with Tigra to the next level.
Greer Grant Nelson is the superhero Tigra. The were-woman has been a key part of the Avengers and other Marvel Comics superteams since first appearing in her current form in "Giant-Size Creatures" #1 by Tony Isabella and Don Perlin. Tigra is a human-like cat with feline features, including sharp claws, a long striped tail, and similar markings to a Tiger across her body. Tigra might not be a household name to non-comic book readers, but her history with the Avengers is undeniable, joining the team in the early 1980s.
While Tigra has had romances within the Avengers, most notably with Hank Pym, her partnership and chemistry with Moon Knight in his current ongoing series has been fun to follow. And, in the newest issue of "Moon Knight," Marc Spector and Tigra confirm their romance in a passionate moment, showcasing a potential relationship that would make sense to bring to the live-action Marvel Cinematic Universe.
Moon Knight and Tigra have complicated love lives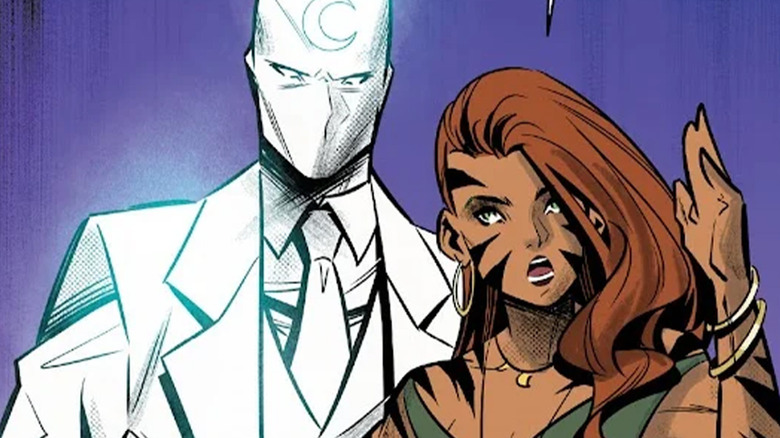 Marvel Comics
Moon Knight has had several partners within the pages of Marvel Comics, while married to Layla El-Faouly (the Scarlett Scarab) in the Marvel Cinematic Universe. Marc Spector's main love interest throughout "Moon Knight" comics was archaeologist Marlene Alraune. Moon Knight and Marlene have been consistent parts of each other's life, but his violent lifestyle eventually became too much for her. As a result, she moved away from him along with their child, Diatrice. Moon Knight has had several brief romances after Marlene, including one with Tigra after both heroes were part of the West Coast Avengers. Still, he hasn't prioritized his relationships for some time.
Tigra's most prominent relationship in the comics, with Hank Pym, ended up being a nightmare for her. While she initially believed she was pregnant with Pym's child, it was revealed Pym wasn't actually the person she was with, but actually the Skrull Criti Noll during the "Secret Invasion" storyline that's soon coming to the MCU. Due to the circumstances, Tigra has lied to her child William about his father (for a good reason), choosing to tell him the real Pym is his dad and was a great hero.
If Marvel decides Moon Knight and Layla El-Faouly's complicated romance isn't worth continuing, the "Moon Knight" comic book just set up a new (yet old) romance for Marc Spector that would be great to see on the big or small screen. Following a mission to track down a villain who made his surprise return, and Moon Knight lying about his involvement in the situation, Tigra's vulnerability with him just made him realize more than ever how important she is to him.
Marc Spector is learning to trust Tigra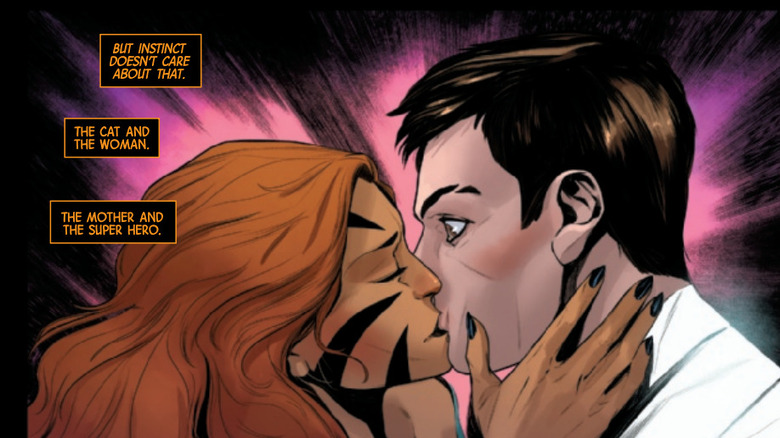 Marvel Comics
"Moon Knight" #22 from Marvel Comics deals with the re-emergence of the former Moon Knight villain, the Midnight Man. However, with both iterations of the bad guy off the board, someone new has taken up the mask. Tigra, who is working alongside Moon Knight as part of his Midnight Mission, stakes out Midnight Man, but when she stops him and removes his mask, she finds out it's Spector in disguise.
The hero reveals he became Midnight Man to get the money needed to continue the Midnight Mission, as going after gangsters, gangs, and Hydra would have put attention on his organization, which is why he adopted a new secret identity. Tigra is devastated to learn Marc lied to her about his secret missions, telling him he hurt her badly and made her feel like an idiot for trusting him. Thankfully, Marc realizes Tigra's importance to him, later arriving at her doorstep and offering to watch a classic movie with Tigra and her son. In the process, he shared that he should have trusted her and apologized for his hurtful actions. While admitting it's somewhat crazy to allow Moon Knight into her life, the two share a passionate kiss, with Tigra joking to William that she thinks he's her boyfriend now.
Moon Knight's history makes him understandably scared to be vulnerable with anyone, as his fear of hurting those he loves has prevented him from trusting people. Thankfully, he came to his sense and realized Tigra was worth the risk and could be trusted, leading their romance to go back on track.
Readers can see Moon Knight and Tigra's relationship blossom in "Moon Knight" #22 by Jed MacKay, Alessandro Cappuccio, Rachelle Rosenberg, and VC's Cory Petit, which is in comic book stores now.