The Best One-Time Hosts In SNL History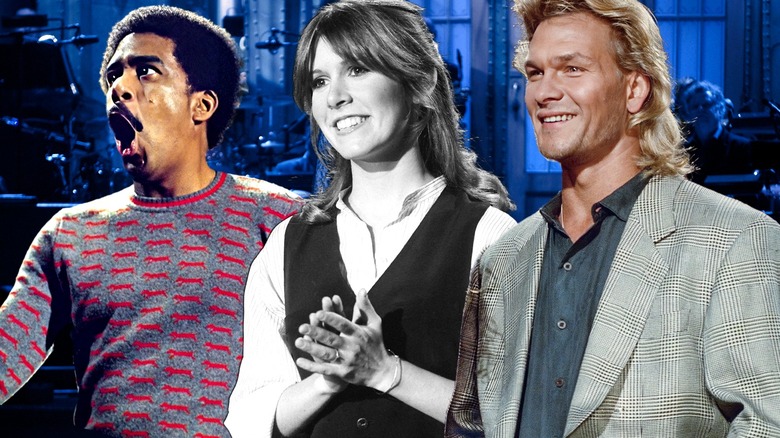 Static Media
"Saturday Night Live" has never shied from featuring the same hosts over and over again; comedian Buck Henry hosted twice a year for the first five seasons of the show, and double-digit hosts like John Goodman, Alec Baldwin, and Steve Martin have logged more airtime than some actual cast members. In December 1990, returning host Tom Hanks was inducted into the "Five-Timers Club," a joke that in the decades since has evolved into a legitimate milestone, and has codified the idea that multi-episode hosts are a cut above the rest. If someone has hosted more than once, it's because they deserve to; and if someone hasn't hosted more than once, the same thinking applies.
The list of "SNL's" one-time hosts is overall not very impressive: Nearly 50 years of non-performers like athletes and politicians, flash-in-the-pan movie and TV stars, a contest winner, and famous actors whose style just did not jibe with the show's unique structure. Plenty of these hosts were indeed terrible, although simply being bad at the job isn't enough to keep you from being welcomed back: Steven Seagal's lone outing in 1991 may represent the show at its worst, but former President Donald Trump hosted twice despite his clear ineptitude at sketch comedy. 
In the nearly 1,000 episodes that have aired since 1975, though, there are also a lot of hosts who helmed hilarious and interesting episodes, but for whatever reason never returned for a second time around. Let's take a look at some of the best one-time hosts in "SNL" history.
Richard Pryor (1975)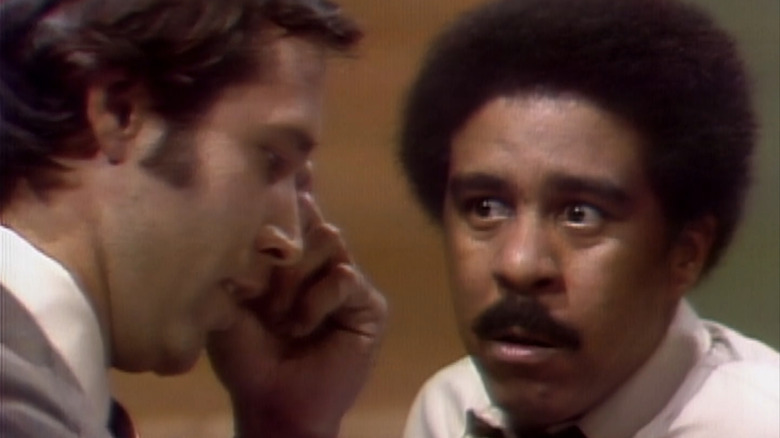 NBC
The first year of "SNL" was very much a work in progress, to the point that it wasn't even called "Saturday Night Live" yet due to a competing late-night comedy show hosted by Howard Cosell. When George Carlin hosted the first episode, "host" was very much what he was, performing his stand-up comedy monologues and introducing guests, but leaving the sketch performing to the soon-to-be-christened "Not Ready for Primetime Players." Five episodes later, however, when Carlin's fellow comedy legend Richard Pryor hosted for the first and only time, it was already expected that the host be an active participant from the opening monologue to the final goodnights.
Pryor was the show's first Black host, and the episode's sketches — many of them co-written by Paul Mooney, a comedy legend in his own right — center on Blackness, particularly the feeling of existing as Black in majority-white spaces. The most famous sketch of the episode (and one of the most famous in "SNL" history) is "Word Association," in which a word-association activity as part of a job interview puts a prospective employee (Pryor) and his boss (Chevy Chase) on a racially charged collision course, but the theme is worked over in other scenes. In "The Exorcist 2," Pryor and guest actor Thalmus Rasulala play a pair of no-nonsense priests on hand to exorcize a mouthy white girl possessed by the devil (Laraine Newman) — a premise so solid that the show did just a slight variation on it when "Wednesday" star Jenna Ortega hosted in 2023.
Carrie Fisher (1978)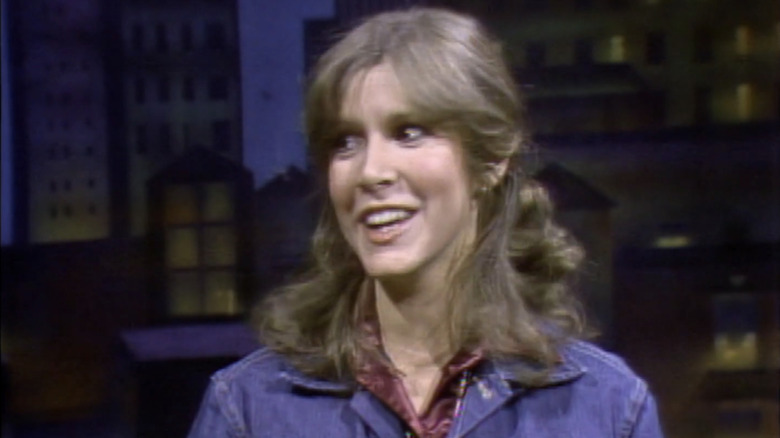 NBC
Of all the notables on this list, the one who is perhaps the most surprising is Carrie Fisher. The once and future Princess Leia seems like she would have been a favorite for the show's hip early years: An effortlessly cool Boomer raised by Hollywood royalty, simultaneously the star of the biggest film of all time and above that sort of trendiness — not to mention her future career as a comedy writer, her appearance in 1980's "The Blues Brothers," and her longtime relationship with "SNL" mascot Paul Simon. Yet, along with a few cameo appearances over the years, she only hosted once in 1978, with the Blues Brothers serving as musical guest.
Perhaps the reason why it feels like Fisher should have hosted more is how good she is in her single episode. Like future all-timers Justin Timberlake and Melissa McCarthy, she fits seamlessly into the ensemble; it's not hard to imagine an alternate universe where she was a cast member. The episode addresses the bantha in the room early on, putting her in an ill-advised Leia costume for her monologue (with ghostly comedy advice coming from Dan Aykroyd as Obi-Wan Kenobi) before segueing into a parody of 1960s beach movies, with Leia as the "space slut" who comes between Frankie (Bill Murray) and Annette (Gilda Radner). Elsewhere, she plays an ear-piercing member of the self-explanatory "Loud Family," a WWII French vamp selling life insurance to naïve servicemen, and, in a self-aware touch, "Exorcist" star and fellow troubled teen actress Linda Blair.
Michael McKean (1984)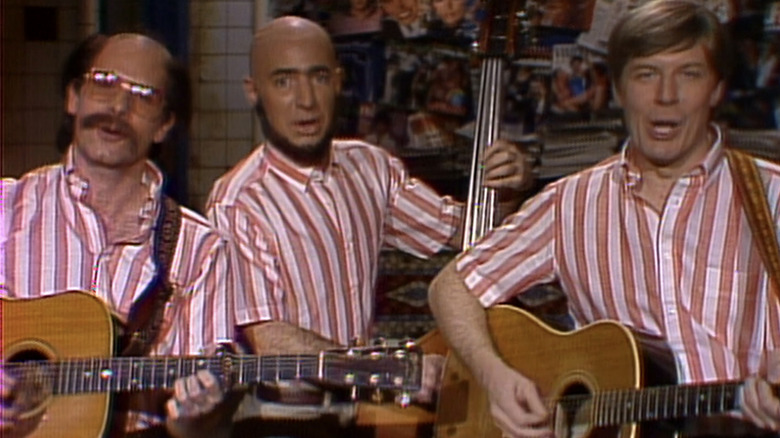 NBC
Many former "SNL" cast members have returned to host the show over the years, and in 1982 Eddie Murphy hosted while still a cast member, stepping in for his "48 Hrs." co-star Nick Nolte at the last minute. But there have only ever been two times when someone hosted the show before they became a cast member. In Season 9, Billy Crystal hosted twice before joining the cast in Season 10. Also in Season 10, Michael McKean, best known at the time for "Laverne & Shirley" and "This Is Spinal Tap," hosted, though he wouldn't become a full-time cast member for another decade.
McKean's "Tap" co-stars/band members Christopher Guest and Harry Shearer were cast members at the time, but the episode doesn't make time for a Tap reunion. Instead, the episode marks the debut of the Folksmen, the middle-aged acoustic trio that Guest would later revive for his 2003 comedy "A Mighty Wind." Billy Crystal's 1950s insult comic Buddy Young, Jr., subject of the 1992 film "Mr. Saturday Night" and its 2022 Broadway adaptation, also makes his first appearance here. And as if the episode didn't already have enough elements that became significant in hindsight, "Seinfeld" and "Curb Your Enthusiasm" creator Larry David — a writer on the show at the time — makes a voice cameo as a heckler interrupting McKean's musical monologue.
Harry Dean Stanton (1986)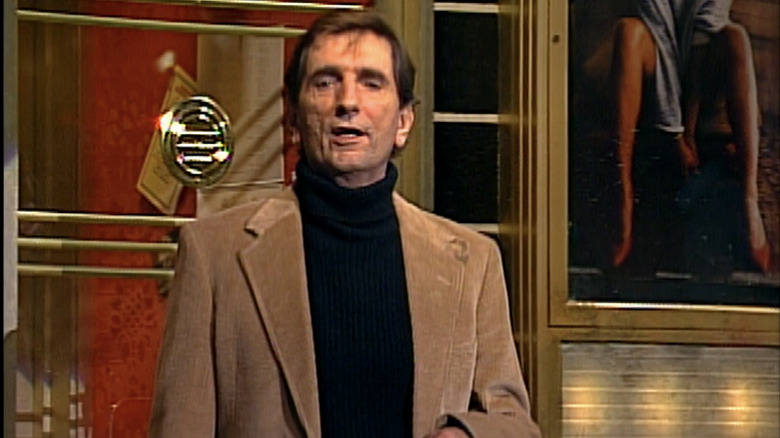 NBC
Season 11 of "SNL" is an odd duck. Producer Lorne Michaels returned to the show after a five-year hiatus, firing the entire Season 10 cast and starting over from scratch with a mostly chemistry-free collection of film actors like Anthony Michael Hall, Joan Cusack, Randy Quaid, and Robert Downey, Jr. (more on him later). Michaels tried to make it 1975 again with a surprisingly hip, left-field assortment of hosts, including Madonna, Paul Reubens in character as Pee Wee Herman, presidential scion Ron Reagan, and, in one of the show's most notorious episodes, veteran character actor Harry Dean Stanton.
Stanton, best known for his roles in "Alien," "Escape from New York," "Paris, Texas," and "Pretty in Pink," starts things on a strong note — literally — joining G.E. Smith and the house band for a rendition of the blues standard "Baby What You Want Me to Do." From there, though, it's clear that the writers don't know how to translate Stanton's rascally charm into winning sketch comedy; his best showcase is a melancholy scene toward the end of the show, as a barfly horning in on a pair of young lovers (Cusack and Downey) on a date. It's also clear that Stanton and musical guests The Replacements got drunk before the show, and while Stanton still hits his marks and reads his cue cards correctly, the same cannot be said of The 'Mats, whose sloppy rendition of "Bastards of Young" culminated in lead singer Paul Westerberg cursing on camera, earning the band a lifetime ban from the show.
Patrick Swayze (1990)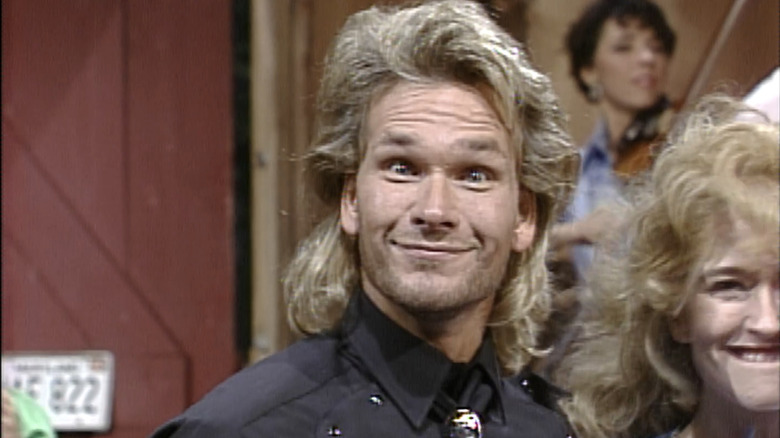 NBC
Patrick Swayze was at the height of his movie stardom when he hosted "SNL" in October 1990, and a number of the evening's sketches riff on his now-classic roles. The episode begins with a country-fried take on "Dirty Dancing" titled "Dirty Square Dancing," where his Johnny Castle is reimagined as a black-clad cowboy who grinds against Jan Hooks as Phil Hartman calls out any number of sexually explicit reels. Later, Swayze returns to the world of "Ghost" as the spectral Sam seeking to connect with his living girlfriend Molly (Victoria Jackson), only to grow horrified at Molly's deplorable hygiene when she thinks she's alone.
But if the episode is remembered at all, it is for one sketch in particular: "Chippendales Audition," in which two men compete for a position with the infamous all-male exotic dancing revue — Adrian, a slab of 100% beefcake played by Swayze, and the heavyset Barney, played by newcomer Chris Farley. Farley was just a month into his "SNL" career, but the sketch made him a star overnight. Gyrating with abandon to Loverboy's "Everybody's Working for the Weekend," Farley gets all the laughs, but what sells the logic of the scene is Swayze's increasing desperation, as Adrian panics that he might actually lose this audition to Barney. The sketch was not beloved by all — actor/writer Bob Odenkirk is on record as hating it for the way it gave the audience permission to laugh at Farley instead of with him — but there's no doubt that it changed the course of not just Farley's career, but the next several years of "SNL."
Kiefer Sutherland (1991)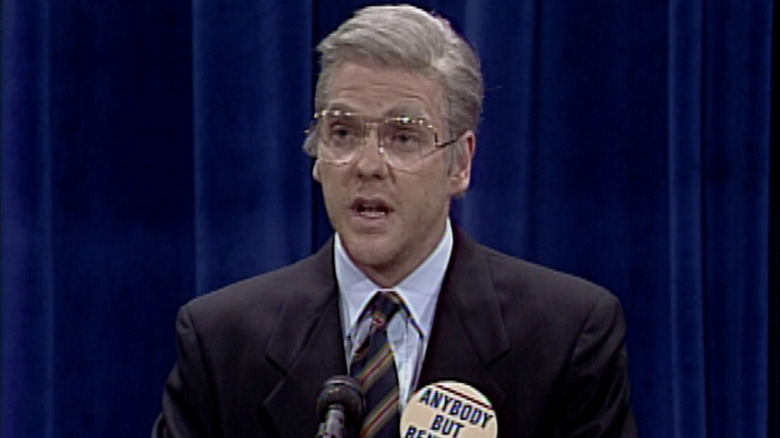 NBC
In 1991, Kiefer Sutherland was known for a few things: for being the son of actor Donald Sutherland; for being a Brat Pack-adjacent actor of unusual intensity, as seen in films like "Stand By Me" and "The Lost Boys"; and, for those who followed celebrity gossip, for being the recently jilted fiancé of his "Flatliners" co-star and America's Sweetheart Julia Roberts. He addresses those romantic woes up front in his one time as host, appearing for the opening monologue in a tuxedo and quipping that he had recently purchased it but no longer had a place to wear it. It's an endearing moment, even if Sutherland doesn't appear overly thrilled to be using his personal life as comedy fodder.
Elsewhere in the episode he fares much better, especially when allowed to cut loose with voices and crazy characters like the angry Scottish brother of Mike Myers' angry Scottish character Stuart, or the copycat Canadian cousin of Al Franken's ineffectual self-help guru Stuart Smalley (lotta Stuarts and relatives of Stuarts in this episode, apparently). He scores his biggest laughs as former Texas politician and vice presidential nominee Lloyd Bentsen in a sketch that has the biggest Democratic hopefuls of the day competing to not face George Bush in the 1992 election. He also does well as Guns 'n' Roses guitarist Slash alongside Adam Sandler's Axl Rose — though to be fair to the "SNL" costume department, the top hat and curly black wig do most of the heavy lifting there. Overall, Sutherland proves himself to be game for anything the show wants to throw at him. It's surprising that he's never returned to 30 Rock in the decades since, especially when he was riding the 2000s zeitgeist as Jack Bauer on "24."
Robert Downey, Jr. (1996)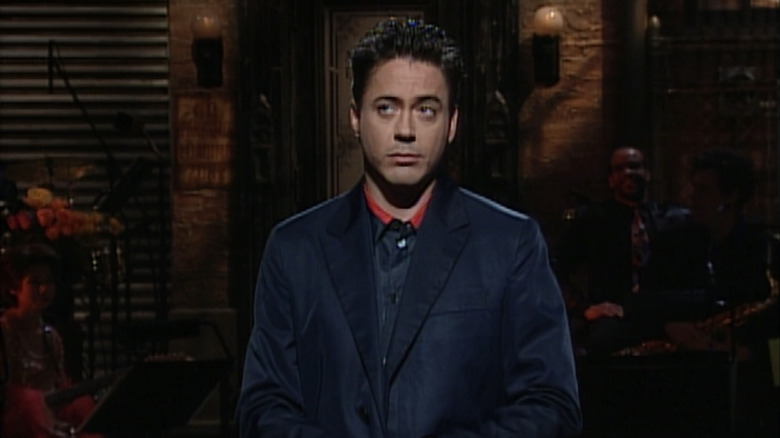 NBC
Season 11 of "SNL," the one that stars Robert Downey, Jr. and Anthony Michael Hall, was such a debacle that the 1986 finale ends with the entire cast (sans Dennis Miller, Nora Dunn, and Jon Lovitz) burning to death in a fire. Ten years later when Downey returned to host, there was no warm welcome from a nostalgic audience and no repeats of beloved sketches and characters that often feature when cast members return to host. In fact, other than a brief moment in the monologue when Downey jokes about being "a distinguished alumnus," you would be forgiven for not realizing that he had ever been on the show before. Instead, the episode focuses on his post-"SNL" career, both his acclaimed turns as a dramatic actor and his very public struggles with drug and alcohol addiction; a slideshow of Downey's "Summer vacation" includes pictures of him visiting Disneyland and hosting a barbeque while wearing a prison jumpsuit.
There is something refreshing about Downey's clean slate here; it allows him to reintroduce himself to the "SNL" audience rather than perform with one foot in the past, and he throws himself into each sketch with a confidence he never really had as a cast member. He flexes some rarely used musical theatre muscles as a member of a "West Side Story"-esque 1950s street gang — much to the chagrin of gang leader Norm McDonald, who does not realize that he is in a musical. He also joins Will Ferrell and Chris Kattan as a trio of unusually intense home shopping pitchmen selling Shaquille O'Neal cards and "Star Wars" plates.
Lucy Lawless (1998)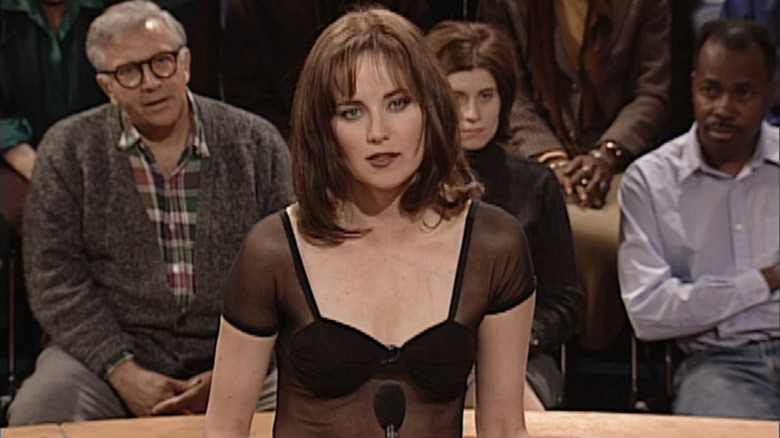 NBC
Australian actor Lucy Lawless rose to fame in America on the strength of her starring role on the syndicated adventure series "Xena: Warrior Princess," which, while it had fans across the spectrums of gender and sexual orientation, developed a reputation for being a show about, and for, lesbians. When she hosted "SNL" in October 1998, her monologue addressed this reputation head-on, acknowledging that while Xena's sexual identity may be up for interpretation, Lawless herself was straight — much to the chagrin of some female fans in the audience played by Tina Fey and Paula Pell, who were show writers at the time.
Lawless fits well into the ensemble for the rest of the show, trying on a Noo Yawk accent as a stripper/clown on a parody episode of "Judge Judy." She also performs as an MSNBC commentator in a sketch that skewers the media's reaction to the Monica Lewinsky scandal; co-starring Ana Gasteyer, Cheri Oteri, and Molly Shannon, the scene starts as a roundtable discussion of Bill Clinton's impending impeachment before devolving into a literal slumber party, with such topics of conversation as "Is Hillary Pretty?" and "Boys!" But Lawless' finest hour on the show is without a doubt "Stevie Nicks' Fajita Roundup," a commercial parody featuring the host in character as rock star Stevie Nicks promoting her own fast-casual Tex Mex restaurant. Not only does Lawless look and sound uncannily like the former Fleetwood Mac frontwoman, but the sketch spawned a number of unlikely sequels in the years following, including Derek Jeter's Taco Hole and Donald Trump's House of Wings.
Nia Vardalos (2002)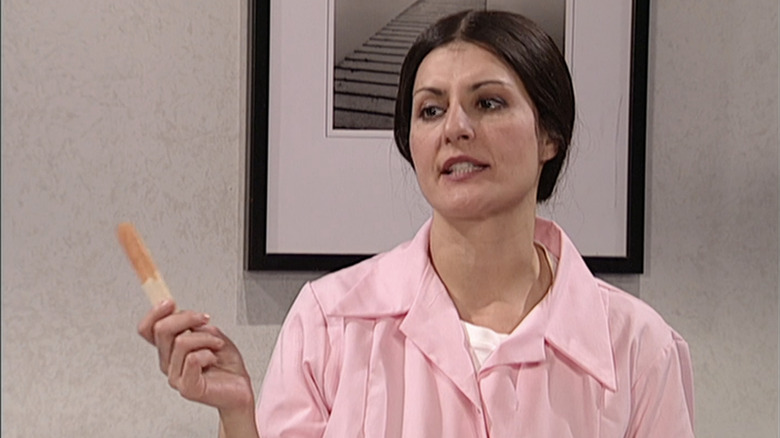 NBC
The Second City comedy theaters in Chicago and Toronto have been an incubator for "Saturday Night Live" talent since the show's beginning. Dan Aykroyd, John Belushi, Bill Murray, Tim Kazurinsky, Cecily Strong, and Chris Redd, among many others, put in their time at Second City before taking the stage at "SNL." The legacies of the two institutions are so entwined that it can feel uncanny when the show is hosted by the rare Second City grad who didn't get famous through "SNL." Such is the case with Nia Vardalos, a Toronto and Chicago mainstage alum who adapted her solo show "My Big Fat Greek Wedding" into the biggest comedy film of 2002.
Vardalos is good in her one appearance on the show — maybe even a little too good. From her monologue where she is welcomed to the show by fellow Greek-American Second City alum Tina Fey, she seems far more comfortable slipping unnoticed into the ensemble than she is performing the duties of an actual host. In nearly every sketch, Vardalos is not just acting but bringing a character to life, from an Eastern European spa technician giving Rachel Dratch a bikini wax to a Turkish centerfold; even when she is the straight man in the scene, as a lonely woman subject to the pathetic come-ons of Jimmy Fallon and Chris Parnell's Bloater Brothers, she is intent on making her character as interesting as possible. She fits so well into the fabric of the show that at times it feels like a transmission from some alternate universe where Vardalos was an "SNL" cast member who has returned to host and revisit all her classic characters.
Brittany Murphy (2002)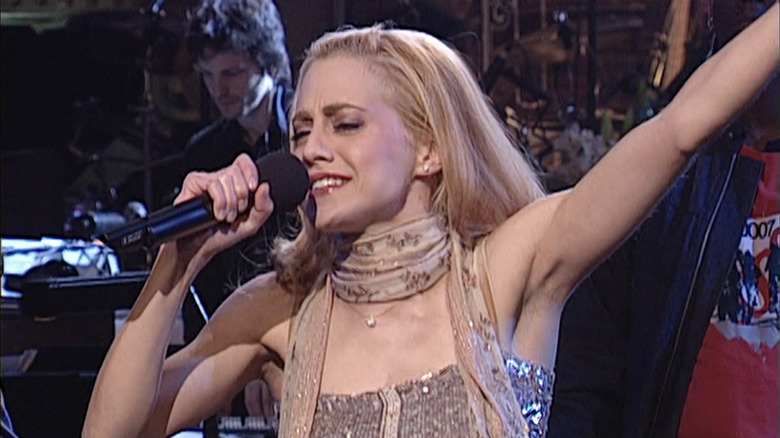 NBC
Every episode of "SNL" is a time capsule in one way or another, from the topical jokes and references that become incomprehensible years (or even months) later to the simple question of who or what was popular at any given week of the year for the last half-century. But some episodes are more of a time capsule than others. A week after Nia Vardalos hosted in 2002, actor Brittany Murphy took the stage and hosted an "8 Mile"-style rap battle between the East Coast and West Coast cast members, featuring Chris Parnell (arguably the show's best and most underrated rapper) and then-newcomer Amy Poehler. When Murphy grabs the mic to deliver her own verse, she even sprinkles in a reference to the ad campaign for her 2001 thriller "Don't Say a Word."
The 2002-03 season was a transitional one, as the departure of '90s stalwarts like Will Ferrell and Ana Gasteyer made room for future stars like Poehler and Will Forte, and the realities of life during the War on Terror shifted the comedic landscape. Murphy, who was already well-known for "Clueless" and for providing the voice of ditzy Luanne on "King of the Hill," was in the middle of a career hot streak and is used in nearly every sketch as an It Girl or obscure object of desire, as in the Jimmy Fallon/Horatio Sanz recurring gigglefest "The Leatherman" or the very-2002 sketch "The Girl with No Gaydar." But there's an exuberance to her performances that contrasts interestingly with the competent professionalism of Vardalos the week before.
Betty White (2010)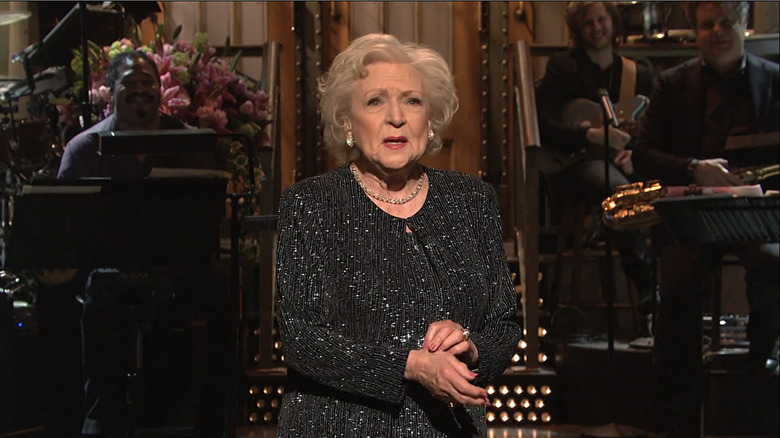 NBC
As with Carrie Fisher, it's hard to believe that Betty White only hosted "SNL" once in 2010 at age 88. There doesn't seem to be any rhyme or reason why it took so long; her "Mary Tyler Moore Show" co-stars Moore, Ed Asner, and Ted Knight had all hosted, as had her fellow "Golden Girl" Bea Arthur. On the other hand, maybe 2010, when White was enjoying a third/fourth/fifth career act as the internet's favorite old lady, was the perfect time for her to host. As she notes in her monologue, she has been doing live TV since 1952, but thanks Facebook above all for giving her the chance to be on "SNL."
This was one of the show's occasional Mother's Day episodes, and White is on hand mostly as the mother or mother figure of existing characters like MacGruber, the Maharelle singing sisters from the Finger Lakes, and soft-spoken NPR hosts Terri and Margaret Jo from "The Delicious Dish" (a returning Molly Shannon and Ana Gasteyer). She struts around with Shannon's 50-year-old high-kicker Sally O'Malley and dons a wild wig to scare teens straight alongside Kenan Thompson's movie-obsessed prison convict. It's a delightfully daffy episode, featuring cameos from not just Shannon and Gasteyer but also Tina Fey, Amy Poehler, and Maya Rudolph, all of whom clearly relish the chance to play with an old pro like White.
Kerry Washington (2013)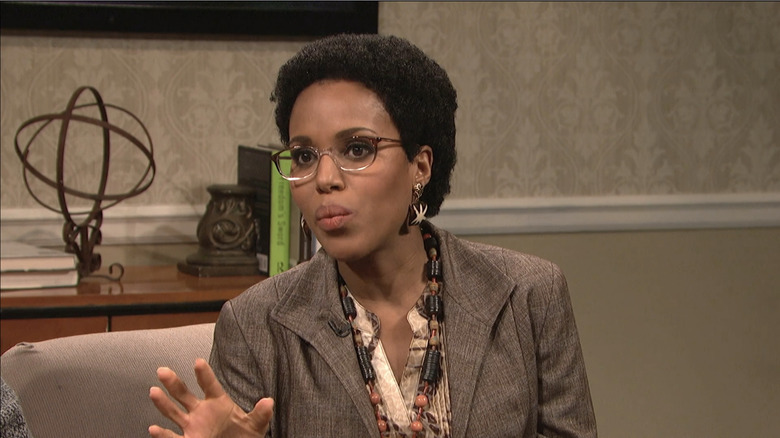 NBC
Yvonne Hudson was technically the first Black woman to be on "SNL," a Season 3 extra who occasionally had larger roles over the next several years, but was never credited in either the opening or ending credits. The first "official" Black female cast member was Danitra Vance for just one season in 1985, followed by Ellen Cleghorne six years later, and Maya Rudolph five years after that. By 2013, the show had not had a Black female cast member since Rudolph left six years earlier, and it was a very visible problem. The show, to its very slight credit, acknowledged the issue in the first sketch of "Scandal" actor Kerry Washington's episode, in which she played Michelle Obama but was also expected to play Oprah Winfrey at the same time.
Emmy-winner Washington clearly has a blast going big and broad, playing a furious Miss Uganda at the Miss Universe pageant and a teacher trying to manage her unruly kids at the school carnival, but the best sketch lets her underplay and takes advantage of her deadpan comic timing. In "How's He Doing?" Kenan Thompson hosts a panel discussion with Black voters (Washington and Jay Pharoah) about their opinion of Barack Obama's presidency thus far, presenting them with increasingly outlandish scenarios — Obama converts to Judaism; his favorite basketball players are all white — to see if their support wavers.